Coronavirus in Romania – interactive map (quarantined persons)
Disclaimer: The information presented in the map is updated frequently. This page is intended to be a source of information for those who want to see the evolution of the Coronavirus COVID-19 cases in Romania. Also, the page presents the latest preventive and administrative measures taken by the Romanian authorities.
The simplified official forms needed during lock down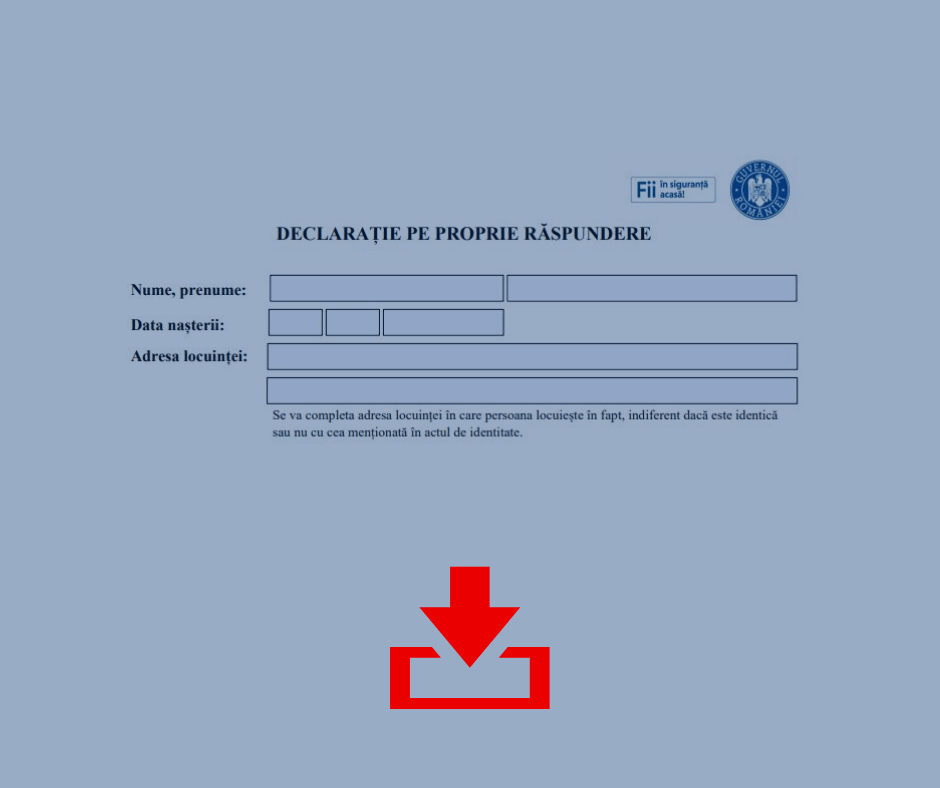 Source: www.stirioficiale.ro
COVID-19 in Romania – statistics
1815 cases confirmed;
11.213 quarantined persons
206 cases recovered
43 deaths;
The latest measures adopted by the Romanian authorities to prevent the extension of the COVID-19 in Romania
March 25:
General quarantine instated for all citizens
All citizens are to have with them, when going outside their houses, compulsory statements regarding where they go and why they are going out. The statements are to be written by hand
The sole exceptions to the general isolation are strictly mentioned in the Military Ordinance No.3, such as going to work, when working from home is not possible, taking care of the children or shopping near the house
March 22:
Authorities recommend all citizens to stay inside and to go out only in certain cases. When going out, the recommendation is to maintain social distance and to avoid going out in groups more than 3, unless they live under the same roof.
Starting from tonight, authorities forbid circulation of vehicles and people during the night, between 22.00-6.00, except for certain emergency situations. The situations are to be written on a self written statement and to be presented to the authorities when stopped
Shopping mall stores are to be closed closed starting today, except for the pharmacies and supermarkets.
Dental shops are to be closed starting from today, except for emergency situations.
Weddings & funerals are to be organized with no more than 8 people
March 19:
The state will pay 75% of the technical unemployment.
The ceiling for guaranteeing loans for SMEs increases by 5 billion lei, state-guaranteed loans for investments and working capital.
The government will reimburse VAT up to the limit of 9 billion lei.
March 18:
The restaurants, bars, hotel's kitchens and casinos will stay closed during the emergency situation. Home delivery is allowed.
All the cultural, sports, entertainment and religious activities, held in closed spaces, are suspended.
March 16:
Romanian president declares 30 days of national emergency on the Romanian territory
In general, the state of emergency will let the authorities to gradually impose measures to limit the circulation of persons, close some public spaces, but also acquire more easily medical supplies
All the measures are to be communicated and instated gradually, only when needed, and in due time by the authorities
March 14:
More than 100 cases registered and Romania enters Phase III of fighting COVID-19
Hospitals have to consider COVID-19 suspects as priorities
Hospitals organize an epidemiological sorting area in front of the main building, where patients will first be checked for temperature
No gatherings are allowed for more than 50 persons at a time
March 12:
Romania closes the following border crossing points of secondary importance (low traffic):
Hungarian border: Turnu, Săcuieni, Salonta and Valea lui Mihai. Ukrainian border: Sighet. Bulgarian border: Negru Vodă, Lipniţa, Dobromir, Zimnicea, Turnu Măgurele and Bechet. Republic of Moldova: Rădăuţi Prut and Oancea. Also, the Serbian authorities closed, at Serbian border: Porţile de Fier 2 , Moldova Nouă, Foieni, Lunga, Vâlcani, Drobeta Turnu Severin and Naidăş.
March 11:
Romania enters officially in PHASE II of the COVID-19 preventive measures, as the number of the infected persons exceeded 25 persons.
No gathering or event allowed with more than 100 persons
Companies and institutions who have more than 100 employees have to adopt a differentiated working schedule for their employees.
PHASE II measures are instated up to the moment when in Romania there will be registered 100 infected persons.
PHASE II measures aim at DELAYING the spread of the Coronavirus COVID-19 and to prepare the hospitals for PHASE III and PHASE IV
March 10:
The education process was suspended temporarily in the school units from pre-school, secondary, high school, post-secondary and professional education, from March 11 to 22, with the possibility of extending this measure, depending on the situation.
The suspension of road passenger transport for all routes to and from Italy was approved. The measure is valid from today, March 10 until March 31, 2020
Also, from March 12 until March 31, rail transport to and from Italy is suspended.
March 8:
Starting with March 8, 2020, public or private events with more than 1000 participants are prohibited in open or closed spaces,
The Romanian Football Federation has stopped organizing football games with spectators for all the competitions it organizes.
The measures recommended by the Romanian Government in the context of the new type of coronavirus:
Wash your hands often;
Avoid contact with people who are suspected of acute respiratory infections;
Do not touch your eyes, nose and mouth with your hands;
Cover your mouth and nose if you sneeze or cough;
Do not take antiviral drugs or antibiotics unless prescribed by your doctor;
Clean all surfaces with chlorine or alcohol based disinfectants;
Use the protective mask only if you suspect that you are sick or if you are assisting the sick person;
"MADE IN CHINA" products or packages received from China are not dangerous;
Call 112 if you have a fever, cough or have returned from China or quarantine areas in Europe for at least 14 days;
Pets do not transmit coronavirus.