In recent years, mobile applications have grown in popularity. Data reveal that 21% of millennials open an app more than 50 times each day. While the popularity of apps cannot be denied, the sheer volume of these bespoke software programs might make it tough to observe results when developing your own. With over 2.2 million applications available for download on the Apple App Store and another 2.8 million on the Google Play Store, it's understandable that your app will need to stand out if you want a large number of people to download it. It all comes down to app development in the end.
The collection of techniques and procedures involved in creating software for small, wireless computing devices, such as smartphones and other hand-held devices, is known as mobile app development.
​How Eastern European countries are becoming a mobile app development hotspot
Eastern Europe is an emerging centre for app development, with some of the world's most advantageous conditions for software development. Mobile apps are becoming part of the everyday lives of people. Users want to be able to access their favourite or necessary apps on any device, at any time. Eastern Europe has several advantages that are attracting the world's leading enterprises to set up their software development operations such as:
– Mobile application developers are in demand in Eastern Europe.
– Eastern Europe has many talented coders that can work at competitive prices, with excellent services and quality standards.
– Surprisingly Eastern European countries have some of the fastest internet speeds in the world, which is crucial for the efficient development of mobile apps.
-Because many Eastern European nations understand English, there's no need to be concerned about communication barriers with clients or suppliers. In this area you will find many educated specialists who can provide services for customer support, sales or marketing activities necessary for scaling up your business.
​Top 10 mobile app development agencies in Eastern Europe in 2021
It has become essential for any company to have an app that can enable them to stay connected with their customers. And Eastern Europe is the perfect place for companies who are looking to invest in mobile app development to get started since it offers numerous advantages, such as cost-effectiveness and talent availability.
We've compiled a list of the top 10 mobile app development companies in Eastern Europe that you should know.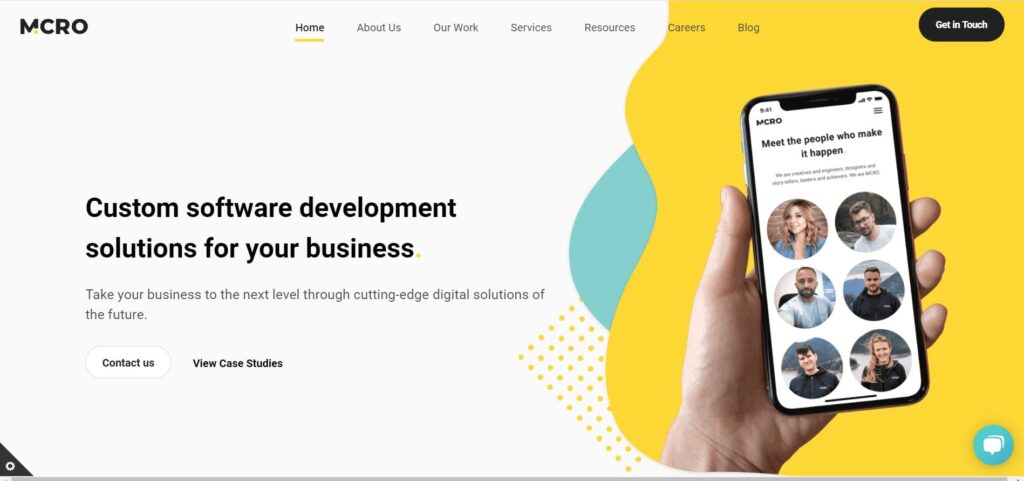 MCRO Tech is a young team of elite full-stack engineers, UX designers, managers, and product strategists who assist companies across the world launch new projects. Their Eastern European branch is based in Cluj-Napoca, Romania.
MCRO Tech is proud to have been able to deliver a scalable and dynamic solution that met their client's needs and expectations. The company provides end-to-end services and solutions for every stage of your digital transformation:
– web development – their group of talented architects and full-stack engineers uses the most cutting-edge technologies and techniques to help you achieve your business objectives. They create contemporary, accessible web apps that are specifically customized to your demands and business objectives.
– app development – they create cutting-edge iOS and Android applications for a wide range of industries and business areas. MCRO Tech team employs the newest technology to create unique mobile solutions that deliver actual business value, whether they are native or cross-platform apps.
– product strategy and UX/UI – every successful digital product starts with a product strategy. Their knowledgeable staff can assist you in gaining a better understanding of your users, aligning their requirements with your company's objectives, and devising a winning approach.
MCRO Tech builts products for industries like:
– Financial- Sigora Solar
– Education- Mari, Smashcut
– E-commerce – Tillster
– Event industry -Quandora
– Healthcare – Outcomes4me
– Real estate – Home Match
2. Cleveroad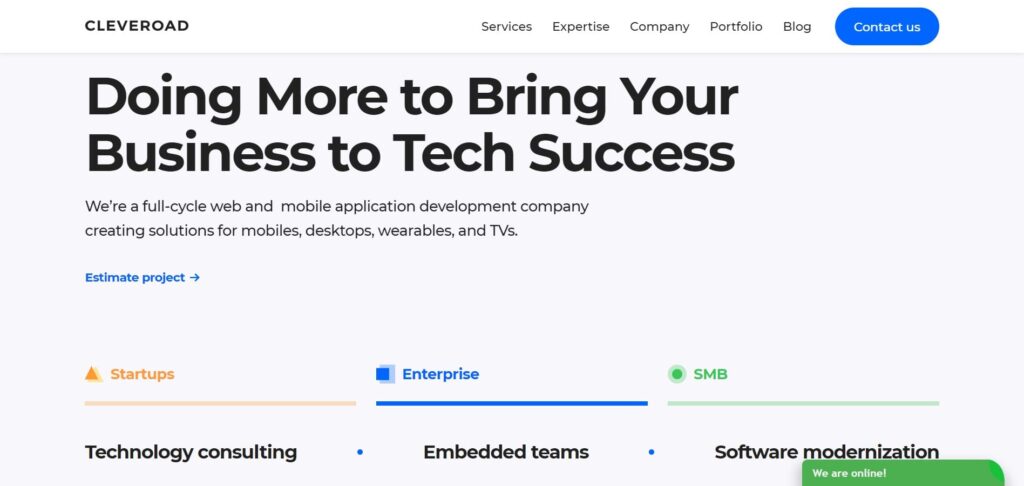 Cleveroad is a software development company specializing in complex business-driven solutions, with an emphasis on creativity, activate transparency, and on-time delivery. Cleveroad creates Web and Mobile solutions for businesses of all sizes and budgets. The company employs innovative technology that allows organizations to flourish while dealing with business segments, startups, and private clientele.
3. Droids On Roids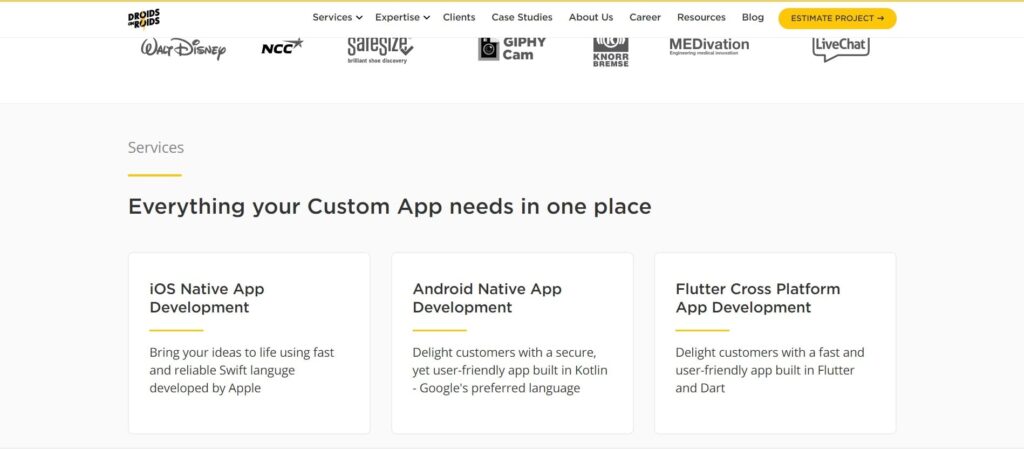 Droids On Roids is an iOS and Android mobile & web app development company based in Wrocław, Poland. The company specializes in full-stack mobile, web, and back-end development. Droid On Roids serves clients all around the world, primarily in the United States, the United Kingdom, and the European Union, as a 100% office-based workforce of 60+ outstanding individuals. Over 130 digital goods and apps have been developed by Droids On Roids. The firm works with both start-ups and established businesses.
4. NetGuru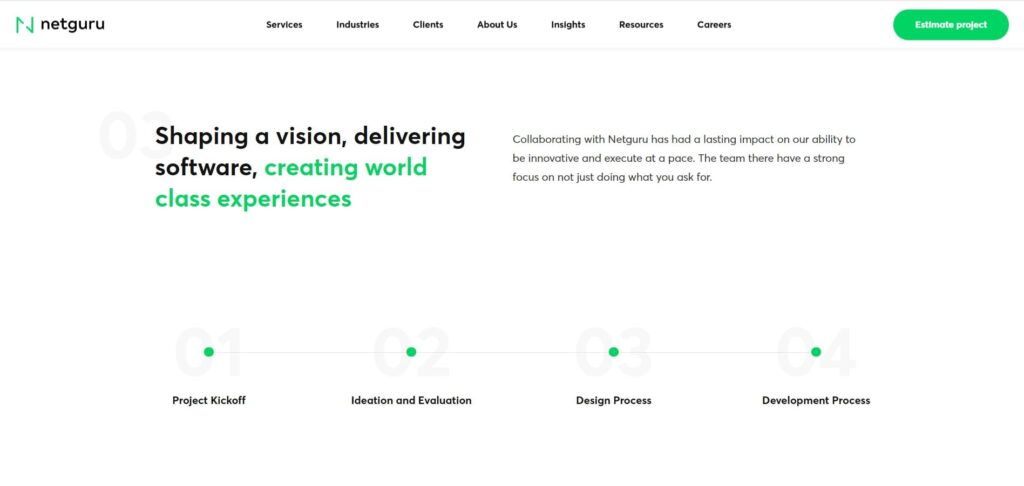 NetGuru creates digital products that allow people to accomplish things in new ways. Their clients have revolutionized how people bank, listen to music, study languages, and hire bicycles.
TechCrunch, Business Insider, and Product Hunt have all covered their goods.
5. Tapptitude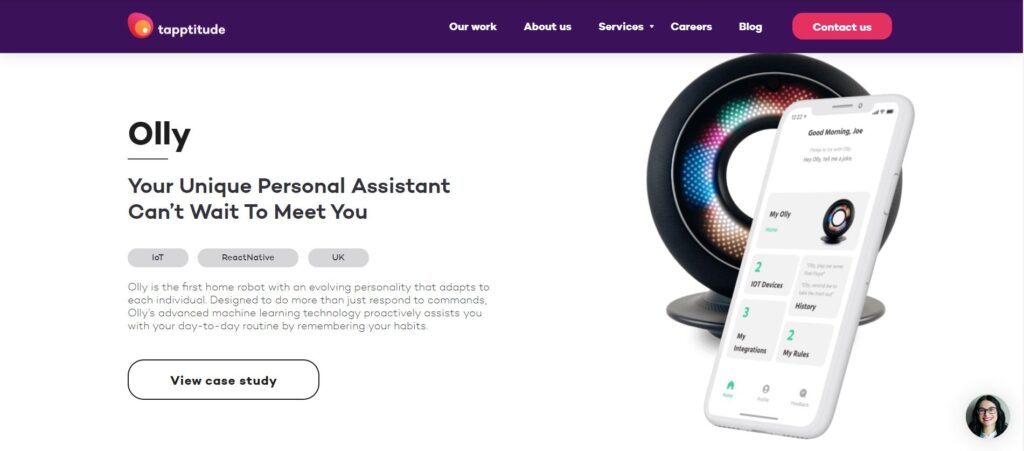 Tapptitude is a Product Studio that works with big brands and financed startups to create interactive, mobile-first solutions that consumers like using. Their services include Product strategy and definition, UX/UI design, Mobile and web development, Backend services, AI Machine learning and data science, Full Testing and QA, Product launch solutions and Product growth.
6. Halcyon Mobile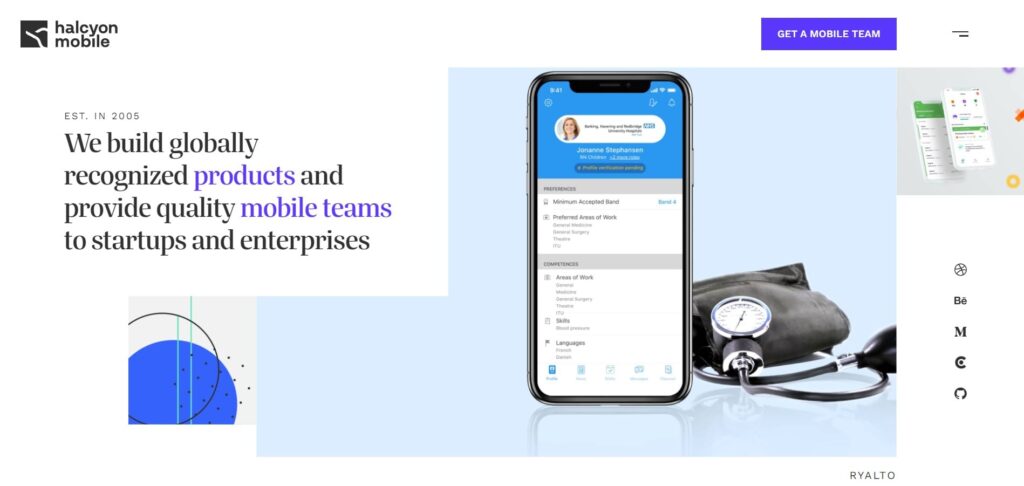 Halcyon Mobile
Halcyon Mobile is a full-service mobile app design and development firm that produces award-winning apps. They work with a variety of companies and businesses of all sizes, shapes, and backgrounds that entrust them with their early-stage initiatives or current products.
Services offered by Halcyon Mobile include: Product consulting, UX / UI Design, iOS / Android Development, Web (Front-end/Back-end) Development, IoT Development, Machine Learning, Quality Assurance, Scaling & Maintenance.
7. FiveDotTwelve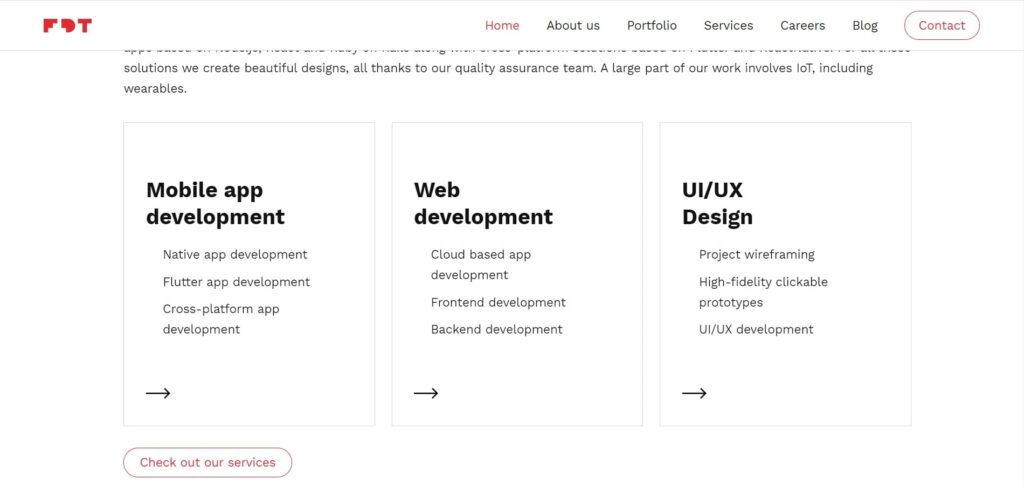 FiveDotTwelve is a contemporary software firm that prioritizes tight client collaboration and a customized approach to each project. The firm is dedicated to providing the finest quality solutions to their customers. The company aims is to quickly understand each client's business needs before developing, implementing, and rolling out best-in-market, fit-for-purpose solutions.
8. AppUnite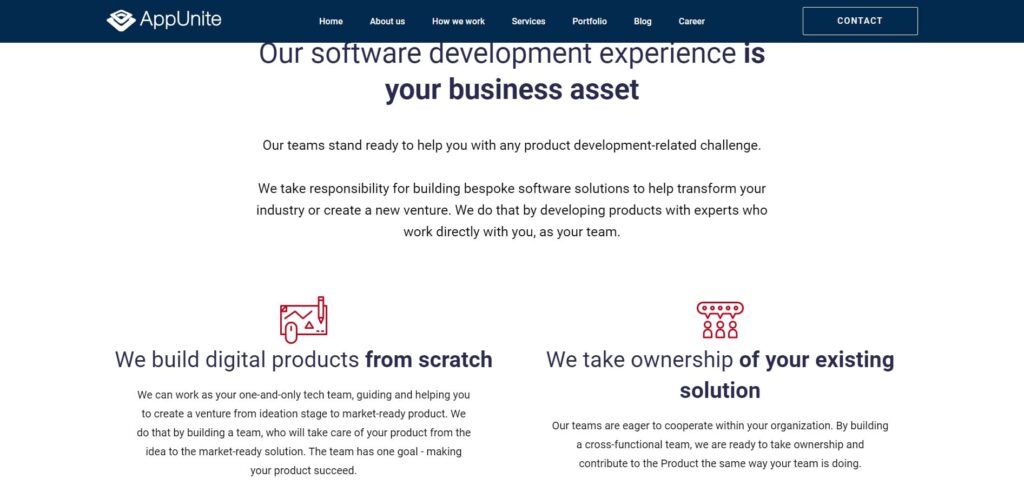 AppUnite is a product-focused software development firm that focuses on building highly functioning Web and mobile apps. The company works with a wide spectrum of industries, from early-stage startups to well-known global brands. AppUnite builds apps that are used by millions of people every day by combining cutting-edge contemporary technology with an optimized agile methodology.
9. ROCKETECH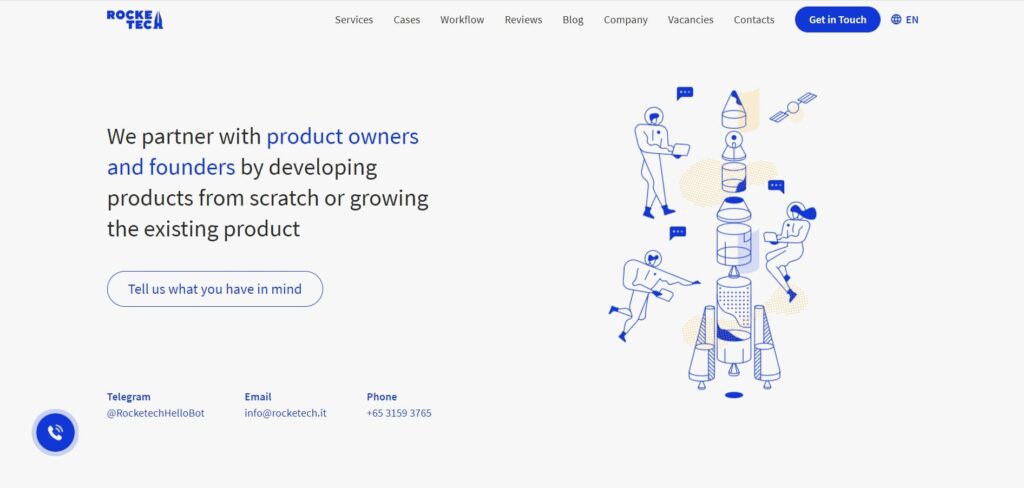 ROCKETECH is a web and mobile development firm that specializes in analytics-driven development. As IT consultants, their team has produced over 100 products for over 70 startups and businesses. Their solutions have been named Apps Of The Day on the App Store, have won many awards, and are well regarded in their fields.
10. Infinum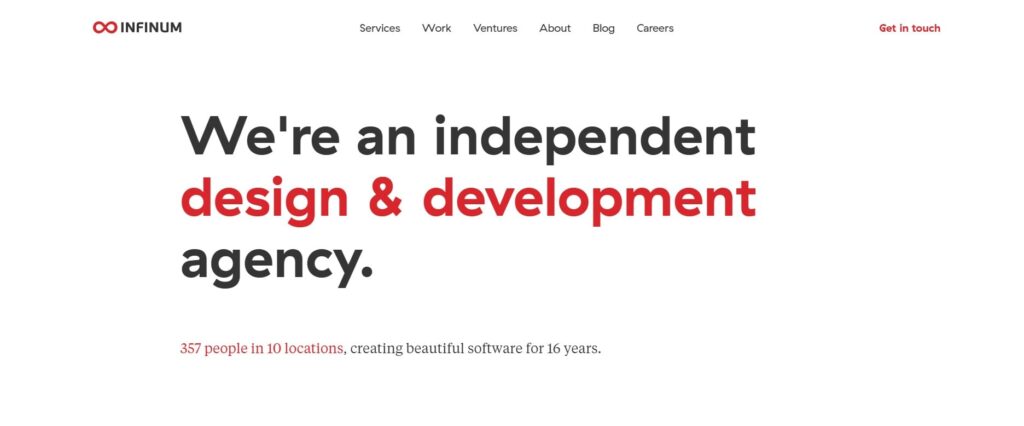 Infinum has been developing digital solutions with major corporations and interesting start-ups since 2005. Their work has been acknowledged by trade and industry authorities such as Deloitte and Inc., and is utilized by millions of people across the world. From consumer-facing mobile apps to eye-catching landing pages to sophisticated online applications and back-office systems with several levels of corporate connectivity, Infinum develops it all.
​Conclusion: Eastern Europe is the place to look for when it comes to good mobile app development companies
Eastern European top mobile app developers offer you a wide range of software development services. Whether you go for developing your mobile app with the guys from MCRO Tech, or if you decide to go for Droid on Roids or ROCKETECH, Eastern Europe should be your choice for mobile app development.
The teams of top full-stack engineers, UX designers, managers, and product developers from Eastern Europe will help you develop the most suitable app for your company. Moreover, the Eastern European developers are recognized for helping businesses from all over the world launch their next project and made a success out of it.