We have tried to offer all those interested in SEO and Digital Marketing services in Europe a top 10 of the SEO agencies we were pretty impressed with their work. Some of the agencies we work with, some of them we know from their work, some of them we read about on dedicated platforms or studied their work on their websites.
Here it is…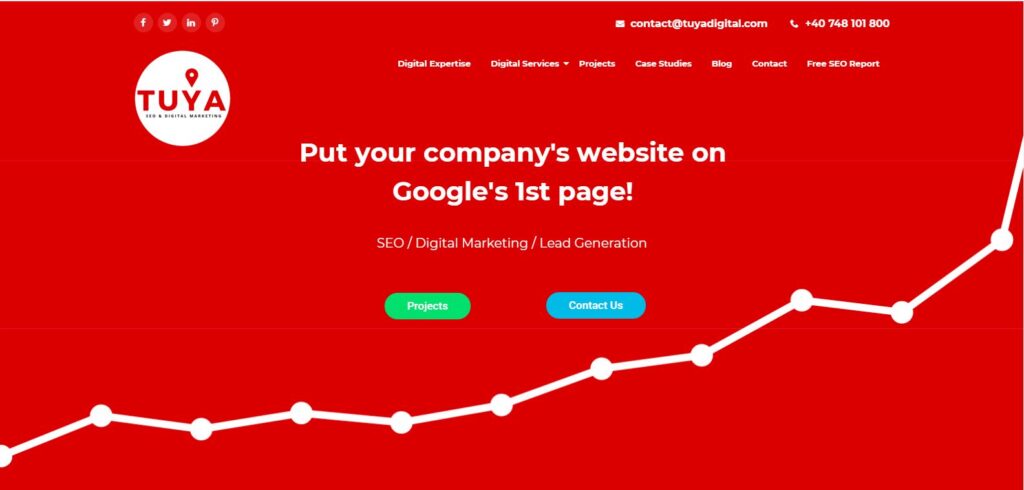 By working with TUYA Digital SEO & Digital Marketing specialists you work with an agency recognized in the digital marketing industry for its efficiency and hack growth skills. On top of that, their digital expertise has been appreciated and rewarded with many prizes won in the digital marketing field competitions, such as Webstock or E-Travel Conference. Their mission is to bring more leads to their clients by using their SEO & Digital Marketing expertise.
What we love about them is the fact they use not only SEO techniques, but they combine all sorts of digital services in order to produce the best results for their clients.
They have helped many businesses with complete SEO solutions and brought them successful results, such as real estate agencies, news portals, travel agencies and even for clients from legal services area. We love how they worked for VisitBucharest project, which is a very neat, yet informative website of promoting Romania's capital city, launched 30 years after Romanian fought for their freedom.
Also, and we have to admit that, we love how they worked for our website – Valahia News, which they have neatly designed and SEO optimize for better online traffic. The project has been growing constantly from Day 1 and it is set to reach its long term goal by the end of 2022.
TUYA Digital might not be the biggest one here, but it is team which do their work wholeheartedly and professionally.
2. Trustcorp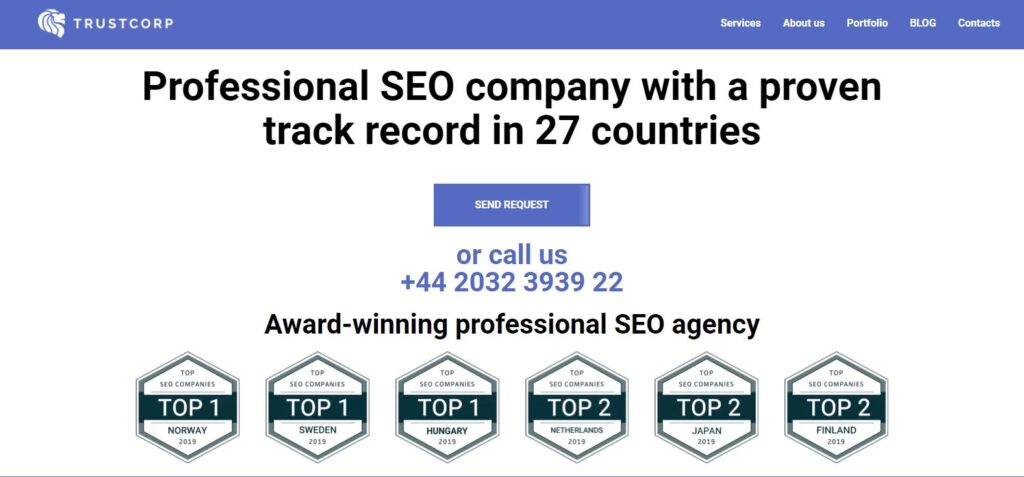 Professional SEO company Trustcorp is an international SEO agency. They have been able to help companies rank for target terms, increase their conversions and control how visitors see their brands and reputations. Trustcorp uses the latest developments in data analytics and competitor analysis to achieve the highest and most ambitious goals of their clients.
Trustcorp has provided search engine optimization solutions for huge names like Lemon Bergen as well as dozens of enterprise clients around the world, but also in the Eastern Europe. They completely revamped their approach to highlight some of their most appealing elements and drive higher engagement and sales. Along with regular local business, they lead successful projects in such highly competitive niches as real estate agencies, pharmaceuticals, airline tickets, hotels, and many others.
3. Cue Blocks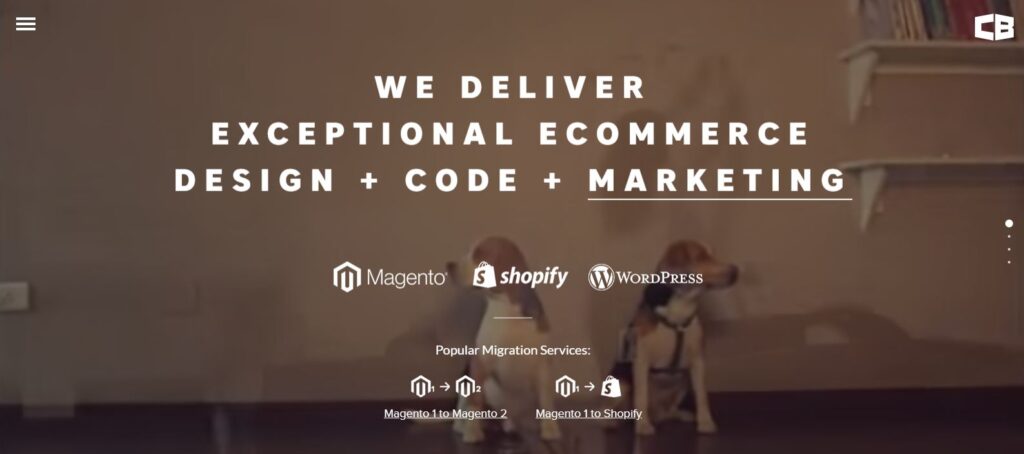 Cue Blocks is a full-service digital agency from Czech Republic, offering Search Engine Optimization services and strategies that are search engine friendly.
With their effective SEO solutions, you can enhance your online presence and work on improving your conversion rate. They usually begin by carefully chalking out areas of improvement on your website and carefully work out an optimization strategy that best suits your kind of business. Our favourite website from their clients is Switch. Members of this website have access to curated jewelry collections, including iconic fashion houses like Hermes and Chanel, as well as couture brands and emerging designers. Cue Blocks did a remarkable job with Switch from creation to fruition in the development of the website from scratch.
4. iProspect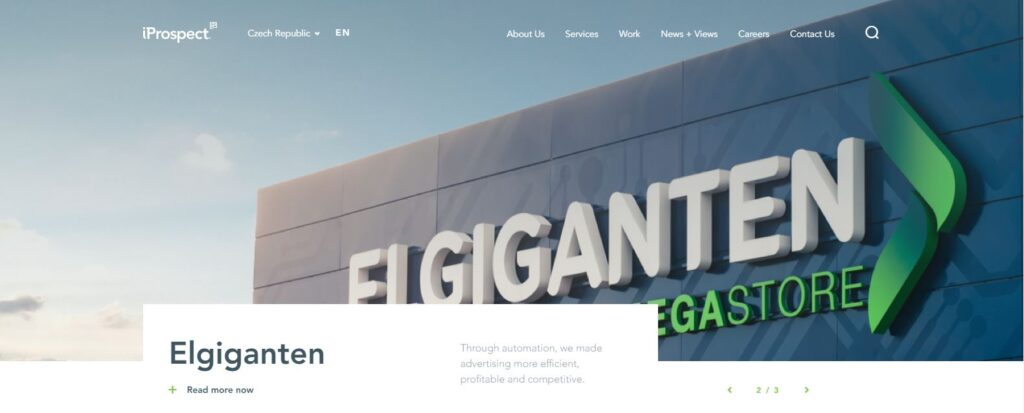 Marketing has changed. As digital extends into all areas of our lives, every tweet, every status update and video has become a potential customer touchpoint. Audiences today want services and content that meet their needs, wherever they are, whatever they're doing. At iProspect, you will find not just specialists in different types of digital marketing, but also specialists who know how to bring it together.
By putting the customer`s needs first, they create simple, effective strategies that connect with people across every channel – and grow business in ways they can measure.
5. Delante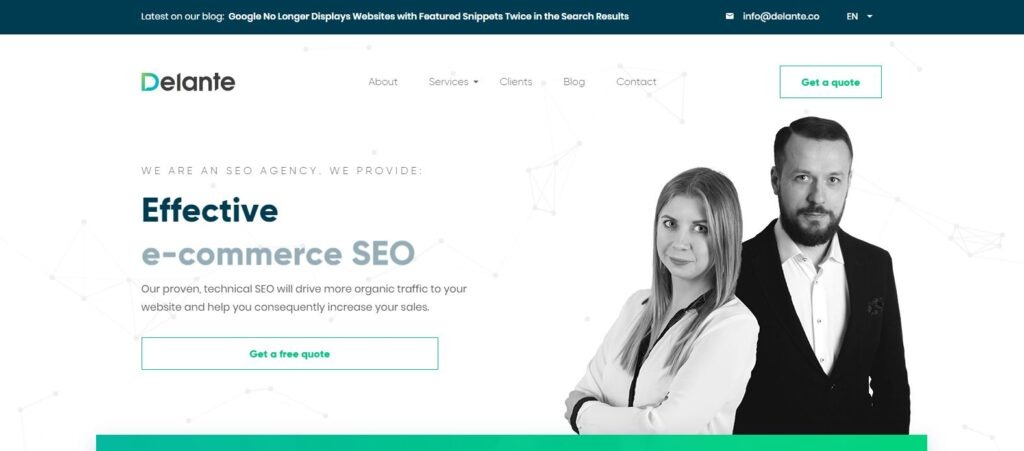 Delante was founded in 2014 in Kraków. Delante has a team of experts in the area of SEO and performance-based advertising. They help clients leverage the Search Engine Optimisation and gain organic traffic to their websites. They also run Google Ads campaigns for their clients.
Delante delivers personal, adaptive and valuable digital experiences by using proprietary solutions including: paid and natural search, content writing, data & insights, social media management, structured data and feeds, performance display, mobile strategy, video, conversion optimization and affiliates. With Netcube, for example, they started from scratch. In the second month of the cooperation the organic traffic already amounted to 700 sessions, and the website started generating revenue, which is very impressive.
6. Hop Online

Hop Online is a marketing agency helping businesses accelerate their growth through PPC, Social Media, SEO and Content Marketing. Before charting a course for consistent organic traffic growth, their first goal is to strengthen their client's website's technical infrastructure for crawling, indexation, and speed.
They formulate a multi-channel growth strategy, planning for both immediate and sustained growth. From there, project execution is dynamic and agile. They make educated assumptions, test frequently, eliminate wasteful efforts, and continually pivot their efforts to where they see the highest returns.
Output, one of Hop Online`s clients, sells industry-leading music software and virtual instruments through their website, Output.com. Prior to engaging Hop Online, Output struggled to earn a positive return on ad spend (ROAS) from Google and Facebook, leaning instead on brand reputational strength and direct traffic for driving the bulk of their online sales. ,,Thanks to their help with AdWords, we've seen an increase in conversion rates. Most importantly, we feel a lot more confident in our approach to PPC, utilizing their expertise to ensure we're making the best decisions. " said Brian Zarlenga, the General Manager of Output. This profitable growth enabled Output to re-invest in both new product development and digital marketing.
7. SEO Hungary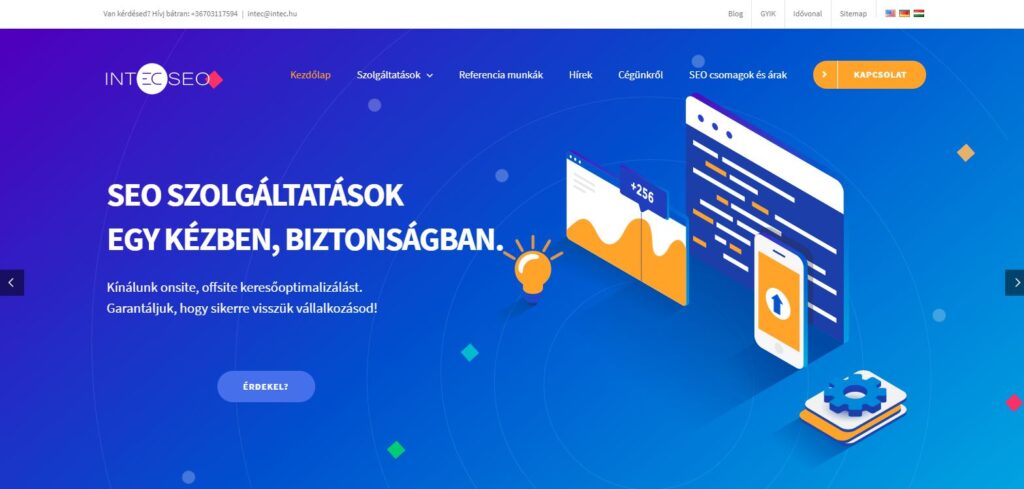 SEO Hungary create custom campaigns for each of their clients, provide a dedicated account representative, and on average, they increase their clients' revenue by 20%.
SEO Hungary primarily does four things: website design, SEO, internet marketing, and content writing. Their team has a great experience in digital performance marketing, lead and demand generation programs, ROI-driven media campaigns and Search Engine Optimization. We love their work they did on Pamas wedding invitation design, for their dedication and exquisite web design.
8. Promodo

Promodo is an award-winning digital marketing agency that drives businesses growth by creating and implementing an online marketing strategy.
Through search engine marketing and online reputation management tools, we connect businesses with their target audience, increase business loyalty, and expand brand awareness. Their team of 160 experts helps clients from 60 countries to promote businesses in developed and emerging markets across the globe. They can create a digital marketing plan for your business that gets results and helps you avoid costly mistakes. The company is a nominee and winner of the PromotionWorld magazine awards, rated top 10 SEO and #1 PPC agency by TopSEOs.
9. Netpeak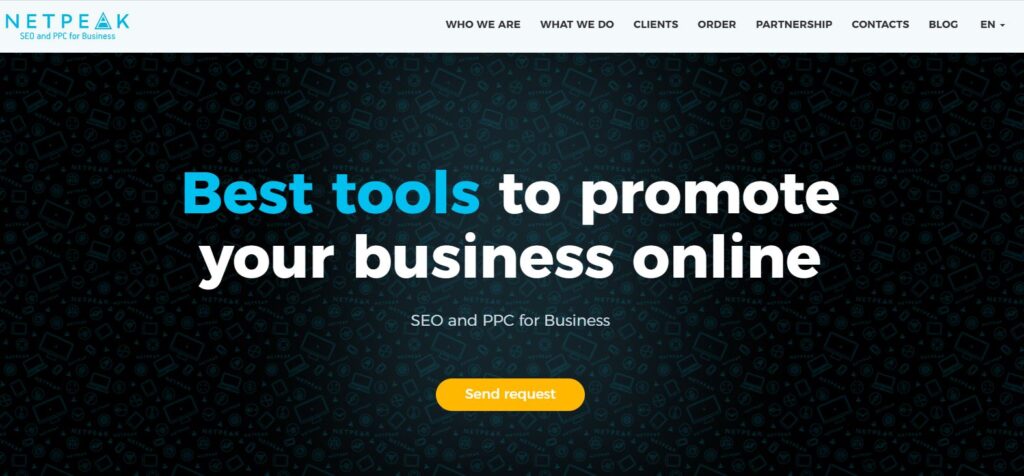 Netpeak is one of biggest internet marketing agencies in Eastern Europe. They handle website promotion, online advertising, web design and brand image promotion. They have a team of overachievers, constantly pushing the boundaries for their clients. They guarantee development and higher sells for their customers by introducing modern marketing tools such as social media marketing, search engine optimization, search engine marketing and website development. We read their case studies and our favourite were those for clients like: OLX, Intellect, IBR, Abis Soft, Yves Rocher, 2Estates, clients belong to different industries.
10. Dog&Pony
Whether it is companies, charities, NGOs or government agencies, Dog&Pony SEO Agency strives to be effective, and if possible, have a positive social effect with their work.
Their team of SEO specialists analyzes every aspect of your business, website, and customer base before crafting a custom strategy that's based on hard data so they know how to get the best results for their clients. Their team works to increase your brand equity, grow traffic from actual prospective customers, and most of all, increase your revenue and profit. Dog&Pony are Kaspersky's social media agency in Hungary and it is very clear that success is their top priority.
We invite all the SEO & Digital Marketing agencies which we have outlined here to send us more of their work, if they think we might have missed something, as this top is going to be updated.
You should also check our TOP European Digital Marketing Agencies.