Sauna Fest 2023 begins at Therme Bucharest, Europe's most significant wellness center, Visit Bucharest announces. The Spa announces the debut of the 5th edition of the largest sauna festival in the world and the only one of its kind in Romania – Sauna Fest 2023. Between 2 and October 22, the Therme saunas become the scenes of the most spectacular sauna shows supported by the best Aufguss Masters in the world.
Shows, essential oils and sauna culture intertwine for a new, memorable edition
Sauna Fest 2023 brings together over 60 international Aufguss Masters, who will stage over 300 sauna shows, thus becoming the only sauna festival in the world of such magnitude. In addition to the hundreds of multisensory performances, visitors can enjoy dozens of experiences dedicated to relaxation and well-being, all included in the admission fee.
Andrei Şerban, the winner of the 7th place in the world, and the Dutch Joes Hermsen and Ashley Fijma, the occupants of the 8th and 5th places, respectively, at the Aufguss WM World Championship, are just some of the guests of this edition.
In an absolute first for Romania, Andrei Şerban, a member of the Therme Bucharest wellness team, put our country on the world map of sauna culture and Aufguss rituals. The experience of over five years and his boundless passion for the sauna brought Andrei Şerban international recognition. The exceptional show entitled "Workaholic" placed Andrei in the top 10 MoA (n.r.: Masters of Aufguss) in the world. "I want to make your heart sing!" is Andrei's promise and motto for Sauna Fest 2023. Thus, in the first week of the festival (October 2-8), Therme visitors will be able to see Andrei live with the shows "Workoholic", "Do not Forget" and "Wicked Games".
In the second Sauna Fest week (October 13-15), the Dutchman Joes Hermsen, ranked 8th worldwide, will stage "Grim Reaper". Between October 19 and 21, world number 5, Ashley Fijma, Dutch sauna master with Viking roots, brings to Sauna Fest the energy of the show entitled "Sirena", applauded on the open stage at this year's Aufguss WM World Championship.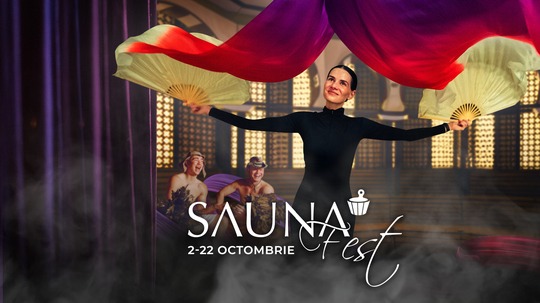 For 21 days, sauna experts from Belgium, Denmark, Czech Republic, Poland, Germany, Slovakia, Holland, Romania, Italy, Great Britain, Slovenia and Croatia will give unique performances to the Romanian public. The list of guests and the complete program are available on www.therme.ro