On Wednesday, February 16, Romania's capital, Bucharest, recorded an increasing pollution index – seven times in a few hours. The sensors of the significant air monitoring networks have shown how poisonous the air in the capital is. What is the cause, and why no measures are taken?
Bucharest is the most polluted city in the European Union, and this problem comes from various sources. Still, the most significant ones are the heavy traffic, unauthorized waste storage and illegal waste disposal that is poisoning the air and making it a health hazard for all the city's residents.
What are the causes of pollution in Bucharest?
Most of the time, the authorities seem unable to identify the source of pollution and pretend to be taking measures in this matter. As mentioned in a previous post, a similar situation was registered in 2020 when the pollution level în Bucharest reached alarming levels. The authorities promised to fix that situation at that time.
One of the measures intended to solve the problem was imposing the vignette oxygen, disallowing Euro 2 and lowering cars to enter downtown Bucharest. That measure was not taken, and the city mayor initializing it was changed after the local elections. The unbreathable air in Bucharest persists in 2022, as we can see on a dedicated app.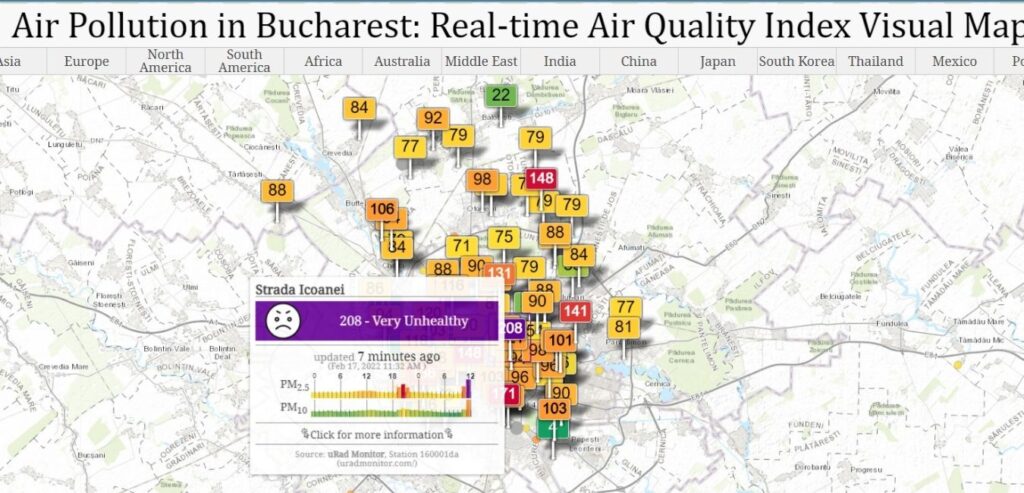 From 2020 since TomTom, the app which monitors and indexes traffic jam levels ranked Bucharest the first among the EU cities by the level of congestion registered and the 14th in the World, nothing seems to have changed. The air in Bucharest is a significant risk factor for the population's health, degrading living conditions.
Curiously is that other conglomerate cities in Romania are not facing this issue. Romanian cities like Timisoara and Cluj-Napoca, both located in Transylvania, Western Romania, are raking in the Top 20 Healthiest Cities to Live in the World, having the cleanest air.
Can the pollution in Bucharest be solved?
The change starts with everyone who lives in a conglomerate city like Bucharest. Some solutions to improve the air condition would be:
The use of public transport. Bucharest is benefiting from hybrid buses for public transportation. An eco-friendly way that protects the environment in order to travel in a busy city.
Composting plant residues. Instead of burning the vegetable residues, it is possible to opt for their composting to reduce pollution.
Reducing the number of trips by car. If not necessary, people should opt for walking to shop, for example, instead of using their personal car.
In case both citizens and the authorities remain indifferent to the growing pollution in Bucharest, they will have to face, shortly, a much more severe problem than the current crisis.