Romania is in 49th place in the Top 100 most valuable nation brands, dropping one place from the previous year.
According to this year's edition of the Nation Brands report, compiled by British consulting firm Brand Finance, Romania is in 49th place in the list of the most valuable nation brands, compared to the 48th place occupied in 2021.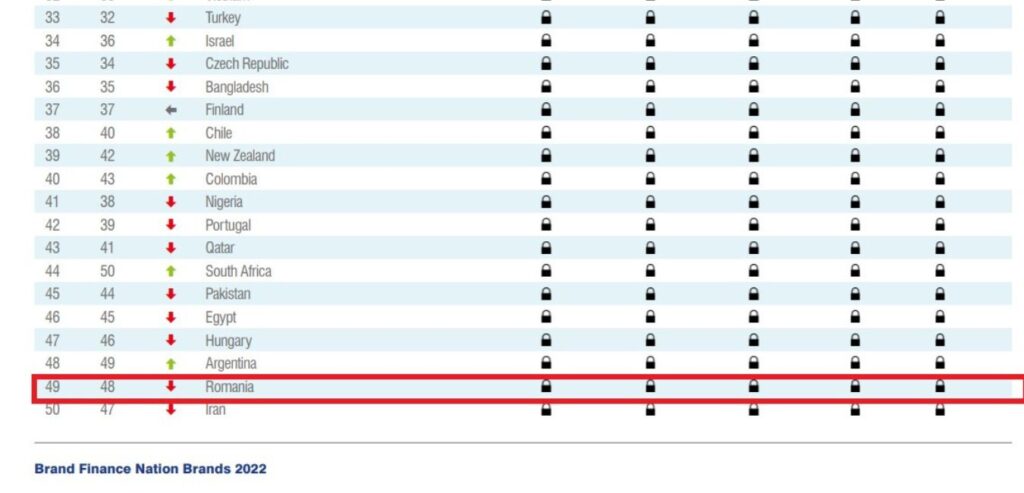 The cumulative value of the country's 100 largest brands increased by 7% compared to last year, to USD 97.2 trillion, slightly below the value of USD 98.00 billion recorded in 2019, before the pandemic. Although important events in 2022 significantly change some countries' positions, the leaders from the previous year remained in the same place.
The value of the nation brands is calculated based on predictions regarding the evolution of the gross domestic product in a 5-year horizon, the ranking including 100 economies. The global top is still led by the USA, with a national brand value of USD 26.5 trillion (+7% compared to 2021), followed by China, with a brand value of USD 25.1 trillion (+8%).
With the combined worth of their brands equivalent to that of the other 98 national brands listed in the ranking, the US and China are the undisputed leaders.
Germany comes in 3rd place with an estimated brand worth of USD 4.5 trillion. Russia saw the most significant value decline after the invasion of Ukraine. Russia dropped from 16th to 24th rank, and its brand value decreased by USD 144 billion compared to 2021.