No Romanian city is included in this year's top 20 Crypto Hub Cities, despite the country being home to the digital wallet Tokero and the MultiversX blockchain technology company launched in Romania.
According to Crypto Marketing Center, it was found that London has the highest level of crypto preparedness to attract firms and start-ups.
In addition to crypto-friendly regulations, a supporting infrastructure that can provide the general public with access to and exposure to the ecosystem is required for cryptocurrencies to become widely accepted. When eight crucial factors pertaining to taxation, ATM availability, employment opportunities, and events in the space are taken into account, London comes out on top as the world's most crypto-ready city for businesses and start-ups.
Prime Minister Rishi Sunak's objective of "ensuring the U.K. financial services company is continually at the forefront of technology and innovation" is on the right road, according to research done by Recap. The analysis of eight significant data points revealed that London is the city most prepared for cryptocurrency to draw businesses and start-ups.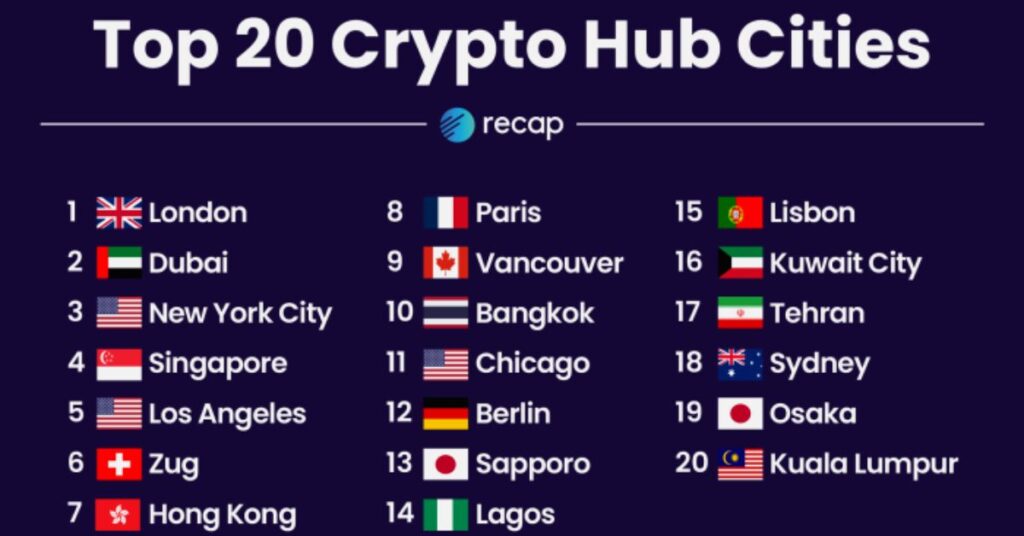 As can be seen above, major cities like Dubai and New York made it to the list's top three. Hong Kong, which was seen as the country most ready for cryptocurrencies in 2022, fell to sixth place in the survey.
What does Romania need to be included in the crypto hub?
Although Romania hosts a big number of crypto-related companies and Bucharest's citizens are highly proficient English speakers, there are a few obstacles that keep the country from entering the top crypto-ready cities in the world.
These include the crypto-specific events, crypto-related jobs, crypto-specific companies and the number of crypto ATMs.
Some of the non-crypto considerations include quality of life, research and development spending as a percentage of gross domestic product, and capital gains tax rate.
Digital nomads could also contribute to Romania's success in the cryptocurrency market if all the requirements are met.
The top 50 big cities with infrastructure ready for widespread cryptocurrency adoption are listed below: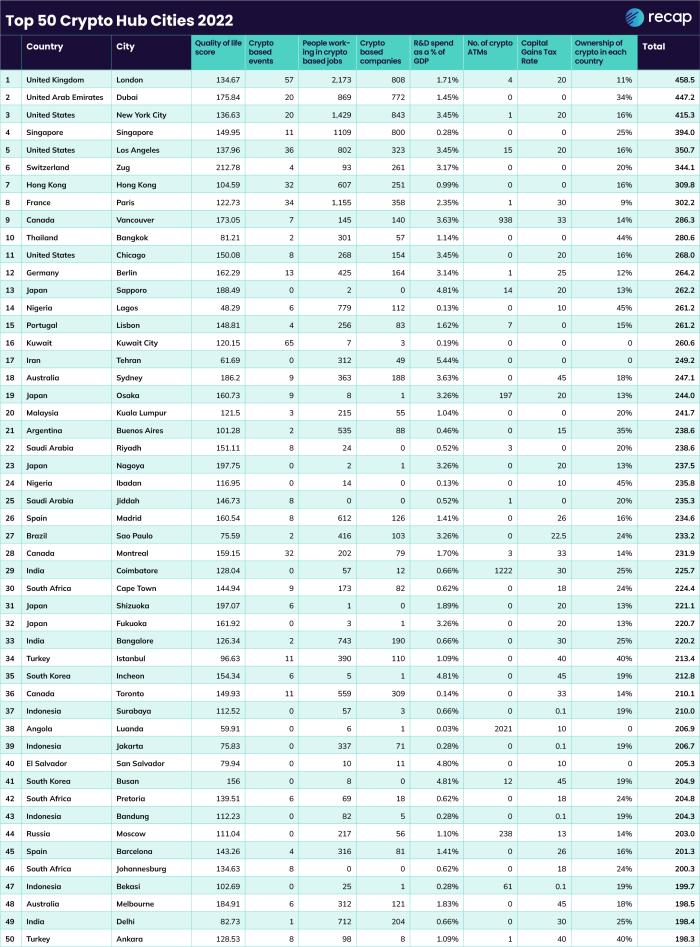 Leading metropolises like Dubai and New York made it to the list's top three, as can be seen above. However, Hong Kong, which was ranked as the nation most prepared for cryptocurrency in 2022, dropped to sixth in the study.
The overall number of crypto-specific events, occupations related to crypto, organizations focused on crypto, and the number of crypto ATMs are some of the important variables taken into account in the study. Life quality, the proportion of GDP spent on research and development, and the capital gains tax rate are a few non-crypto factors to take into account.