Crypto wallet Romania – all the information you need to choose one of the best crypto wallet solutions while trading on the Romanian crypto market: Tokero crypto wallet.
A crypto wallet like Tokero is a digital wallet that stores public and private keys and interacts with various blockchains to allow users to send and receive digital currency.
As the cryptocurrency market around the world continues to grow, Romania has also witnessed a rapid increase in the interest of the large public. The country is now home to over 200 crypto-related companies and has become a hub for blockchain innovation.
Cryptocurrency wallets are software used to store, send, and receive cryptocurrencies like Bitcoin, Ether or EGLD. They come in many forms, such as mobile apps, desktop applications, hardware wallets, paper wallets etc.
We're sure you heard about cryptocurrency. In today's face-paced world, everything evolves at high-speed, from businesses to technology. Everyone wants to be up-to-date and invest in everything even if they don't have the necessary knowledge about this world. Here's everything to know about crypto wallets and why Tokero should be your first choice if you live and work in Romania but also elsewhere.
What crypto wallet to use in Romania and why you need one
Crypto wallets are an essential part of the cryptocurrency ecosystem. They help users keep their digital assets safe and secure.
Romania is a country where quite a few people have heard about cryptocurrencies. The country is catching up with the rest of Europe and even North America in terms of cryptocurrency adoption.
The usage of cryptocurrency wallets in Romania vary from storing your coins to using them as a payment method.
Crypto wallets are virtual devices or online software platforms that store the user's cryptocurrency. A digital wallet is where individuals can store their digital assets securely. Wallet holders can use it to send and receive payments, view their balance, and make transactions such as buying cryptocurrency and exchanging coins for goods or services.
Why use Tokero as Romanian crypto wallet?
Tokero is a crypto wallet that allows users to deposit and exchange crypto coins to/from Fiat in just a few steps. Tokero's mission is to make crypto accessible to everyone in a fast and safe way. You can easily understand cryptocurrency and invest in different digital currencies like Bitcoin, Ethereum, or Tether.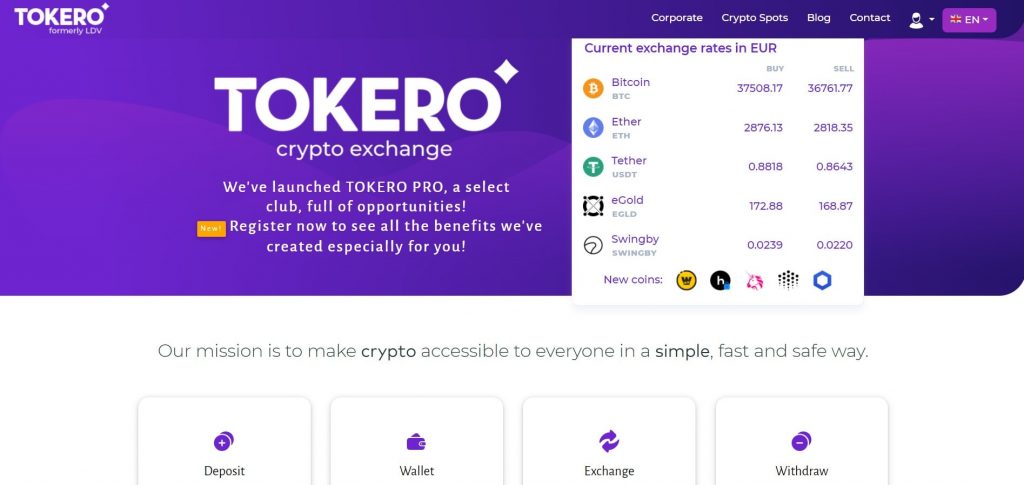 Tokero is on mobile devices too, and you can download it from Google Play, AppStore, or App Gallery. You can make the exchange online or visit one of their Crypto Spots Partners like Prăvălia cu licori from Selari Street 18 or Lucas Exchange from Bucharest.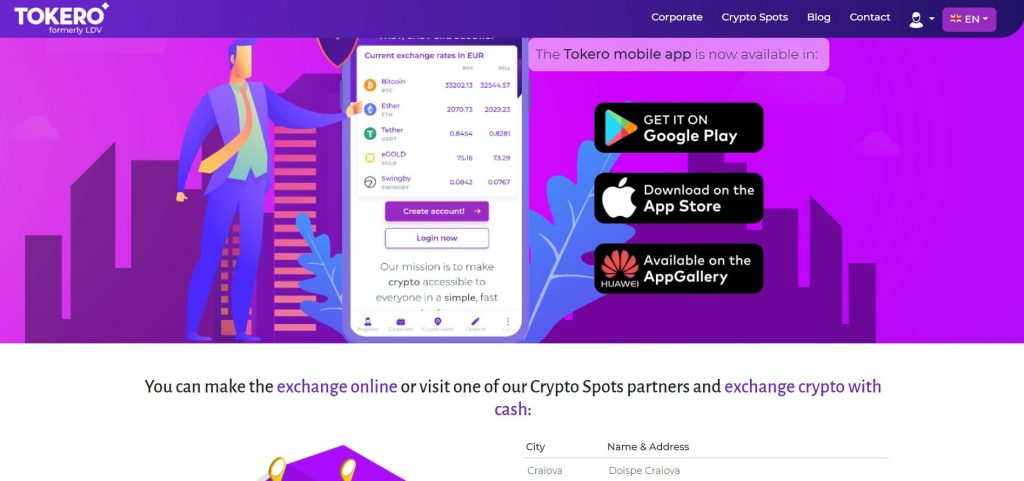 Crypto wallets are the most popular way of holding and carrying digital coins. Different types of crypto wallets can be found on the digital market, and Tokero is the number one choice for local crypto wallets.
The pros of a physical wallet are easy to carry and use. It is also very convenient because it is not connected to any network or device. The cons include the risk of losing it, as well as the need for a wallet that can hold more than just cash.
Digital wallets, on the other hand, are more secure than physical ones, but they need to be connected to a device for you to use them. They also require you to have an internet connection to make payments and transfer funds from one account to another.
Different types of cryptocurrencies and what they bring to the table
Cryptocurrencies are digital currencies that can make secure and instant transactions. They are decentralized and not controlled by any central bank or government.
There are two types of cryptocurrencies – fiat currencies and crypto-currencies. The former is issued by a central bank, while no central authority issues the latter.
The first type of cryptocurrency was Bitcoin, which was introduced in 2009. It is currently the most popular cryptocurrency.
The second type of cryptocurrency was Ethereum, which was introduced in 2015.
Both types of currencies can be found on Tokero. Also, you can discover different cryptocurrencies such as Tether, eGold, Swingby or WAM.
The benefits of using a crypto wallet in Romania
Romania's crypto wallets are designed to store, send, and receive cryptocurrencies. They are also used for trading purposes. Wallets can be accessed from any device with an internet connection, and they offer users a high level of security.
A crypto wallet is an app that allows you to store, send, or receive digital currencies like Bitcoin (BTC), Ethereum (ETH), Litecoin (LTC), Ripple (XRP) and more. They provide users with a higher level of security than other forms of digital currency storage, such as online wallets or tricky wallets.
Wallets can be accessed from any device with an internet connection, and they offer users a high level of security.
Crypto wallets are no longer just digital wallets for storing your coins. They have become the go-to solution for all sorts of transactions, from buying and selling Bitcoin to paying your bills and even sending money to friends.
The benefits of using a crypto wallet in Romania to store your virtual money
As the popularity of cryptocurrencies increases, Romania's demand for crypto wallets increases. It is essential to have a wallet that can keep your crypto securely and be easy to use.
A fiat wallet allows users to store fiat currency such as US Dollars, Euros, and British Pounds in their online accounts. This gives users easy access to convert their coins into their local currency when needed.
Crypto wallets are digital wallets that allow users to store different cryptocurrencies such as Bitcoin, Ethereum, Litecoin, etc.
While it is unnecessary for every person who wants to invest in cryptocurrencies to have a fiat wallet, it provides an extra layer of security for those who want it.
With Tokero, you can have a reliable crypto wallet. With Tokero you will have the proper tool to help you store, exchange, and better understand when it's the best time to trade crypto.