Recently, the decision of partly lifting the restrictions in Bucharest started a strong debate in Romania. On one hand, there were people to support this lifting of the restrictions, on the other hand there were those who opposed the idea.
On one hand, the restaurant owners and the ones who felt their social life vanished since the pandemic. On the other hand, those who felt that restrictions are the only way to get out of this situation.
Yet, it seems that Romania chose a different way: while other countries, especially the Western ones, are imposing restrictions again, Romania partly lifts them, wherever the rate of infection is below a certain limit. Meanwhile, Romania speeds up the vaccination process. In fact, it speeds it up to a pace where it placed the country on second in EU.
Romania is second only to Malta by the speed of vaccination in EU, but Malta has a population of only 500,000 people, while Romania has around 21,000,000. Way behind Romania there are the neighboring Bulgaria or Hungary. In fact, Romania's neighbors are on last places when it comes to the speed of vaccination: Hungary does around 5,000 doses a day, while Bulgaria does a little more than 1,000.
Politico calculated the pace of the vaccination by how many months will take for each country to reach the immunization rate of 70% of the adult population. According to the ranking, all the countries are way behind the European Commission's schedule, of September 2021, but still, some countries are too far away: Bulgaria could reach the 70% immunization goal by August 2040 (!!!). Politico says that, to hit Commission target, EU vaccine rollout should be 5 times faster.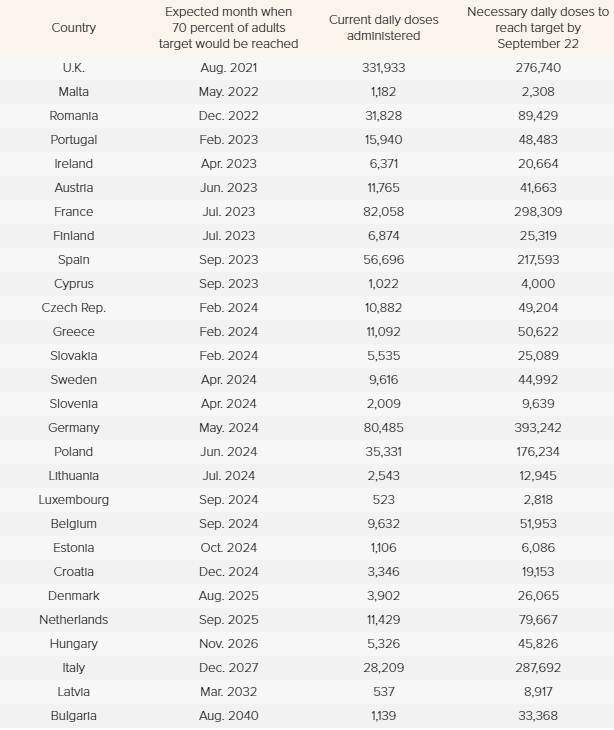 Of course, December 2022 is not what Romanian authorities had in mind when they started the vaccination process. But, as the Romanian Government's officials said, the vaccination rate would be increased and hopefully the pandemic will be under control by September, through vaccine immunization, as the European Commission expects. According to the coordinator of the vaccination campaign in Romania, the country wants to vaccinate 13 million people by the end of June, which, in these circumstances, where there is significant delay in the delivery of the batches from Pfizer, seems quite a performance.