According to a statement from the Romanian Swimming Federation, David Popovici will not compete in the 400m freestyle final.
David Popovici was withdrawn from the 400m freestyle final at the European Senior Swimming Championship in Rome by his coach Adrian Radulescu and the technical staff. The decision was made due to a busy schedule for the upcoming time, the final's anticipated high level of consumption, and a desire to prepare as well as possible for participating in the World Junior Championship in Lima (Peru), a very demanding competition.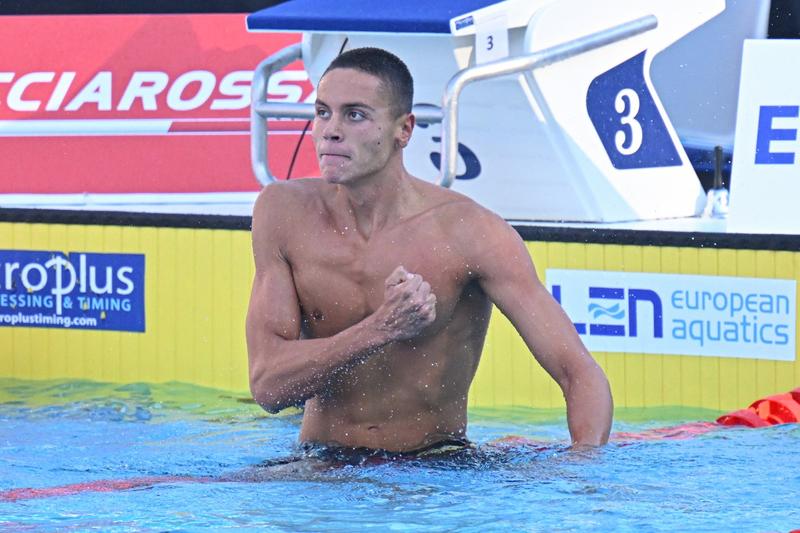 The objective was to check at a European Senior Championship in the 400m freestyle, an important event primarily for the preparation of the other two, which were really bright, but also came with fatigue. For us, the competition in Peru is equally important, where we want good results.

Adrian Radulescu
With a winning time of 3:47.99, David Popovici qualified for the 400m freestyle final after dominating the first heat of qualifying.
Previously, Popovici broke the world record in the 100 m Freestyle Men (46:86) and wins the European Gold Medal in 200 M Freestyle. David Popovici is one of the most admired sportsmen of the moment, becoming a global sensation in the swimming performance chapter. Many would have wanted to see him perform in the 400-meter final, still, the physical effort made after the previous competition speaks for itself.
Photo source: David Popovici