As the Covid-19 pandemic grows, more people are working remotely, from home. Is it safe for companies? Do companies take the necessary measures to secure their commercial secrets or their know-how while having entire teams, once working in the same space and using only company's desktops and servers, working at home? Is the sending of the classified or professional files done in a secure manner or is it done over the not so secured services such as the regular file-sharing platforms?
The biggest challenge for companies while working remotely – securing their sensitive data
Some of the biggest challenges for employers include communication among team members and with external entities. This can be done, if nothing confidential is shared, by using the well-known file-sharing platforms.
But what happens with companies that share confidential documentation, such as those who work with sensitive law procedures, internal audits and financial offers? How can a company struck by the lockdown make safe restructuring while lawyers, auditors and business partners all work remotely? Which is the best option to host your website and share documents securely?
Today we thought about presenting one of the safest ways available for you to share files, within your team or with your partners, which has long been known to the mergers and acquisitions professionals, namely the Virtual Data Room.
Most secure way to share files when working remotely – Virtual Data Room (VDR)
The internet has become the way to work at the moment. While surviving COVID-19 pandemic as a company, one should use internet in an efficient and secure manner. Putting in place a productive and secure remote working solution is the biggest challenge facing companies during this crisis.
As companies, small firms and individuals work with and share confidential documents like financial documents, strategic documents or legal documents from home, a potentially unsecured work environment, which creates a perfect opportunity for hackers to ramp up their level of attacks.
If more and more companies adopt work-from-home policies in response to the COVID-19 pandemic, cybersecurity will matter more than ever during this period. Why stay behind?
Nowadays, more and more companies use VDR – Virtual Data Room as a simple and safe alternative to sharing confidential information via FTP, dropbox or e-mail. So, if you have a business, you can use the VDR in this time of crisis where all your personnel work from home and you need to share confidential documentation with clients, lawyers, auditors, advisers, crediting institutions and other entities. Processes forced by the lockdown, such as restructuring, seeking of investments, HR changes, debt management, and others can be done quicker and more effective using VDR. This way you can securely improve the way your company works daily on sensitive documents and information.
What Is Virtual Data Room (VDR)?
In critical times like these, companies use Virtual Data Room as a simple and safe alternative to sharing sensitive information.
But what means VDR (Virtual Data Room)?
In simple terms, Virtual Data Room is a web-based electronic document repository in which a company can keep confidential documents safely and grant access to them to any authorized person. It is a technological standard in M&A processes, where financial and strategic documentation of companies in multimillion deals is shared.
The good thing is that no one will get access to confidential information unless an appropriate permission is given, while everything that happens in VDR is being regularly reported at the admin level. More than that, people who have been invited to the data room can work comfortably from their home, in any corner of the world at any time, day or night. So, you only need a computer and Internet connection to use it. There is no need for implementation or engaging IT specialists by your company
On the other hand, cloud-storage means storing data on an outsourced server. In other words, an external drive which is constantly available online. Instead of saving files on home devices or sending them via email, you can store company data on a server of a selected provider and create data repository there, that you and your colleagues and business partners can exclusively access at any time, sharing files and collaborating on documents.
Therefore, the confidential documents are protected to the maximum extent as they can be restored in the event of server failure. A company PC simply cannot offer such a range of preventive measures. This is why it is important to be sure that your data is safe and using online backup sharing is the key for that.
So, we have a recommendation for all those who want to keep their sensitive corporate data safe: share confidential documents in a controlled and easy way, with absolute information security!
What makes Virtual Data Room (VDR) different from other secured file-sharing systems?
Maybe you ask yourselves what makes Virtual Data Room different from other file-sharing systems.
Well, security is the heart of the Virtual Data Room system. There is also a second factor worth noticing – VDR, unlike other file-sharing systems, it offers support from the service supplier. Support is provided 24 hours a day and includes, first of all, technical support available to all users invited into the data room and, secondly, customer support in system management (e.g. data room supplier can upload files or administrate VDR for the client).
VDR is one of the best business tools available used to send and view confidential documents, especially in the Mergers and Acquisitions sector. VDR allows to grant individual rights to users easily, and access to it is only possible if a person has received a link to the data room from the administrator. The platform also has an advanced system of reports on who logs in, shows which files are browsed, what IP addresses are used and other features. FORDATA offers the highest level of data security, and they apply strict internal standards while handling the files.
Thanks to VDR, collecting information, sharing them and making evaluations are more effective than ever before. The main benefits to each participant of the transaction are convenience (everyone works from their home) and transparency of the process!
This means that the auditors, lawyers, even company business partners do not need to come to our company office to have access to even most confidential data. A set of tools such as "read-only", screen-block, print-block allow a safe and controlled document sharing remotely.
FORDATA – #1 Virtual Data Room in CEE & Baltic region
FORDATA Group is the leading provider of Virtual Data Room system in Central and Eastern Europe. They support mergers and acquisitions, due diligence online, audits online, capital raising projects, sales of batches of receivables, syndicated lending. Also, their system allows small and large enterprises to share confidential documentation with third parties e.g. advisers, lawyers, auditors, investors, during transactions and projects of significant importance for the company.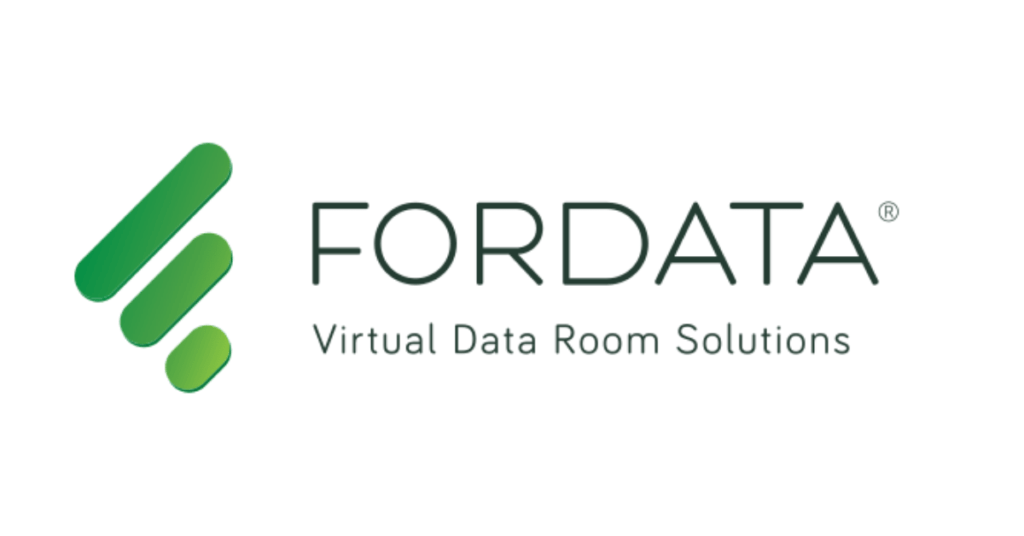 Why we recommend you choose FORDATA Group for your confidential documents' safety?
A quickly completed due diligence or audit is every dealmaker's dream. FORDATA Group developed a VDR Platform which is not only one of the best ways to share documents securely, but it also enables faster work of many participants to help speed up the dealmaking process. They want to be the fastest system in the industry, thus they respond adequately to the market and technological situation.
FORDATA Virtual Data Room allows to share confidential documents online during Due Diligence and audits in a controlled way. One of the main benefits of their VDR is a complementary approach to speed and ease of use. Users can upload 1GB of data even in 7 minutes and quickly create folders with drag&drop function. Documents are clearly cataloged and automatically numbered, while advanced reports allow project managers to precisely track the activity of people who have access to documents. The system is supported by a well-tuned and fast customer support team, who can take on the "technological" side of the Due Diligence process on demand. All this leads to an enhanced control and faster closing of the transaction.
Given the current situation caused by the COVID-19 pandemic, FORDATA VDR represents a solution that is especially useful for companies during remote information sharing with lawyers, auditors, advisers, banks during processes such as company restructuring, due diligence, sharing confidential documentation with law offices, life science projects, audits, searching for crediting.
By connecting technological solutions with the speed of their support team, FORDATA VDR allows to shorten the project time and thus save the money needed to finish it. They provide very high quality and awarded customer service with the help of their dedicated project managers. The tool is ISO 27 001 certified and GDPR compliant.
On the other hand, it is good to know that if you have any problem, FORDATA is there for you no matter what. They pick up phones 24/7 in 15 seconds and 95% cases are solved immediately!
At FORDATA, the team understands the motivations of all parties of the deal, which is why they approach the issue of speed comprehensively. Speed is not only the efficient loading and viewing of documents, which they take care for writing the highest quality code. It also includes a properly selected set of system functions, intuitive design and the work of the entire FORDATA team – from IT, through Sales, to Customer Service department.
On top of that, FORDATA offers a flexible and extendable monthly offer for all those who want to use their secure file sharing service when the project demands it, without the need to sign long term agreements.
As COVID-19 pandemic is developing, FORDATA is now offering a free 1 month voucher for their VDR to help companies struck by lockdowns secure their restructuring processes.