Romania draws in Switzerland 2-2 after being led by 2-0. Mihaila, the Romanian forward, scored two goals in '89 and 91+2, equalizing a game that seemed lost for Romania. The Swiss team couldn't believe what had happened in the last 4 minutes of a game they controlled almost totally.
Also, after Mihaila scored twice against the run of play, the Swiss team had a huge opportunity to score the winner in 90+6, which would've brought the madness in the stands to a different level.
Switzerland started strong, as expected, and Zeki Amdouni scored in '28 and '41. In the second half, Switzerland had other opportunities to score and even had a penalty kick in '81, but VAR cancelled the referee's decision.
The scoring Romanian player, Mihaila, said everything about Romania's team in a few phrases:
Trust us because you don't have others. If you had (other players to select), why don't you select others? Believe in us because if we weren't there, there would be others and maybe…

Valentin Mihaila, Romanian forward
Also, Romania, a country with a spectacular team decades ago, is now considered a tiny nation in football. Even the selected players say these in each press conference: We are a small team. When all you manage to do is a draw in Pristina with Kosovo and another lucky one in Switzerland, after a lousy game, you can bet your bottom dollar you are a small team in value.
Even so, Romania stands in a qualifying position, second place in Group I, two points behind Switzerland and only one point above Israel.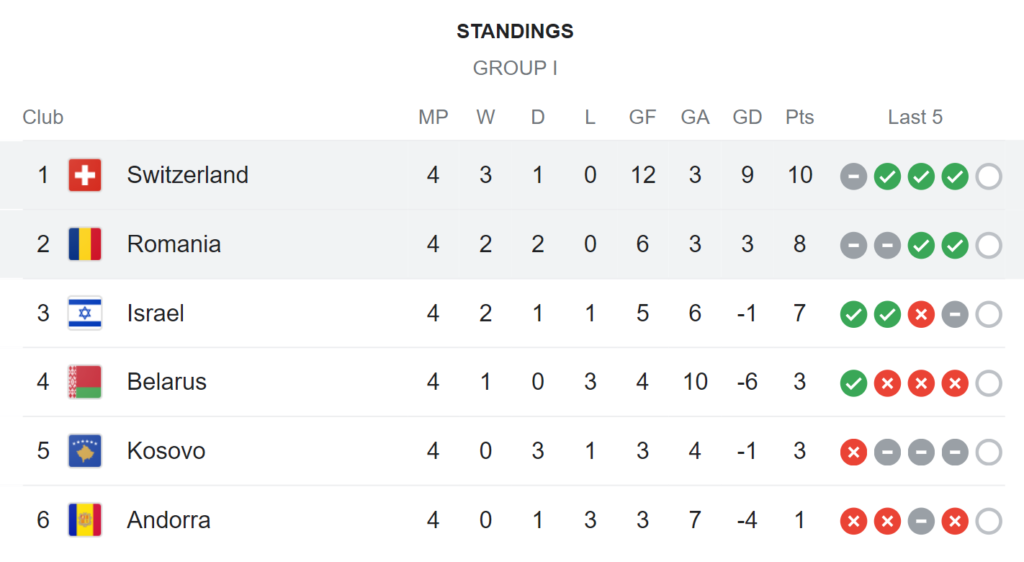 The first two teams in each group qualify for the final tournament, and Romania has plenty of chances to stand on one of the qualifying positions at the end of this campaign.