Elon Musk's well-known satellite internet service is now available for Romanian clients to order. The corporation anticipates launching operations in Romania in 2023.
On the Starlink page, Romanian clients can now place orders.
We conducted a test, pretending we'd like to order the service. And we successfully tried the Romanian option of the platform. We noticed that the prices are not for everybody, that's a fact: the hardware part costs EUR 650, the delivery costs EUR 82, and the subscription costs EUR 107 per month.
Using advanced satellites in a low orbit, Starlink enables video calls, online gaming, streaming, and other high data rate activities that historically have not been possible with satellite internet. Users can expect to see download speeds between 100 Mb/s and 200 Mb/s and latency as low as 20ms in most locations.

Starlink.com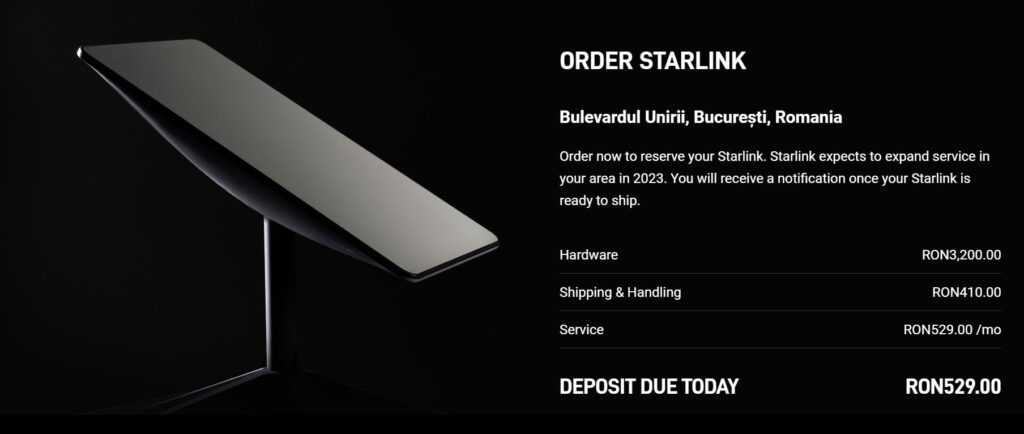 Who can benefit from Starlink's internet service?
As mentioned on the website, Starlink is ideally suited for areas where connectivity has been unreliable or completely unavailable. People across the globe are using Starlink to gain access to education, health services and even communications support during natural disasters.
Even though Romania is at the top of the countries with the fastest internet globally, the arrival of Starlink would bring advantages for disadvantaged areas.
The idea behind Musk's satellite constellation is to provide high-speed internet, especially in areas that are not covered by traditional operators. Schools or public institutions in remote hamlets, small rural communities where traditional infrastructure is not yet present, mountain top refuges or cottages – are just a few examples that will have access to the internet after Starlink starts providing services and in Romania.

Sabin Sărmaș, chairman of the IT&C Commission of the Chamber of Deputies
If you are in an area where the internet is unreliable or has a poor connection, Starlink might be a proper choice.