Romania trails behind every other EU member state in digital progress. EC's Digital Economy and Society Index indicates Romania's score of 30.6 points compared to the average of 52.3 points.
According to a press release from the European Commission, Member States made progress in their digitization efforts during the COVID-19 pandemic. Still, they have not yet been able to close gaps in the development of AI (artificial intelligence), digital skills, or the digitization of SMEs (small and medium-sized businesses). However, Romania's relative annual growth is behind that of its peers, indicating that it is not converging with the rest of the Member States.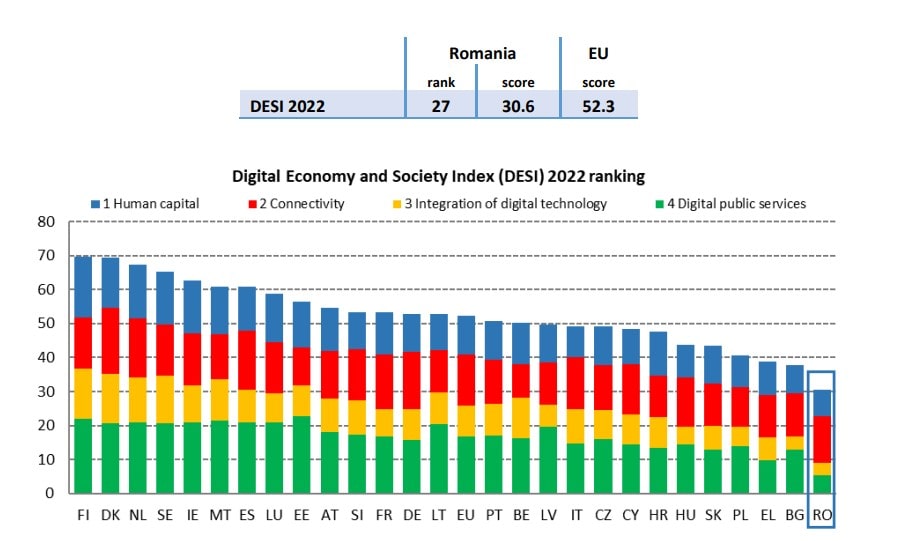 The slow rate of development and low degree of digitalization prevent the Romanian economy from fully utilizing the benefits of digital technologies. The deficient digital public services for citizens and corporations make this situation worse.
Romania is not doing well in this chapter, even among young people. Romanian students have a minimum functional level of digital skills. On the other side, digital nomads are encouraged in Romania through visas, and many come to work online Romania. However, this mini-progress can be observed in the urban area while the rural area remains stagnant.
The Romanian Recovery and Resilience Plan (RRP) includes significant measures to fully embrace digitalization along all DESI dimensions, i.e., digital skills, connectivity, support of businesses, and digital public services, with investment support of almost EUR 6 billion (20.5% digital tagging). While the Ministry of Research, Innovation, and Digitalization oversee most of these initiatives (both reforms and investments), other Ministries and government organizations are also responsible for implementing relevant digital initiatives.
However, considering the Romanian Recovery and Resilience Plan measures, Romania performs significantly worse than the EU average in basic and advanced digital skills (28% vs. 54%). (9% vs 26%).
Regarding integrating digital technology, Romania performs poorly, coming in last place, since practically all indicators continue to be much below the EU norm and have stagnated or even declined over the past year. For instance, only 22% of SMEs had at least an essential degree of digital presence, compared to an EU average of 55%.
Romania continues to face difficulties with its digital public services. The nation performs much worse than the EU norm since just 17 percent of internet users use e-government services, and there are very few digital public services available to people (a score of 44 compared to the EU average of 75).
To meet EU'S Digital Decade targets for 2030, Romania would have to make significant improvements in a way that "greatly benefits the digitalization efforts".