Romanian delegation ended third in the medal ranking standings of the European Swimming Championships in Bucharest with nine gold and four silver medals.
David Popovici, who won five medals overall, was voted the competition's top athlete. Also, the Romanian athlete Vlad Stancu won four awards overall—two gold and two silver at this competition.
The Romanian delegation won nine medals at the EC swimming for juniors from Otopeni: 5 gold in the men's relay 4×100 m freestyle (David Popovici, Vlad Stancu, Stefan Cozma, and Patrick Sebastian Dinu); David Popovici in the 200 m freestyle, 50 m freestyle, and 100 m freestyle; Vlad Stefan Stancu at the 1,500 m freestyle; and four silver in the mixed relay 4×100.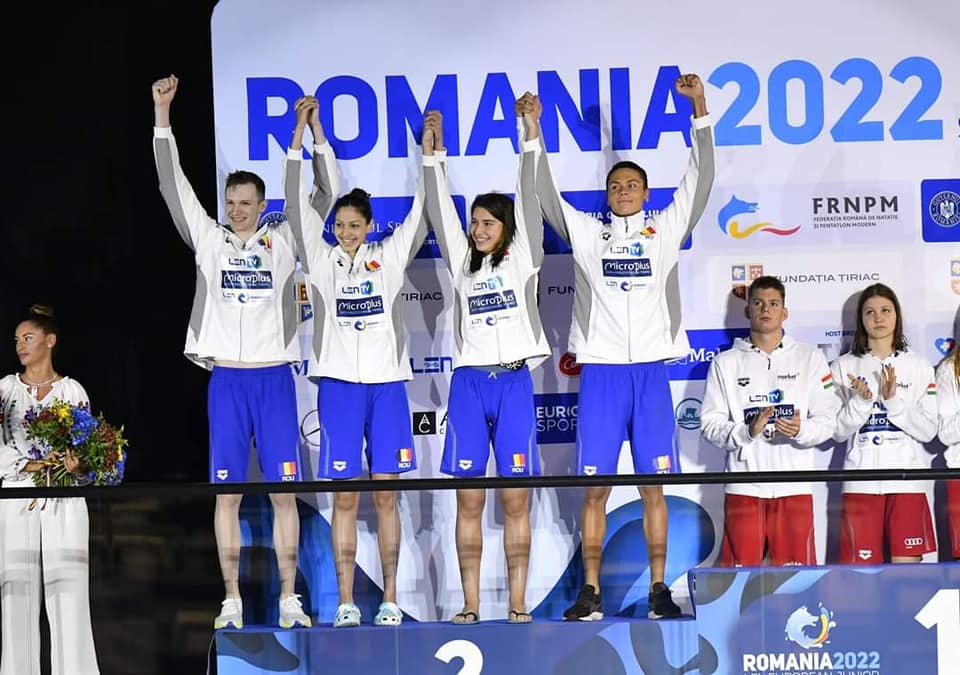 Based on a score based on the top performances during the competition, Mary Ambree Moluh (France) and David Popovici (Romania) were crowned the best athletes in the European Junior Swimming Championships in Otopeni. David Popovici placed first in this ranking with 951 points, followed by the Pole Ksawery Masiuk (941) and the Italian Lorenzo Galossi (897). The Romanian champion, who had already won the senior 100 m and 200 m world titles two weeks prior in Budapest, won five medals at Otopeni, including four golds in the 50 m freestyle, 100 m freestyle, 200 m freestyle, and the 4 x 100 m freestyle relay, as well as a silver in the latter event.
Romania has made a sensation in the last period in the world of swimming, thanks to the young Romanians athletes who had exceptional performances at international competitions. The gains from these competitions are the result of their efforts to perform. Although the sports chapter had a golden age in Romania, unfortunately, it was not invested in. Many Romanian athletes have nowhere to train and no budget to perform. This situation will hopefully change because there is a lot of talent and will among athletes in Romania.
Photot source: David Popovici Facebook