The visit of Minister Dmytro Kuleba to Bucharest took place on Friday, April 22, in the context of Russia's military aggression in Ukraine and the strict security and humanitarian situation caused by it.
Minister Bogdan Aurescu reiterated Romania's firm support for Ukraine's independence, sovereignty, and territorial integrity and the efforts of the Ukrainian authorities to repel Russian aggression. At the same time, the head of the Romanian diplomacy transmitted, on this occasion as well, the firm position of Romania in condemning the Russian invasion of Ukraine, which represents a flagrant violation of international law.
Minister Bogdan Aurescu and Minister Dmytro Kuleba made joint press statements at the end of the consultations.
Romania's Foreign Minister Bogdan Aurescu: I am convinced Ukraine will win this war!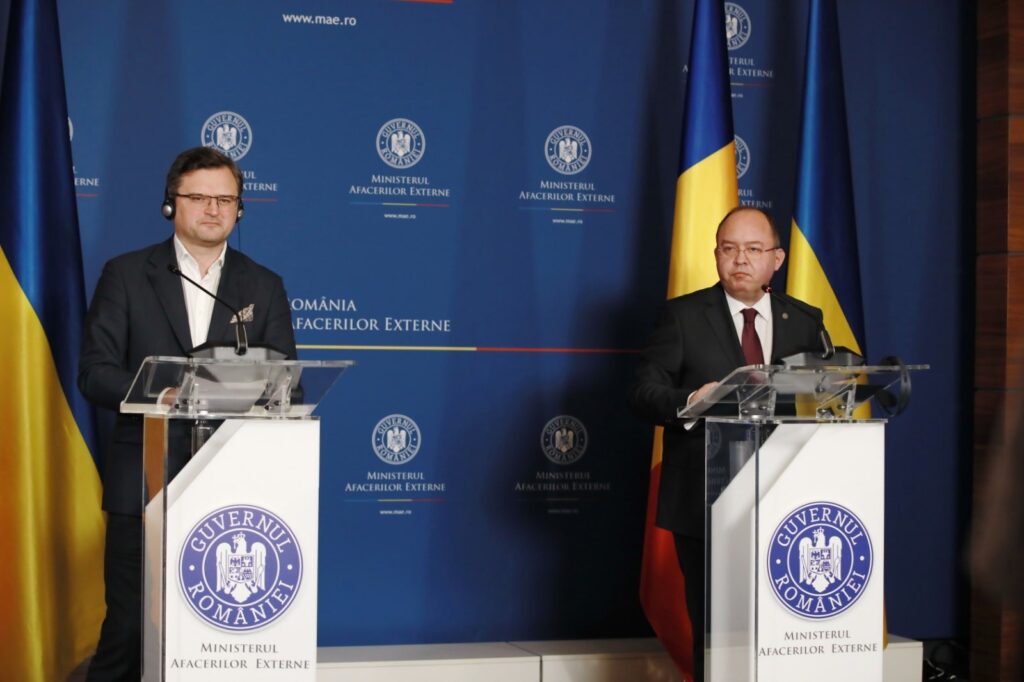 In his statement, Romanian Foreign Minister Bogdan Aurescu expressed his wish for Ukraine to win the war.
Today we had a very consistent dialogue, which we will continue after this press conference, a very applied exchange of views on the serious security and humanitarian situation in Ukraine, generated by the illegal, unprovoked, unjustified and premeditated war of Russia. on Ukraine. I reiterated Romania's firm support for the independence, sovereignty, territorial integrity of Ukraine, as well as for the heroic effort of the Ukrainian authorities, of the Ukrainian citizens to repel the Russian aggression, which is a flagrant violation of all international obligations assumed by Russia. (…)
Ukraine must win this war and I am convinced it will win it. (…) Then comes the reconstruction process, after the conflict is over. In this ongoing reconstruction process, the entire international community will have to provide support and I assure my colleague that Romania is ready to be part of this sustained effort.

Romanian Foreign Minister Bogdan Aurescu during joint press statements with his Ukrainian counterpart Dmytro Kuleba
Ukraine's Foreign Minister Dmytro Kuleba: Please, have no doubts, we will prevail!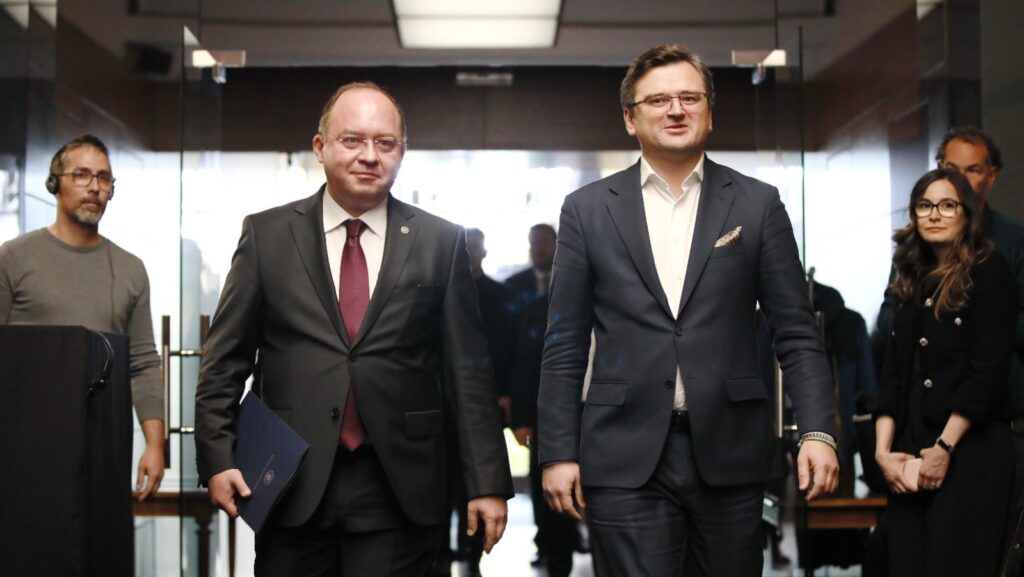 In his statement, minister Kuleba assured minister Aurescu of his appreciation for the support Romania offered to Ukraine and Ukrainian citizens coming to Romania.
And I would like to commend the Government of Romania for shaping a very smart policy, since the beginning of aggression, to provide, to stand by Ukraine.

We all share the Black Sea and this war, as I said, is also about the future of the Black Sea region. Our security is your security. You are helping us, you are also helping yourself. The fair deal that Ukraine offers to the world is simple: you give us everything that we need to fight and to win, and we, in return, contain Putin in Ukraine and defeat him there, so that he doesn't dare to test Article 5 of NATO, and doesn't try to expand further his aggression.

Those in Europe, who believe that this is just a Ukraine – Russia war and Putin will never dare to test Article 5, shouldn't be naive! We, in Central and Eastern Europe, are not naive, we know history. But others should be aware of a very simple fact: the best way to stop Putin is to give Ukraine everything it needs. (…)

The final words that I want to use are the following: Please, have no doubts, we will prevail!

Foreign Minister Dmtro Kuleba during press conference with Minsiter Bogdan Auresscu in Bucharest
Photo source: MAE RO