NATO publicly announced the total number of NATO soldiers on the territories of the Eastern countries. Also, the number of Eastern troops under NATO command increased, as the Alliance wants to deter any possible extension of the conflict in Ukraine towards NATO territory.
NATO's military force has grown significantly recently as Russian troops advance into Ukraine, and it spreads its presence over many eastern countries, including Romania.
In the context of the Russian-Ukrainian conflict, NATO has announced that it will strengthen its military power in Eastern Europe to ensure allies' security in a possible Red Army attack. Now the leaders are actually doing this.
Over 40,000 soldiers are placed under NATO's direct command, 130 aircraft and 140 ships. To these are added the soldiers of the host countries. Among the countries under NATO command is Romania, with over 70,000 soldiers.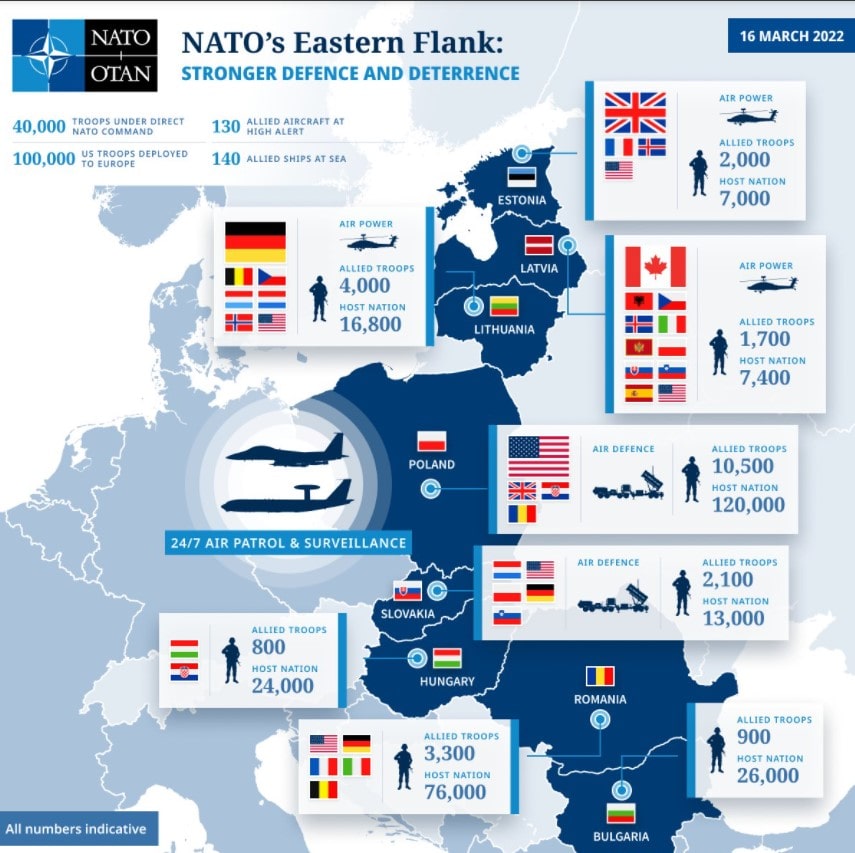 In addition, there are another 100,000 American soldiers in Europe, but their number could increase.
"We have strengthened our defensive presence, with multiple air, ground, and naval troops," says NATO, referring to its military forces in nations on the Alliance's eastern border, supplemented in the war between Russia and Ukraine.
The majority of the troops are stationed in Poland (10,500) and Lithuania (4,000), both of which border Kaliningrad. Also, the North Atlantic Alliance sent 3,300 soldiers from the United States, Germany, France, Italy, and Belgium to Romania to help reinforce the country's security.
Also, NATO fighter jets arrived in Romania in February. At that moment, NATO Secretary-General Jens Stoltenberg said that additional forces would be sent to Eastern Europe "in the coming days and weeks" and that elements of NATO's "defensive" response force would be activated, which has happened.
Regarding the military operation to strengthen NATO forces on the east flank, Secretary-General Jens Stoltenberg said that NATO presence on Eastern Europe "should involve substantially additional forces, equipment, and resources."
Therefore, in the situation in which NATO continues to strengthen its military presence in the Eastern region, it must be mentioned that Romania's Government prepares to consider imposing the state of crisis, which means that more than 70,000 Romanian soldiers could be subordinated to the foreign armed forces stationed on the Romanian territory or to the NATO commands.
Also, this week there will take place essential discussions and negotiations between EU and NATO leaders. According to Hungary's PM, Viktor Orban, there are some 'dangerous proposals on NATO's table'. Here the speculations go towards a potential 'no-fly-zone' over Ukraine, which will certainly lead to a confrontation between NATO and Russia's aircraft.