Valahia News had an exclusive interview with Alexandru Lazar, founder of MCRO software company and co-founder of Docviser app, who discussed with us the journey of this innovative concept, the benefits it brings and the future he envisions for the product.
As we published earlier, MCRO, one of the region's most reputable software development companies dedicated to improving doctor collaboration and cancer patient care, launched Docviser, the first intelligent oncology healthcare app developer in Romania.
Here's the full interview with the Docviser App co-founder.
Interview with Alexandru Lazar
Hello, everyone! We are continuing our interview series with a special guest. His name is Alexandru Lazar, and he is the co-founder of Docviser. A platform that enables doctors to connect with medical peers and discuss challenging cases in a secure environment.
In the interview, we will discuss more on the app, and the challenges faced. Hi Alex, thanks for accepting my invitation and welcome to our interview series for entrepreneurs. How are you?
Alexandru Lazar: Hi Maria, I'm good, thanks. Thanks for inviting me.
To get to know more about Docviser app we would like to know your definition of it, what is Docviser, and what it represents in terms of innovation.
Alexandru Lazar: Docviser is a medical software platform dedicated to oncology centers that are meant to help clinics optimize the oncology practice and improve their performance overall. What it brings is actually clinics will have a flow that allows doctors to use a shared database or treatment protocols that are global, prescribe treatments, set the proper doses based on the calculated warrants and then validate the treatment and then send it to the actual pharmacy of the hospital if there is a pharmacy if there is not, directly to the nurse that would further administer it.
The entire process happens in real-time for everyone, in full transparency. Doctors will be able to oversee everything, the entire flow from prescription to administering the treatment in real-time. That's the main feature of Docviser.
Other features will include the Tumour Board for the doctors to make the best decision for their patients. They have the option to join offline and meet in the same room and online in a Google meet-like conference room adapted for them to be able to discuss specific case studies, work on a resolution and add anything relevant to them that would make everyone take the best decision. Besides that, we also offer powerful clinic reports that help clinics logistically organize their staff better and be able to determine the exact quantity of drugs to be administered in the following months based on the previous month's records.
What can you tell us about the beneficiaries of this platform?
Alexandru Lazar: In my opinion pretty much everyone involved in the process will benefit tremendously, starting with patients who are the main actors and the platform is dedicated to making their lives easier, to doctors, clinics, and ultimately to research teams, I think everyone would benefit big time! As I mentioned earlier, the clinic flow will shorten the time for patients to stay in the hospitals, doctors will be able to collaborate more accessible and use the clinic flow to handle even more patients, and clinics will benefit logistically because using the report system they would be able to assess what quantity of certain drugs will be administered based on previous months records, and other statistics like the performance of the medical staff. Because you have an activity at the clinic where you can see who is performing what, and you can assess that as well. Of course, the research part, with its medical data stored securely and efficiently, will enable research to be done properly with solid data with real patients treated at the specific hospitals, compared to fake data on paper and the fact that we require the doctor to send a status, we finalize treatment they have to choose between several statues like ''progressive disease, a stationary disease, a partial or a complete response'', this will further enable us to build a proper milling list on the prescription and use data for research purposes to check if the treatment was weather more efficient than the others and later on why not, build an AI around it to make some sorts of forecasting or treatments where we can get some % on the surviving chances based on several factors. Right now, we don't have a lot of information collected from doctors other than the level of cretin and the body mass and a few other associated diseases, but later we want to introduce the genetic markers that are probably gonna be very relevant, my co-founder is a doctor he would be able to tell you more about it […]
So would you say this platform is a personal medical assistant for cancer patients?
Alexandru Lazar: Well, I would say it's much in the future, but it's not something impossible, so we're gonna have to work a lot with doctors to analyze data and make sure it's not biased and make sure we gather the correct results cause it can be very tricky.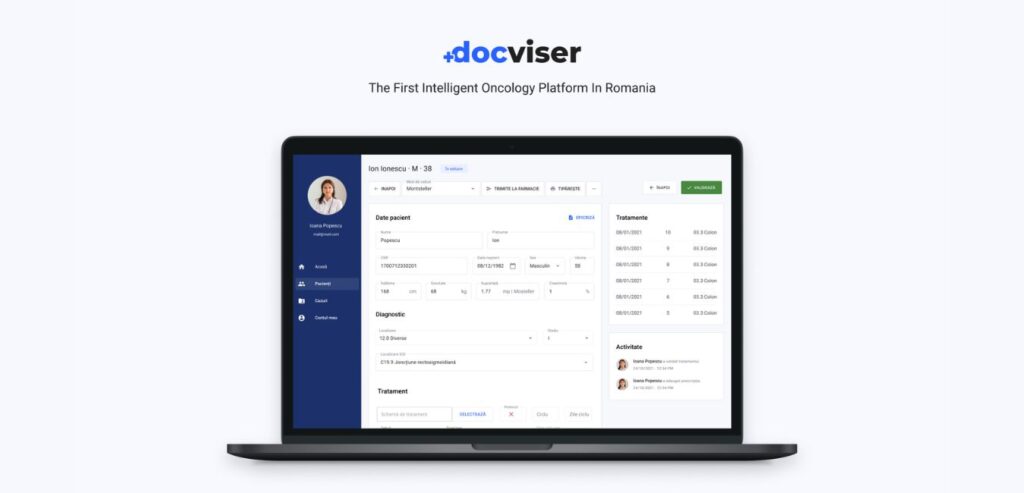 Are there any similar apps?
Alexandru Lazar: I don't think there is an app to contain the full set of features that we offer to close the loop with the clinic needs in terms of patient management, marked prescriptions, tumour boards and everything. I know some other applications that only offer a tool for tumour boards, for instance, that's not even live conferences as we do. Offer the possibility to collaborate remotely, in a smart secure environment, not WhatsApp, Zoom, or Google Meet that's not contained by a clinic or a single platform, and it's definitely not a safe way to handle tumour boards, for instance, and other applications that I know asks doctors to enter their patient data for the sake of research, no, I strongly believe that Docviser has literally no competition out there at the moment.
What were the challenges of creating and developing this platform?
Alexandru Lazar: There were very many challenges, from securing the funds to deliver cause you need money, and money is an important resource, and to convincing clinics to use it. So these are all challenges, we went to several congresses, we've been discussing with doctors, we've been gathering feedback and all that. I believe the biggest challenge was to transpose what doctors had in their minds into the actual user experience. It's very difficult to handle this with a non-technical person without distorting the actual need of the hospital, the actual reality. I believe here myself and Alex, my co-founder, together with my UX designer, played a very important role in determining the best way to handle the specific user experience in the application flow. That was the most difficult challenge.
I mean, that's what we do at MCRO, we are a software company behind this product, and a pretty powerful software company and that was a good starting point which made our lives a lot easier to kick this off, so there were not many technical challenges, I would say more product and user experience challenges.
You mentioned something about money costs and resources at this moment, are we talking about any costs involved in this app, for those who use it?
Alexandru Lazar: Yes and no. It is fully free at the moment, and it will stay free for patients' management and clinics' prescriptions meaning the entire clinic flow, we will never charge for that. But we may charge for something like tumour boards as we make it more and more complex, and probably treatment forecasting once we have an efficient A.I. in place, and maybe clinic reports because logistically, that would help them a lot. We may charge for that in the future, but not right now.
How come the government didn't finance your project?
Alexandru Lazar: We didn't get any funds from the government, MCRO funded this project, and MCRO is the product development studio that stands behind the initiative, and that was an important factor in terms of receiving the funds. When Alex, my co-founder, a respected oncologist, came to me a year back and asked me if we could build software for him, he was ready to pay from his own pocket. I told him I don't know if you have the money to pay for it because software costs a lot of money, especially if the developers are really expensive, but we're probably gonna find a way in which to monetize on this one way or another. The government, I'm sure, has the best interests in digitalization, and the best thing they've done so far without needing any money is not to cast any stones in our way.
How do you see the future of this platform in Romania?
Alexandru Lazar: I think it has a very bright future, the plan for Docviser is to onboard all the public hospitals in Romania and the private ones, so why not. It would enable doctors to collaborate efficiently based on a globally shared database of treatment protocols, that would be ideal, right? The plan is to have everyone on the platform for the next years to come and make sure they use it successfully, giving us more courage to explore other markets cause we're not gonna be limited only to Romania, we want to explore other European markets like Spain, the Netherlands and why not the UK, who is no longer part of Europe anymore but that's a good market as well and possibly the US.
Thank you very much for accepting our invitation, and we hope that Docviser will be a real game changer in the medical system, and I wish you good luck with your entrepreneurial journey. See you soon.
Alexandru Lazar: Thank you for inviting me, I appreciate it!