Garden of Lights starts on Friday, November 3, as reported by Visit Bucharest. The show occurs inside the Botanical Garden in Bucharest, a place famous for being one of the places where the Netflix series Wednesday was filmed.
Either way, all you have to know is that the Garden of Lights lit up the Botanical Garden from November 3 until March 3, 2024, where the Alice in Wonderland Exhibition awaits you. The same exhibition is also displayed in Budapest and Belgrade.
We have prepared an amazing meeting of worlds: fairy tales, technology and creativity. We have developed exhibitions full of amazing multimedia stories told with light and music. For children, it is an opportunity to meet their favourite fairy tale characters, and for adults, it is a sentimental return to their earliest years and a moment of rest from the routine of everyday life. It is also an excellent opportunity to spend time with loved ones and immortalize them in the magical landscapes of our exhibitions.

Organizers of Garden of Lights international experience, source: website.
Alice in Wonderland Exhibition 2023/24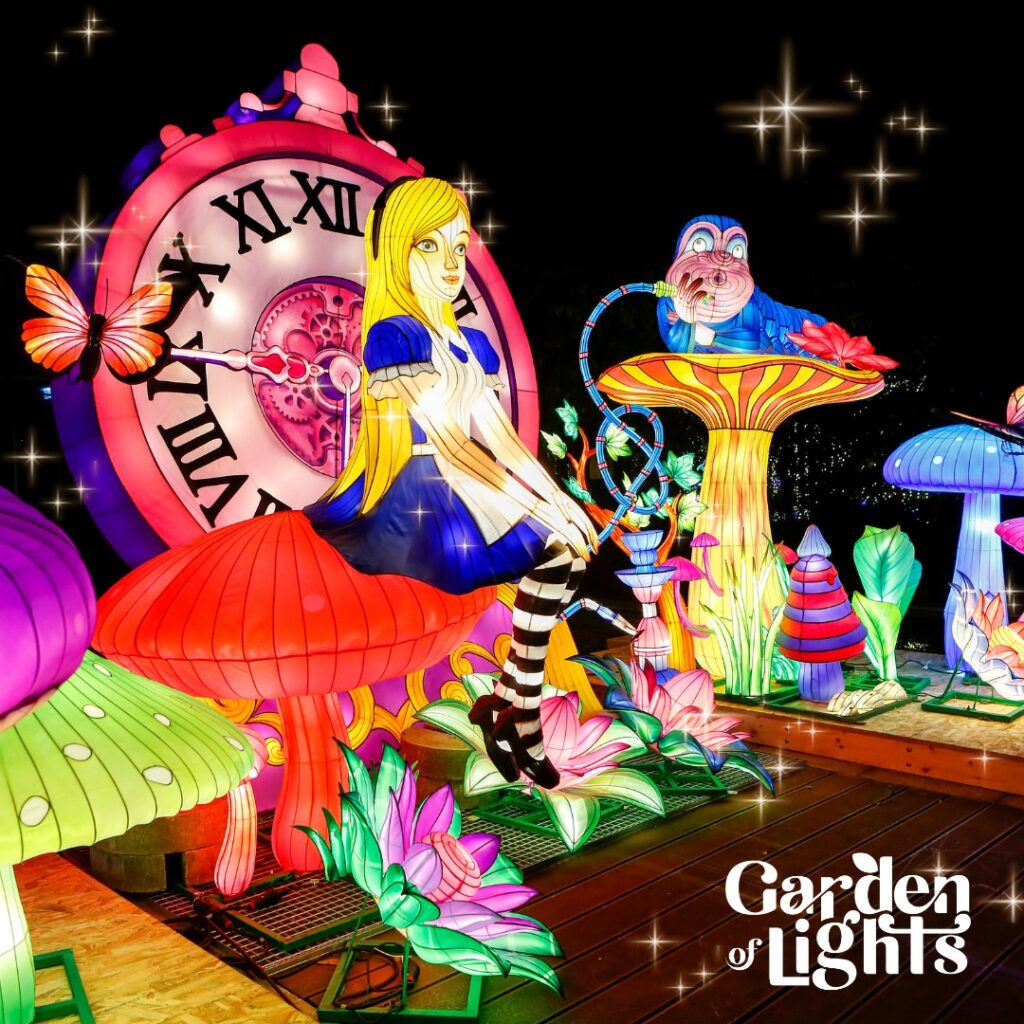 The Alice in Wonderland exhibition in Bucharest is an outdoor event full of light. As soon as you cross the threshold of the garden of lights, you are in a world of dreams and imagination.
You will be taken on a fantastic journey to the land of dreams, an enchanted garden where you will follow the light-filled adventures of little Alice, the crazy White Rabbit, the ever-smiling Cheshire Cat, the Mad Hatter and many more. You will also meet the Queen of Cups and her minions.
Garden of Lights Schedule
Monday-Thursday
Garden: 16.00-20.00, cashier's office: 15.45-19.30
Friday-Sunday, holidays
Garden: 16.00-21.00, box office: 15.45 – 20.30
30.01.2024-03.03.2024
Monday-Thursday
Garden: 17.00-20.00, box office: 16.45-19.30
Friday-Sunday, holidays
Garden: 16.00-21.00, box office: 15.45 – 20.30
Enclosed garden on
24.12.2023 and 31.12.2023
Pricing for Garden of Lights Bucharest
Single ticket: The normal price for a person and a single visit is 50 RON, and the special price is 40 RON
Full Season Ticket: 120 RON, entry any day and any time throughout the season.