After agent Green, an environmental organization claims that Prince Emanuel von und zu Liechtenstein is responsible for shooting Arthur, the biggest bear ever seen in the European Union, while poaching, the reaction of the Romanians came very quick.
Romanians found out that the Liechtenstein prince owns the castle Riegersburg, a medieval fortress placed in the Austrian region of Styria. Like any respectable tourist objective, castle Riegersburg has its own Google My Business account. From there it was easy and the idea came up naturally in the mind of the online users.
When it all started, castle Riegersburg had a very nice review score on Google, of 4.6 from more than 2,000 positive reviews. Now, at the moment we post this article (it's around 7 PM in Austria), the castle has a score of 1.7 from 15,270 reviews. We mentioned the hour as the reviews are constantly flooding in and the evolution of the rating is decreasing each hour, despite the efforts of the owners of the castle to report the ratings to Google.
You can guess what happened, right?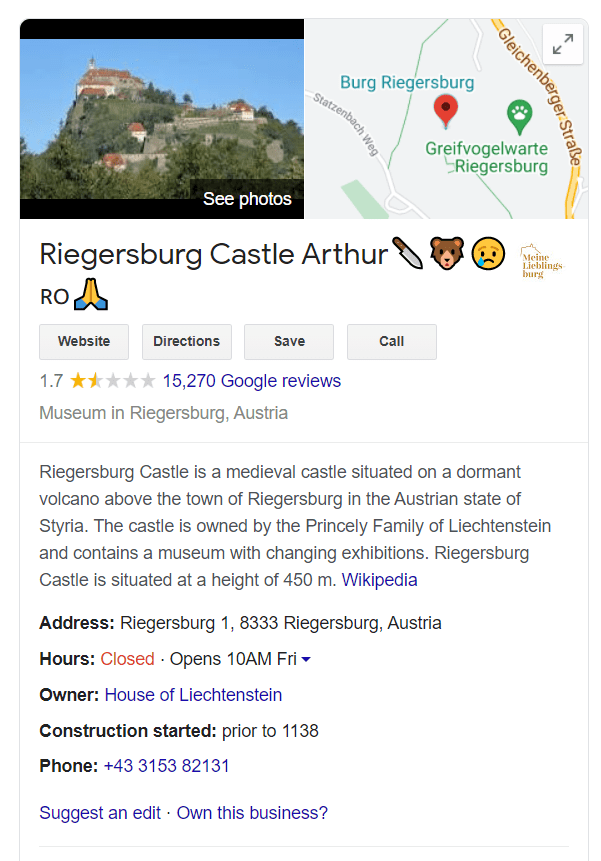 Pay attention to the name of the castle. It was changed into "Riegersburg Castle Arthur" and the emoticons with a knife and a bear are easily seen near the name.
It was not only that, but Google has its own ways of helping the tourists, especially with such famous objectives. One is by answering questions, but it lets the users do that, for helping those who ask them.
Romanians also took this particular matter in their own hands.
Such questions and answers, all related to Arthur, the trophy shot while poaching, as the environmentalists accuse, go on and on and the online users from Romania relentlessly ask and answer questions related to Arthur the bear and offer 1-star reviews for once an appreciated touristic objective online.
When is it going to stop? Probably in one week's time as it happens all the time when this sort of subject appeals to such actions from the Romanians. It is not the first time when they do such a thing, and it won't probably be the last time. Castle Riegersburg will still be there to be visited, but, of course, if the rating stands that low, tourists would be less inclined to pay it a visit while in the Austrian region of Styria.
UPDATE: Google neutralized the online attack in just a few hours
At 9 PM, Austrian time, Google restored the 4.6 score of the Riegersburg castle, by erasing ALL the 1-star reviews coming from Romania during the attack. Now, the castle has only 2980 reviews.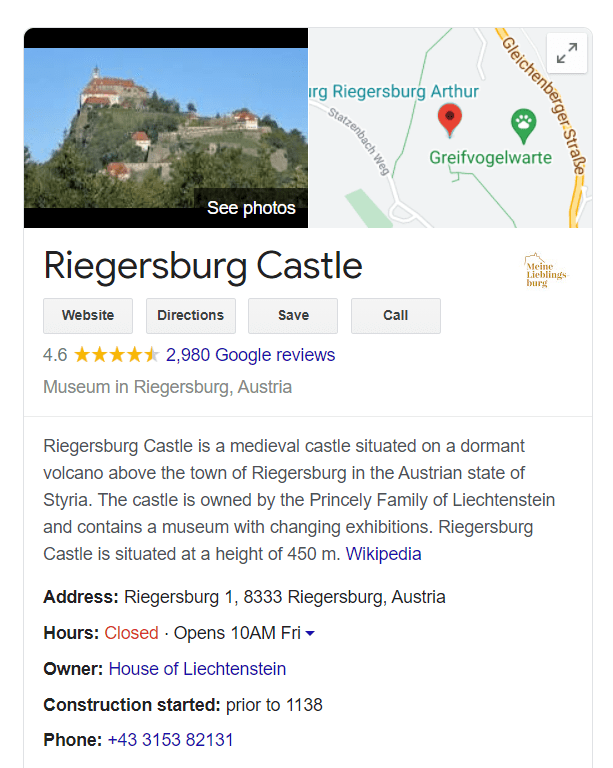 Also, the name of the castle was restored to the original one.