The dream house, originally published n Instagram and later shared on Facebook and Twitter on different accounts specialized in architecture and travel, sparked the imagination of social media users. The house was supposedly placed in Bucharest, and thousands of followers reacted to the posts shared on social media.
The house is really a dream one. We're not sure what sort of style and architecture it defines, but it could be Art Nouveau mixed with some Harry Potter-style architecture and a bit of Gaudi's imagination, all blended in the perfect house for those who daydream of such a retreat.
By the time we published this post, the house had gathered hundreds of thousands of reactions and millions of views on the post of Abandoned World: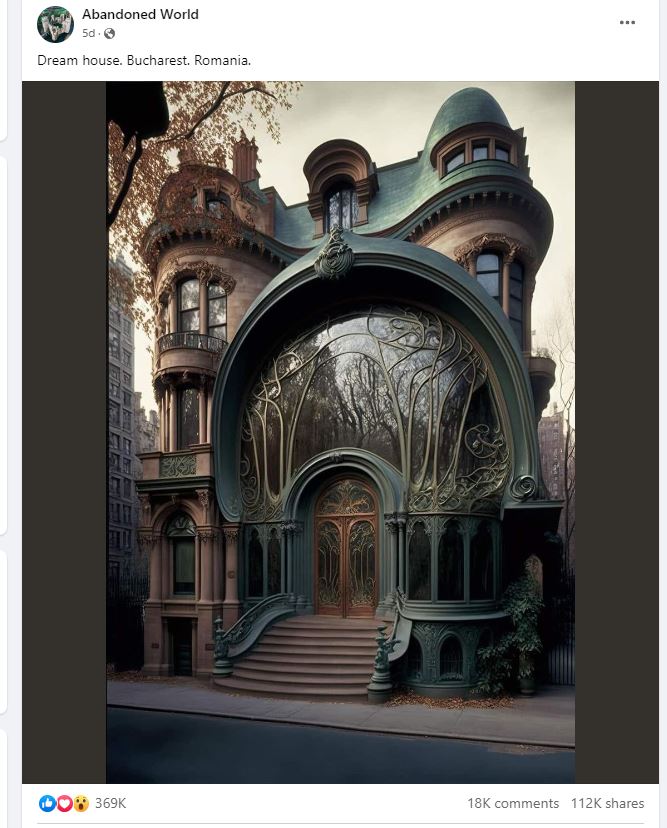 It's not bad, right? To be honest, this single picture gets more engagement than any other attempt of the Ministry of Tourism to place Romania on the map of international travellers. The only problem here is that the pictures are AI-generated.
Originally published on this Instagram account by one very skilled guy who specialized in generating artificial images like this by using Artificial Intelligence with software like Dalle-2, the house got viral on many social media platforms and generated attention in Romania's capital.
The problem with AI-generated images is that they can trick you instantly. You are amazed by the beauty or controversy the photo creates, and you simply forget to check that particular photo or picture. More than that, people already have impulsive behavior on social media and are tempted to share such pictures. Besides, people forget to check the info shared on social media, and this is another problem. We checked the photos' history, which were published by one very skilled Instagram user who announced he was publishing AI-generated images. So he did his part in this case. The problem was that a very famous Facebook account, Abandoned World, followed by 400k people, published the images as real. People are more likely to fall for it if the accounts they follow and trust publish something which they assume was previously checked. Still, Bucharest takes advantage of this sort of free advertising.

Laura Diuta, social media manager at TUYA Digital
Indeed, Bucharest took advantage of this sort of free advertising, as confirmed by Visit Bucharest Today!, the only platform dedicated to promoting Bucharest to English-speaking tourists worldwide.
We published on our accounts the fact that the photos are AI-generated. Either way, the initial posts on social media got viral, and it's impossible to unviral anything. On the other hand, the traffic to our platform has been growing by 30% since the day Abandoned World published the post. So, what else can we say? Thank you for the mistake, and visit Bucharest!

Ana-Maria Maita, Project Manager at Visit Bucharest Today!
Bucharest is Romania's top destination for foreign international travellers
Beyond any controversy, Bucharest is Romania's top destination for international travellers, according to Visit Bucharest. This is the finding of Google Destination Insights. The tool offers insights regarding searches related to domestic and international travel destinations. It also offers statistics for countries and cities.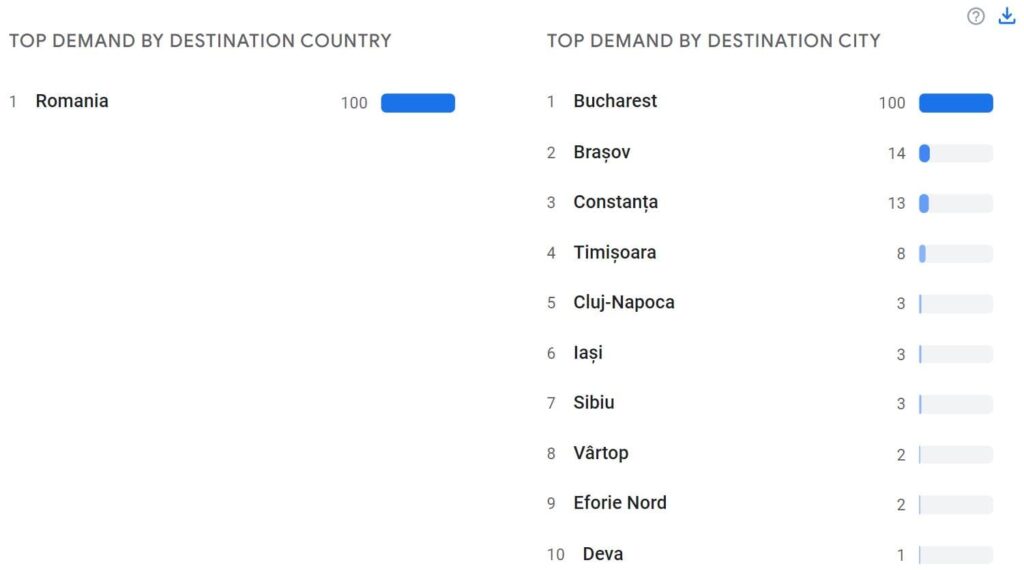 According to 2022 statistics, Bucharest is the city of choice for international travellers coming to Romania. It confirms the interest of worldwide tourists in Romania's Capital attractions, Ai-generated images or not.
Brasov is the second choice, while Constanta is third. Notably, both destinations can be reached in one-day trips from Bucharest. Also, the study confirms Bucharest is the Romanian city with the highest growth in demand for international travellers, along with other destinations. The statistics compare 2022 with the previous year. From this perspective, growth is expected, as 2021 was one of the lowest in tourism by inbound demand.
As usual, for real pictures and info on Bucharest attractions, we recommend our partner platform, Visit Bucharest Today!