TUYA Digital, one of the European digital marketing agency specializing in SEO for Bing and Google, confirms Bing has become a solid competitor for Google in worldwide searches.
With the introduction of ChatGPT and its subsequent integration into its browser, Microsoft Edge, Bing has seen a substantial increase in user adoption. Microsoft's decision to integrate the powerful AI-driven language model into its search engine has facilitated better user experiences and transformed the search landscape.
Instead of ten results per page, you have the option of asking one question and get the best answer AI offers. As it happens in the example below.
In the first figure, these are the results when telling Bing you are looking for an SEO agency. In the left side there are the classic results displayed as in Google, while in the right part there are some suggestions offered by ChatGPT.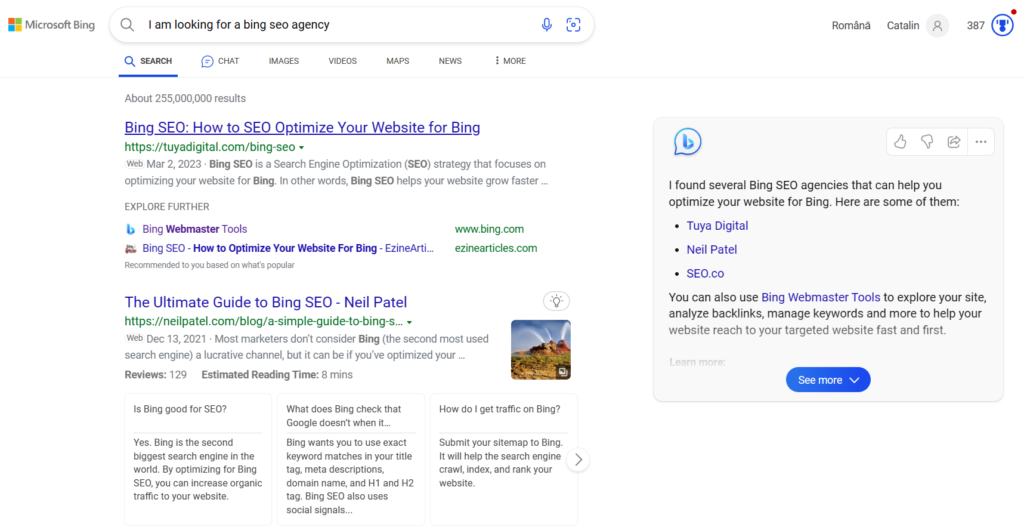 Not only that, but you can click on the chat tab and the results are displayed in the following way: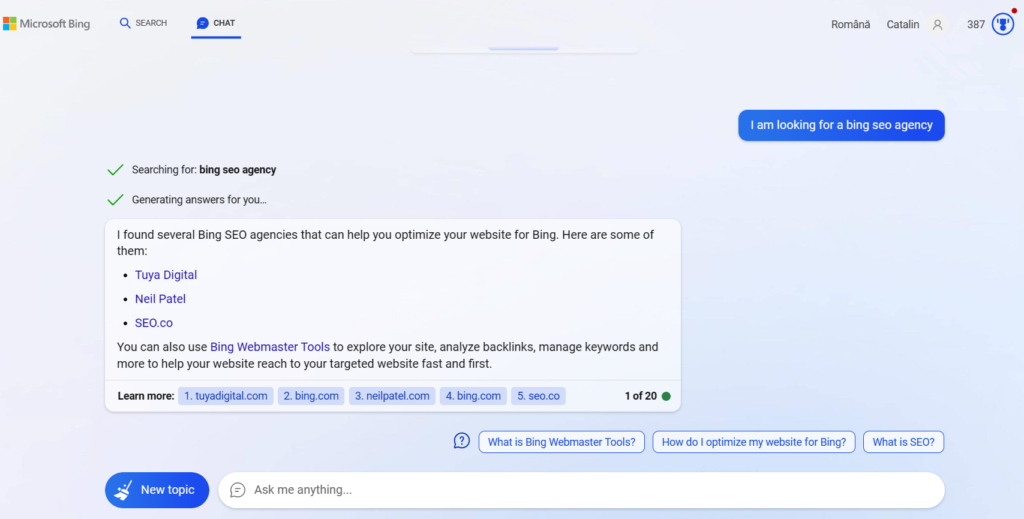 Catalin Adam, a digital strategist at TUYA Digital, explains.
Bing's integration of ChatGPT has revolutionized how users search for information. Businesses that overlook Bing SEO optimization miss out on a rapidly growing audience and countless potential customers. After Edge incorporated ChatGPT into their interface, we started offering Bing SEO to our Google clients. We noticed a solid increase in traffic coming from Edge in just a few months.

Catalin ADAM, Digital Strategist at TUYA Digital
It is, therefore, advisable for businesses to prioritize Bing SEO optimization in 2023. As search engine trends shift and new AI technologies emerge, optimizing for Bing has become more crucial than ever before.
Studies showed that users coming from Edge increased starting in February after the integration of ChatGPT. As seen in the print screen below, where TUYA Digital shows the evolution of traffic coming from Edge on their website, if in December there were 50 users browsing from Edge, in April there are more than 1,000 users, a 20x increase over a few months. And the trend is going way up.

This is just the beginning, as Adam explains.
We're just at the beginning of the search engines revolution. Unfortunately for Google, their AI experimental chat service, Bard, failed at launch, making users stick to Bing. This will make more and more users change from Chrome to Edge or, at least, use Edge as an alternative browser. Who wouldn't want AI power to be by their side while browsing online?

Catalin ADAM, TUYA Digital
There are several compelling reasons why businesses should optimize for Bing in 2023
Bing SEO specialists advise businesses not to optimize their presence online only for Google. It would be a mistake, as there are many reasons for any online project to take Bing into consideration.
Expanding Market Share: With the popularity of ChatGPT and its inclusion in Microsoft Edge, Bing's market share continues to grow. This allows businesses to reach a wider audience by optimizing their online presence for Bing's search algorithms.
Unique Algorithms: Bing's search algorithms differ from Google's, making it essential to optimize for both. By doing so, businesses can tap into unique user segments and demographics loyal to Bing.
Diversification: Investing in Bing SEO optimization diversifies a company's online presence and reduces dependence on Google's search engine. This is especially important given the constant updates and changes to Google's ranking algorithms.
Cost-Effective Advertising: Bing Ads often provide a more cost-effective alternative to Google Ads, making it an attractive option for small and medium-sized businesses.
Improved Search Features: Bing has enhanced its features and capabilities, offering users a more engaging and dynamic search experience. This further increases the appeal of Bing for businesses seeking to optimize their online presence.
With solid experience optimizing websites for Bing and Google, which is how they help clients grow, agencies like TUYA Digital are committed to helping businesses maximize their online visibility. By optimizing for Bing, companies can capitalize on emerging trends and position themselves for success in an increasingly competitive digital world.
About TUYA Digital

TUYA Digital is a Top European digital marketing agency specializing in SEO for Bing and Google, PPC, content marketing, and social media management. With a team of skilled professionals and industry experts, TUYA Digital helps businesses succeed online by providing tailored marketing strategies designed to drive growth and boost visibility.