As we are on the 14th of February, Valentine's Day, an imported celebration in Romania as well, we thought about checking what searches Romanians conduct online as related to this event. Google publicly provides certain information about how the search engine is used, among which the trends in searches over a certain period in time.
By processing Google data for the last 7 days, TUYA Digital SEO specialists identified the interest expressed by Romanians for Valentine`s dayas interpreted by the online searches conducted in the last week.
Which are the top counties in Romania to conduct related searches on Google?
As you can see in the chart below, the Romanian counties with the largest interest in Valentine`s day last week according to Google are Giurgiu, Alba, Olt, Dambovita and Caras-Severin.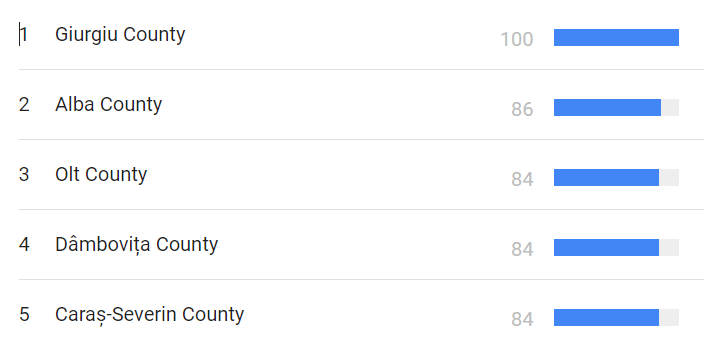 It doesn't mean the other counties are not looking for Valentine's related searches, but these 5 are in top when it comes to this celebration. Also, if you are an e-commerce or a brick and mortar shop of a kind, you know where you can direct your advertisement such as to get the biggest awareness or the biggest return of investment.
This kind of statistics, beyond the journalistic interest, also help business owners to invest in the areas where their products and services have more chances of being bought.
What are the most searched for keywords by Romanians for Valentine's?
The most searched queries in Romania these days regarding this topic are Valentine`s day movies (it's easier and more rewarding if inviting her at your home for a movie, right?), Saint Valentine (here we feel it's the hand of the theology students), Valentine`s day ideas (oh, please, God, inspire all the lovers down there!), Valentine`s day history (those history students can't refrain from this sort of searches, can they?), Valentine`s day meaning (these might be the literature students with their thirst for knowledge and love), Valentine`s day quotes (somebody has to write those lovely messages, right?), Valentine`s day 2021 trends, etc.
According to researches, 78% of the Romanians who want to celebrate Valentine's will buy dedicated gifts
When it comes to gifts, domination comes from the most popular jewelry stores in Romania. Splendor had a major breakout, the search term grew in the las week by more than 5000%. On the second place is Stargift who increased with 300% and the third one is Swarovski with 250%. Also, the Romanian term for "personalized gift" (cadou personalizat) increased with 80%.
A comparison between most of the famous jewelry brands in Romania. Pandora beats everyone else for volumes of searches.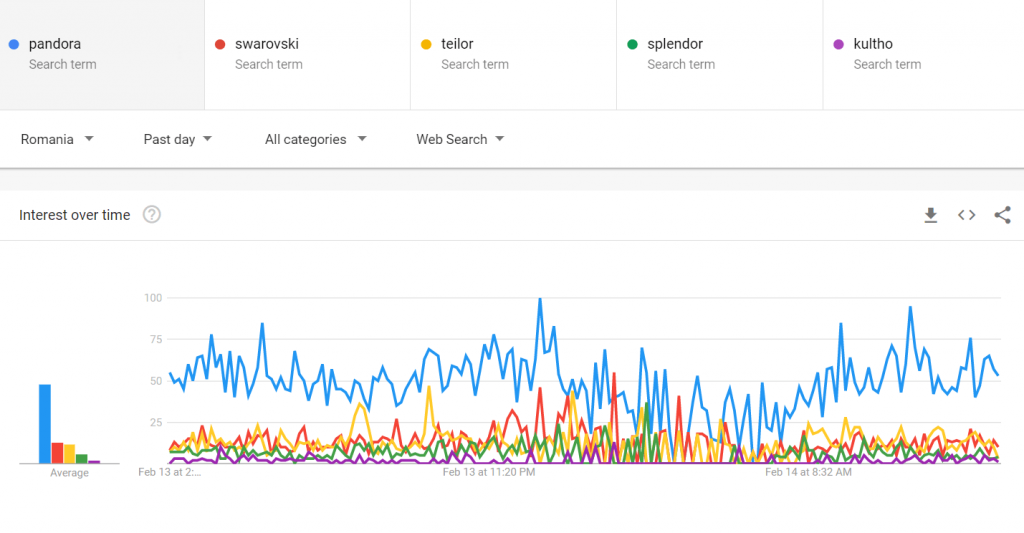 Differences between Romanian men and women when it comes to gifts for Valentine's
An interesting fact is that the most searches go for "gifts for him" with an average searches of 1000-10000 a month along with other related expressions such as "valentine`s day gifts for him" with 100-1000 average searches a month compared to "gifts for her" with 100-1000 average searches a month. It may look like women are more preoccupied on this matter and indeed they are, aren't they? So, if you want to boost your e-commerce business in Romania, it would be a good idea to use dedicated female audiences during this sort of celebrations.
However, it appears that men know specifically what to buy, apart from jewelry. There was an increasing number of searches for "online flower shop" (200%) and "cryogenic roses" (160%). After all, women do like flowers, don't they? Let alone flowers are cheaper than jewelry.
"Orders for Valentine's Day have already begun in some flower shops. The most requested are the bouquets of red roses, with up to a thousand threads. If you want, you can also choose the option in which a specialist comes to decorate your house, for the price of 4,000 lei" declared the manager of a flower e-commerce website.
Restaurants reservations are also quite popular during Valentine's in Romania. It's obviously a win-win situation for customers and restaurant owners alike.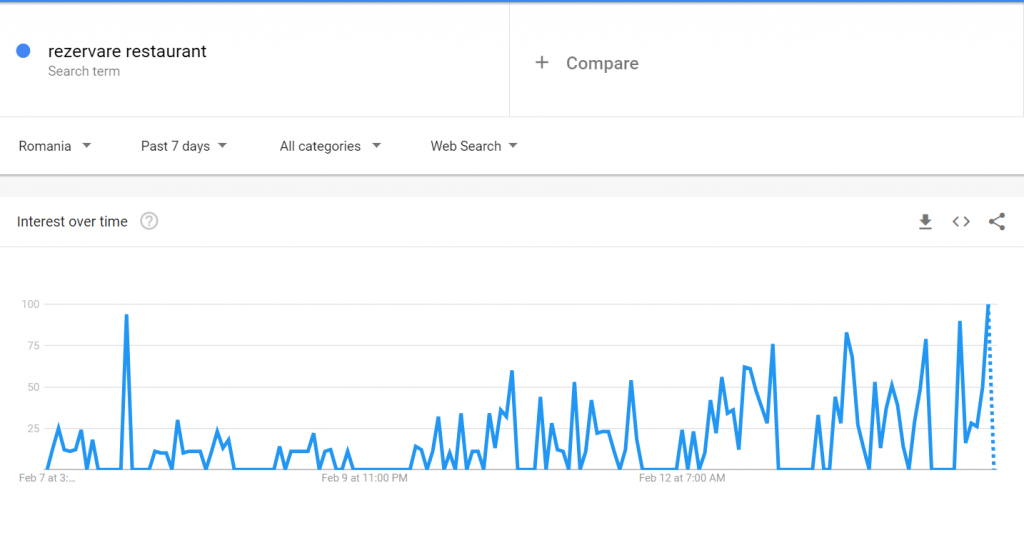 "We offer discounts for couples on Valentine's. It's such a pity we cannot have more than 30% capacity occupied, as we got much more reservations we had to turn down. Anyway, it's a good opportunity for us to minimize the losses from pandemic, and a good opportunity for the loving couples to spend a nice and romantic evening with us" tells Madame B. – Pancakes & Tea House manager for Valahia News.
Although Romanians have their own traditional Valentine`s day (Dragobete, on February 24), the American version gained more popularity in the last years. Accessories, flowers, reservations for romantic dinners at the restaurant or weekend vacation are in the top of Romanians' preferences for Valentine's Day.
This section is powered by TUYA Digital – SEO & Digital Marketing agency.