Ukraine wants 1% of each allied country's GDP. The money would be allotted to send more weapons and ammunition to Ukraine. This is the demand made by the Deputy Minister of Ukraine's Foreign Affairs, Andrij Melnyk. He tweeted his demand but also talked about this with local Ukrainian media, cited by CNN.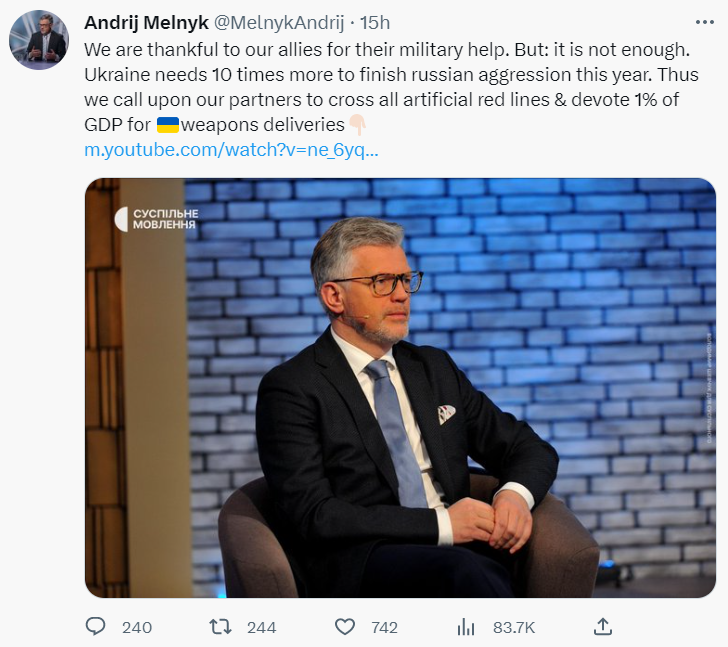 He replied to US Defense Secretary Lloyd Austin's comment that an international coalition had provided Ukraine with $55 billion worth of support.
That seems like a large number. But in contrast with the Second World War, where, unfortunately, more and more parallels can be drawn, over $50 billion worth of help was supplied under US lend-lease alone in the 1940s. The equivalent today would be around $700-800 billion.

Ukraine's deputy Foreign Minister demanding countries to devote 1% of their GDP to Ukraine
Quick math to understand what Melnyk demands from the allies. While the US GDP is around $23.3 trillion, the European Union's GDP is around $16.6 trillion, totalling nearly $40 trillion. Demanding 1% of each allied country's GDP to weapons delivery to Ukraine is equivalent to $400 billion. This is half the budget of the Unites States' defense. And this is only for the EU and US' budgets combined, but many other countries worldwide, whether NATO members or not, are considered Ukraine's allies in this proxy war, as Washington Post called it. We can also add Türkiye's or Israel's contributions, but many other allied countries supporting Ukraine.
Will the allies obey Melnyk's demand and offer 1% of each country's GDP for weapons and ammunition to Ukraine? Currently, there seems like a far-fetched scenario, but as months go by, we could witness war entering a new stage where new decisions could be made.
Then-President Donald Trump pressured NATO's countries to allot 2% of each country's GDP to defense budget. This means that, for countries like Romania, which executed the request, half the defense budget would go to delivering weapons to Ukraine.
Each country could have a problem, as nations don't support the conflict similarly. Romanians are not the most fanatics for this war to continue, so to speak, as the conflict is near their border. But it could be easier to accomplish for the UK, which is far from the conflict and whose nation actively supports Ukraine while drinking tea in their beautifully designed saloons.
Either way, no reaction has come from the US Defense Department or the EU institutions on this subject. But some Europeans might consider Ukraine's demand too bold, despite the tens of thousands of losses of lives.