We all encountered situations in which we urgently needed money. Crises usually get us unprepared, and lack of money is a problem. You can call relatives or friends to borrow the money you need, but this cannot become a habit. Non-banking Institutions (NBFI) are the ideal way to make money quickly.
Thus, we have created for you a list of top non-banking financial institutions in Romania to analyze the leading non-banking financial institutions.
NBFI is the acronym for "Non-Banking Financial Institution". Under conditions established by law, the term defines entities other than credit institutions regulated by the National Bank of Romania (BNR) that carry out professional lending activities. According to Law no. 93/2009, these non-banking financial institutions may offer banking services but do not have the right to accept various deposits or funds repayable from the public. Also, any non-bank financial institution must maintain the confidentiality of all information available to it, concerning the person, assets, activity, personal or business relations of customers, contracts concluded with customers or services provided to them. There are currently over 140 NBFIs in Romania.
The advantage of NFIs is that they approve loans in a short time, and the procedures are much more flexible, requiring far fewer documents than in the case of a loan from a bank. Applications can be made online by phone. All you need is a report card and a statement from the previous month. Simple and easy!
Bank credit vs Non-banking financial credit
Romanians have started to turn more and more to loans for various reasons: some apply for a loan to buy multiple appliances or a car, others may want to go on a vacation, but they lack the money at that time. So, if you're going to take out a bank loan, you should know the differences between a bank loan and an NBFI loan.
Bank credit is known to most people and is obtained from banks. The bank loan can be a consumer loan or personal needs, depending on the institution that grants it.
Bank credit involves a lot of bureaucracy, while granting NBFI credit takes place in a short time, without the need for many documents. Also, the NBFI loan can be taken online, and in a maximum of two days, you can benefit from the desired amount.
NBFI credit is straightforward; it doesn't matter if you have other debts. All you need is an ID and proof that you have a monthly income plus a real estate or car guarantee. You receive money in the shortest time, and there are no hidden fees or loan fees.
Banks impose certain clauses, which are much stricter and charge specific fees and additional fees. Banks also offer loans in a much longer time than a loan to a non-bank financial institution, where the money can be yours in just 24 hours, after a quick assessment of the application. Also, most of the time, people turn to NBFI because the conditions are more flexible and easier to meet.
If you need money urgently, an NBFI loan is the ideal solution. If you want more money and are eligible for a bank loan, this should be your first choice.
We have created top Non-banking financial institutions in Romania for you based on specific selection criteria.
Top 7 Non-banking Financial Institutions Romania
In Romania, over 160 NBFIs are accredited by the Romanian National Bank. The selection criteria you need to keep in mind when applying for an NBFI loan are 100% online applicability, guarantees and the ability to get your money back quickly (up to 1-2 business days).
Methodology for comprising this top
Top NBFI Romania was made based on three primary criteria: the number of mandatory documents, loan interest rates and the time needed to get the approval.
Disclaimer: This methodology has nothing to do with the National Bank of Romania's criteria or other financial standards in analyzing non-banking financial institutions like this. The purpose of this top is to inform, not to compel you in taking any action. Anytime you take a loan, be aware of the interest rates versus your monthly revenues and always invest wisely!
What are the most advantageous non-banking financial institutions in Romania?
We present you with this top to have a general idea of ​​non-banking financial institutions for a future loan for personal or business needs.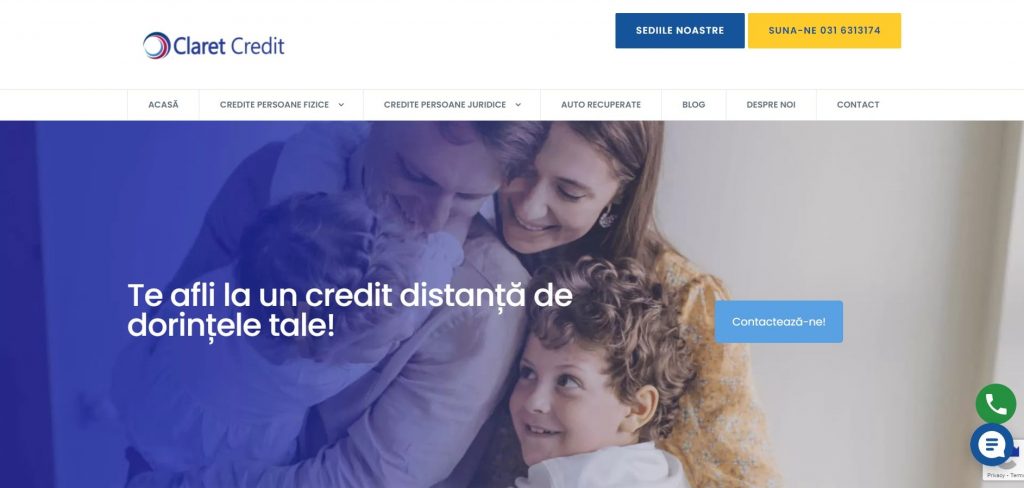 Claret Credit non-banking financial institution was established in 2013 and is authorized by the National Bank of Romania, registered in the NBR's Special Register under number 41-110082 / 16.02.2018. The company is part of an international financial group active in Asia, Eastern Europe, and Western Europe.
The Claret Credit team will analyze your credit application as soon as possible. Within a maximum of 24 hours, you will receive the desired amount that will go directly into your account. You can benefit from:
Individual loans:
– loans with real estate guarantee
– mortgage loan
– car purchase credit
– credit with car guarantee
Loans to legal entities:
– loans to legal entities with a real estate guarantee
– credit for real estate projects
– credit with guarantee in hospitality
The Claret Credit team is at your disposal with any questions. In addition, at Claret Credit, you can get significant amounts of money (loans approved for 1-2 million euros). Thus, if you want to open a business or have the house of your dreams, Claret Credit is at your disposal!
Happy Credit

Happy credit is a non-bank financial institution established in 2016 to offer a more accessible and friendly alternative to Romanians who urgently need money. Thus, without bureaucracy, without difficult-to-understand clauses, without additional interest, without waiting time and without hidden fees, Ocean Credit offers you the much-desired loan in the shortest time.
Their vision is that everyone has the right to borrow money quickly, efficiently, and in the best conditions, being in complete control. A well-chosen loan solves serious situations and opens opportunities for all people who want a change in their lives.
Rapid Credit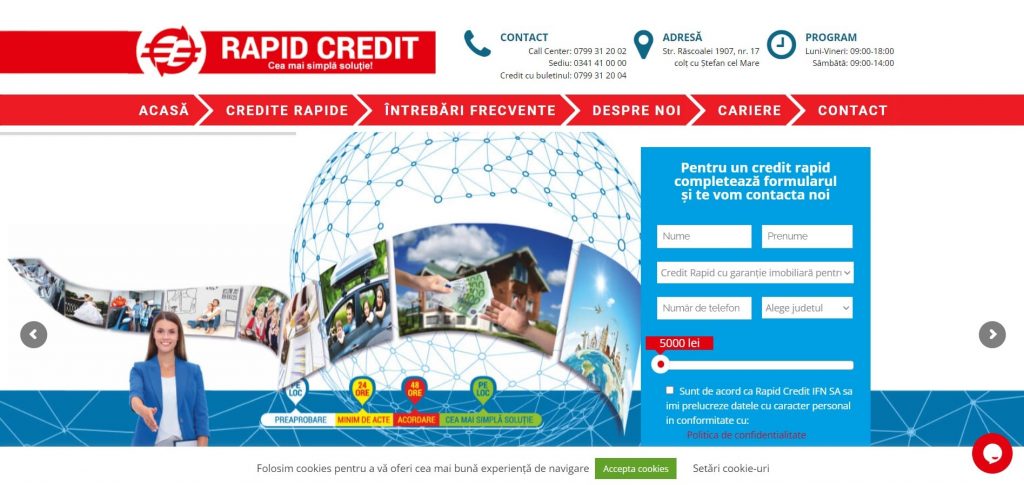 Rapid credit is a non-bank financial institution that offers loans and personalized financial services quickly and efficiently. The applicant needs a short-term and medium-term movable real estate guarantee with a fixed interest rate, no fees and fast approval.
Easy Credit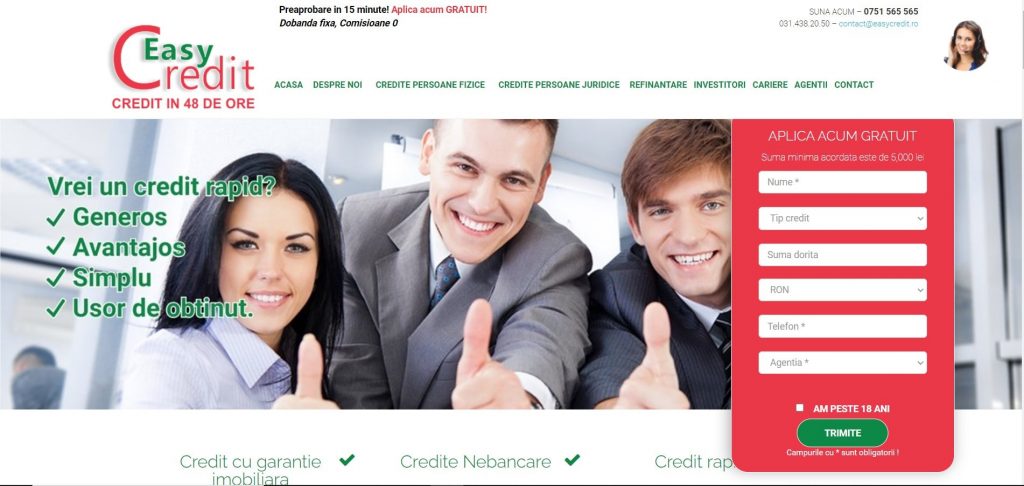 Easy credit is a non-bank financial institution operating since 2009, registered in the General Register of non-bank financial institutions of the NBRB. Easy Credit offers loans for individuals and loans for legal entities. The client can also choose his repayment method, depending on possibilities and desires. The loan is granted only based on a real estate mortgage
Smile Credit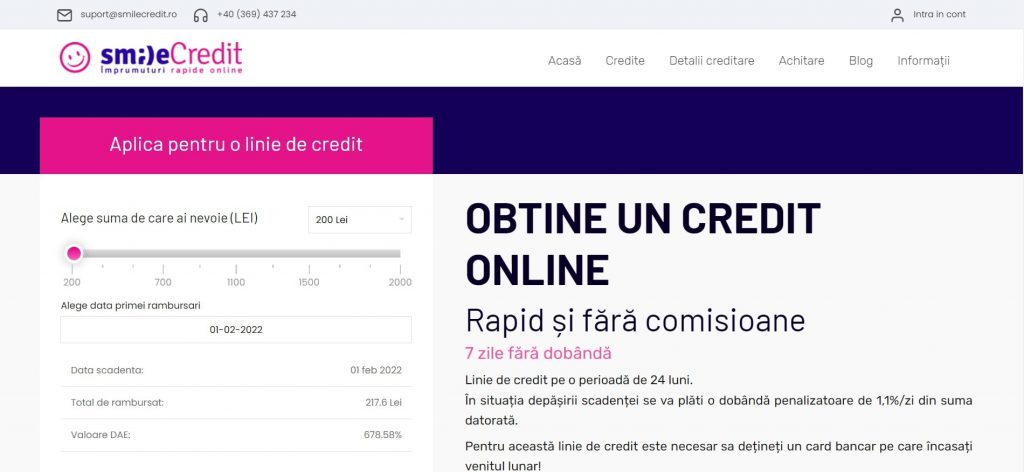 SMILE CREDIT BFNI SA is a Non-Banking Financial Institution established in 2016 and registered in General Register. RG-PJR-33-110312 / 04.07.2016 and in the Special Register of the National Bank of Romania with the number: RS-PJR-33-110111 / 18.05.2018. The activity of our institution is regulated by Law no. 93/2009, and the normative acts of BNR and the contracts concluded with Smile Credit are following GEO no. 50/2010 and all other legislative regulations in force regarding consumer loans. Smile Credit offers fast, modern, 100% online non-bank financial loans. Smile Credit also provides you with a team of financial-banking professionals.
Business Microcredit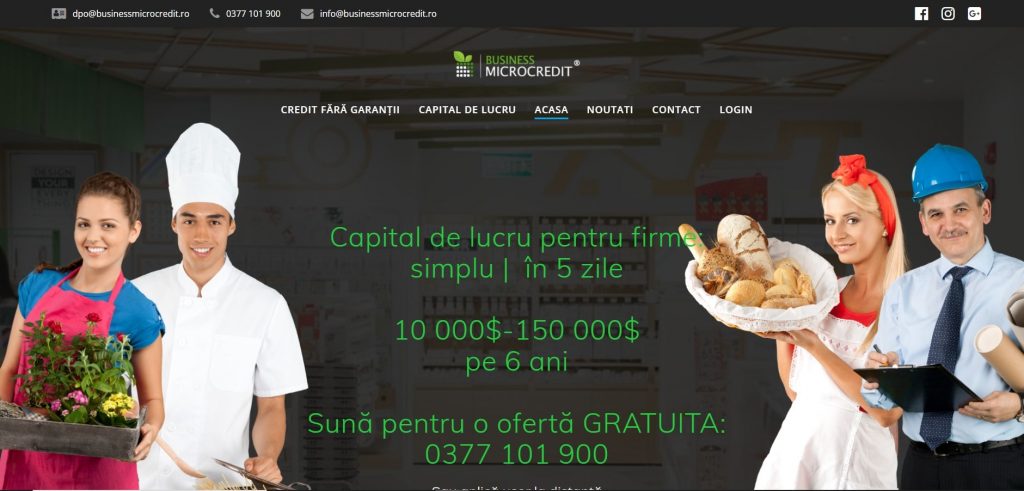 Business Microcredit NBFI SA is an NBFI specializing in granting loans to SMEs. This NBFI offers fast solutions accessible to large and medium-sized companies. Every entrepreneur deserves our support for a profitable business. The applicant applies online without having to go to the company's headquarters. After discussing with one of the consultants, you will receive a financing offer. You can get up to $ 150,000 in real estate collateral.
Credit.ro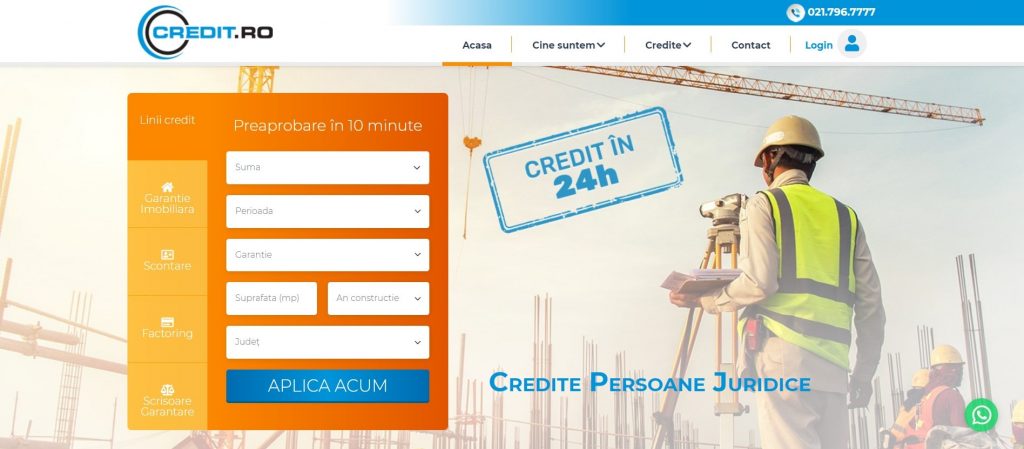 Credit.ro is a non-banking financial institution, which grants loans to individuals and legal entities. The loan is given in a maximum of 24 hours, with a credited period of 3 to 12 months. A real estate guarantee is required (apartments, agricultural/urban land, houses, villas). This NBFI started its activity in 2009 and supports local businesses. Credit.ro offers consulting services, as the team supports the growth of Romanian companies.
Consider a non-banking insitution for personal or business credit
Following this top, we can say that a non-banking institution can help you out in times of crisis. As we show, you can access large sums of money (loans approved for up to 1–2-million euro projects, as Claret Credit offers), and the requirements imposed are much friendlier to banks.
Here's why you should choose their services:
– Preferential interest depending on the client's creditworthiness (starting from 21% per year)
– Pre-approval in 24 hours
– Free specialist advice
– Granting large sums depending on the guarantee provided
– Several co-debtors are accepted
Whether you choose Claret Credit or any other non-bank financial institution at our top, a non-banking loan is available to anyone, even if you have an adverse history in the Credit Bureau.