When it comes to the video call platforms, one question pops up: Sessions or Zoom? The market of the video call platforms met an unprecedented development during the last year, for obvious reasons. Few expected Zoom to reach this level, even fewer expect this platform to be outranked by any of its latest competitors. Yet, there is one out there: Sessions.
Some say Sessions already outranked Zoom on some features. Moreover, Sessions earned the label 'Product of the Day' after Product Hunt community tried it.
It could be the very next big thing. Let's dive into it and understand its strong and weak points.
​Sessions has just been launched. What's next?
Sessions is a newly-born tech platform developed by FlowOS, the Romanian startup that built the world's first co-operating digital ecosystem. FlowOS was founded in 2020 by Radu Negulescu and Radu Tintescu, and it is backed by Trencadis, a Deloitte Fast 50 tech company based in Romania.
Sessions is trying to redefine hybrid communication by bringing all your collaboration tools in one single place. With its unique feature called agenda designer, all your sessions will be flawlessly organized and always on time.
On August 10, Sessions was named Product Hunt's #1 Product of the Day, outvoting Zoom, the well-known global leader in the video conferencing space by nearly double the number of votes. Sessions, which was launched just last week, has already garnered over 3,000 members worldwide after a one-month beta phase.
This article was written after using both platforms, Zoom and Sessions to test their functionalities. The testers use different video conferencing platforms on a daily basis, so they are familiarized with specific features and functionalities.
​Sessions vs Zoom: A Side-by-Side Comparison
​Feature: Price flexibility
​Sessions
Get started for free
12-month free access with the same benefits as a Pro user. All you have to do is sign up on Sessions Community and you will get the answers you need.
​Zoom
Many plan options: Plan flexibility is great, but there is almost too much to look at when you try to customize your Zoom plan. Zoom seemingly has their hand in every pot which creates issues for the average consumer just seeking to get into the platform.
Zoom Paid (Pro, Business, Enterprise): between $40 – $500 per month. $240/license/year

Winner: Sessions – more flexible, more approachable by the start-ups, freelancers and entrepreneurs.
​Feature: Recording option
​Sessions
Not available. The developers promise, by the next release, to make available a recording feature.
​ Zoom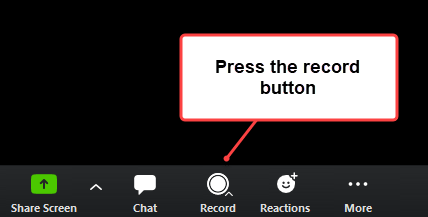 You can record Zoom meetings by clicking the "Record" button at the bottom.
It's free to record Zoom meetings on the desktop, but you need a paid subscription to record on mobile.
Zoom meetings can only be recorded if the host allows, but it's easy for hosts to grant permission.
Winner: Zoom
​Feature: Mobile version
​Sessions
For now, there is only the web-based version. The developers promise to come with a mobile version soon.
​Zoom
Zoom app is available for Windows, macOS and Linux as well as for iOS and Android OS.

Winner: Zoom
​Feature: Integration all-in-one tool
​Sessions
Sessions has a large stack of functionalities: on the left panel, you have a lot of functionalities: Conference, SlideShow, Videoshow, Forms, Smartboard, Questions, Takeaways, Gallery, Break, Chat, Notes, Resources, Google Docs, Miro.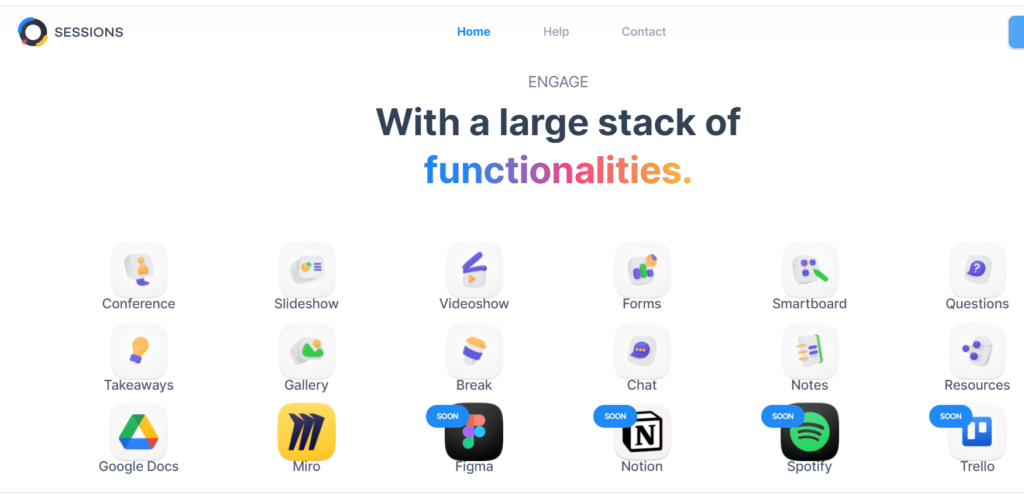 Actually, Sessions' best feature is that the developers integrated lots of third-party app into the platform, such as for the users not to have to open a new tab. Basically, you stay in the same session and open a third-party app for a collaborative working/editing session.
​Zoom
A limited stack of functionalities, more related to the app itself: Chat, Meetings, Phone, OnZoom, ZoomApp Marketplace, Zoom Events and Webinars, Zoom Rooms, Zoom for Home
Winner: Sessions
​Feature: Agenda Planner
Sessions
Sessions allows you to design your sessions around a clear agenda with specialized tools and resources for every moment. No more interruptions, no more conversation hijacking. Maximum efficiency and productivity.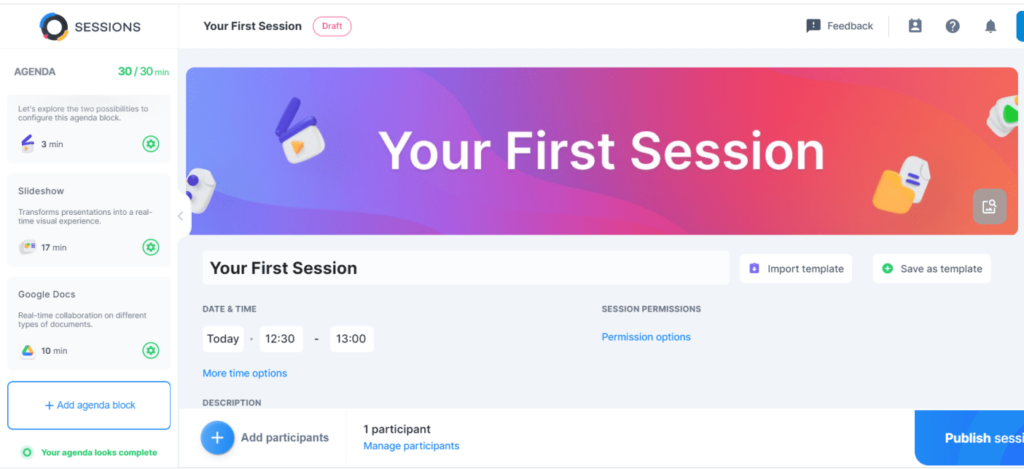 Zoom
Support scheduling or starting meetings from Outlook, Gmail, or iCal.
Winner: Sessions
Feature: ​Chat
​Sessions
The chat, the notes-taking function & real-time meetings resources management are also included.
Once the Session is completed, you may also receive a copy of the Chat via email.
​Zoom
Chat with groups, searchable history, integrated file sharing, and 10-year archive. Easily escalate into 1:1 or group calls.
Verdict: Draw.
Feature: ​Versatility
​Sessions
For any kind of online interaction. Encourage participation and team spirit by bringing the right people together using their favorite communication and collaboration tools.

​Zoom
You can use Zoom for any kind of meeting: business, interactive, education, financial.
Verdict: Draw.
​Feature: Security
​Sessions
Sessions have public sessions, however, if the session is only meant for certain participants, only those added will have access to it, minimizing any risk.
​Zoom
Zoom Security Concerns- Intrusion by Outsiders – A group of hackers zoom-bombed hacking user passwords and took over the virtual meetings. Hackers then allegedly posted offensive/obscene content to disrupt the business.
– Cyber Attacks may shrink the number of users
Winner: Sessions
​Conclusion
New and innovative, Sessions is the platform that makes your remote meetings better by bringing all your collaboration tools into one space.
Sessions promises to be the future of meetings! You will be impressed by the one-tool app and you will have more organized meetings in the future.
Of course, Zoom is still the video call platform of choice for the moment. But competitors like Sessions come very fast from behind and have a good opportunity to take a big portion of the market share.

This section is powered by TUYA Digital – SEO & Digital Marketing agency.