After the Romanian fans chanted "Kosovo Je Srbija" during the Romania – Kosovo Province football match in Bucharest, the Serbian fans thanked the Romanian supporters.
All fans in the world for Kosovo Je Srbija published images of the Serbian fans displaying large banners during the football games the Serbian clubs had recently.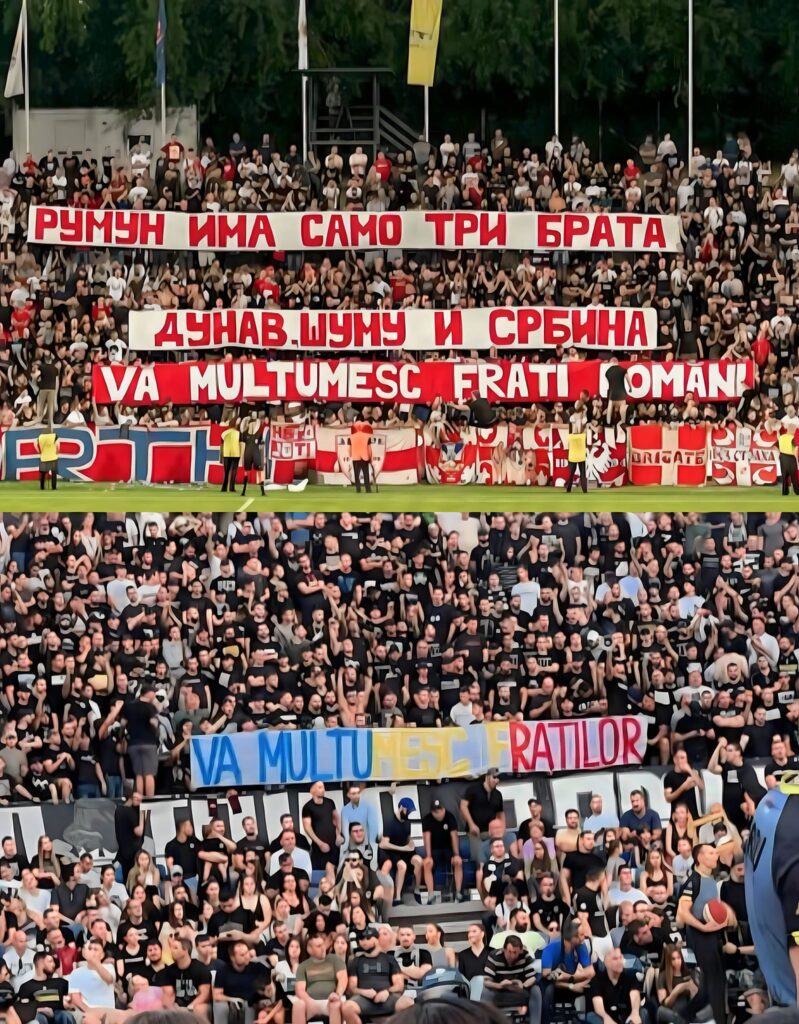 The Serbian words are
Румун има само три брата: Дунав, шуму и Србина
meaning
Romanians have only three brothers: the Danube, the woods and Serbia
Also, the Romanian words displayed say
Va multumesc, frati romani!
and
Va multumesc, fratilor!
meaning
Thank you, Romanian brothers!
The chants of the Romanian supporters sparked the scandal at the National Arena in Bucharest
On September 11, during the football match, Romania had against the province of Kosovo, a territory Romania doesn't recognize as a country, the Romanian fans started chanting "Kosovo Je Srbija," which led to the suspension of the game for an hour.
After returning to the field, the players from Kosovo were defeated with 2-0, leaving the stadium while making obscene gestures towards the Romanian fans.
The Romanian fans did nothing else but express the Romanian Government's official position towards these two international territorial issues. While not recognizing the Serbian province as an independent country, Romania also considers Moldova a Romanian province. It will do whatever diplomatic means to unify both Romanian territories once again, even if not bluntly expressed internationally.
Such incidents show that the Eastern European region still has deep issues to address, and the people in the regions are not satisfied with the status quo regarding territories and autonomies.