UPDATE May 11: Two days after the incident, Semrush fixed the issue that has put so many marketing and SEO companies in difficulty. Also, the social media posts that disappeared on May 9 due to the temporary problem are visible now. The company apologized for the inconvenience and thanked its customers for their patience.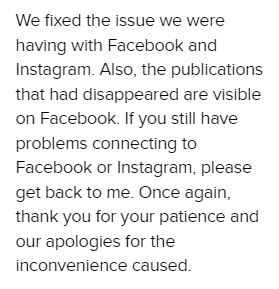 INITIAL NEWS, MAY 10: The software-as-a-service platform, Semrush, is experiencing temporary integration issues creating absolute chaos in the marketing world. Many customers, mainly marketing agencies, are highly dissatisfied.
Semrush, the online visibility management SaaS platform that has been used by over 10,000,000 marketers worldwide, is facing severe problems that affect the schedule and post content on social media.
SEO and marketing companies that use this platform deal with significant problems due to the Semrush issues, risking losing their clients.
On May 9, many companies were experiencing significant problems that significantly impacted their Social Media accounts, and their media posts were scheduled through the Semrush Social Media toolkit. Big companies like Apple, Tesla, Samsung, P&G, and IBM, were affected.
All the posts managed through Semrush disappeared overnight from platforms like Facebook or Instagram.
Semrush announced the problem in a post on Twitter, ensuring that work is being done to address this issue. However, no solution was taken.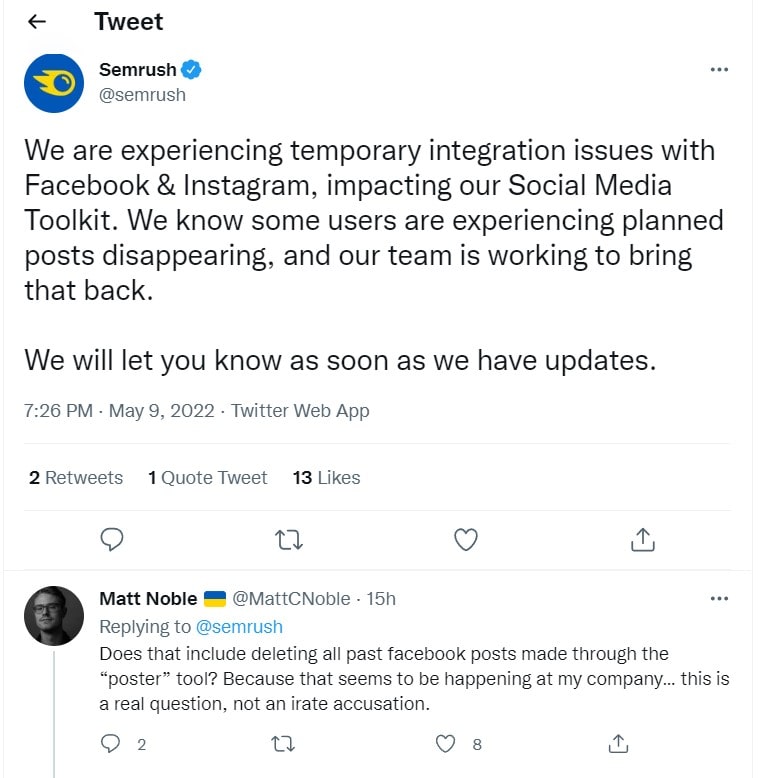 TUYA Digital, one of the SEO companies working with Semrush, explained the situation:
It is not OK at all. Our clients' posts were suddenly removed from their Facebook feeds. Hundreds of posts were completely erased overnight. It's like they have never been there at all, the whole time. All our clients's accounts posts from March till May were erased.

We pay around 1,000 USD for Semrush services and we didn't expect it to happen. We were told it's an integration problem of some sort. We are certainly looking for an alternative in order to keep our clients satisfied, but at the moment we have to deal with calling our clients and inform them about the issue. We definitely want our posts back and also our clients, but so far we can't do anything.

Catalin ADAM, TUYA Digital – SEO & Digital Marketing
It is unclear how long this situation will persist, but Semrush will undoubtedly lose some clients due to this temporary glitch.
We live in an era of information, when there are many alternatives to most of the softwares out there. Competition in marketing or in any domain waits for mistakes. Semrush is one of the leading platforms to offer SEO and digital marketing tools. So far it has done its job and fulfilled our expectations. But, if the problems persist, we'll have to use an alternative, for sure.

Catalin ADAM, TUYA Digital – SEO & Digital Marketing