Scneider Electric company, one of the most prosperous organizations, celebrates 25 years of activity this year with a new impressive initiative that has already been launched and is available on the Romanian market.
The company's subsidiary, Schneider Electric Romania, became a key affiliate of the organization regarding the success of the products and services on the market. Schneider is a provider in Romania for four different domains: industrial, network and data centers, commercial and residential structures, and infrastructure. All customers are large electrical clients aiming to improve consumption efficiency. Moreover, besides the considerable employment rates it brings, Schneider Electric Romania coordinates and manages a group of nations, including the Republic of Moldova and Armenia.
The concept of the initiative
On November 9, the company introduced the concept of a new generation of wall-mounted or floor-standing charging stations for electric cars.
The idea was implemented through EVlink Pro AC, a charging system that is intelligent, dependable, adaptable, and sustainable that optimizes energy consumption, uptime, and energy efficiency.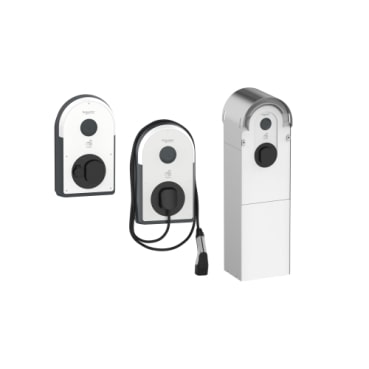 Installers, operators, and users of electric cars may utilize the new charging stations with simplicity, offering an efficient and satisfying user experience. This is especially because the design is dedicated to business rather than individual use.
Advantages
Progressive connectivity
Installation, operation, usage, and maintenance are all simple and intuitive
Products with a green premium badge that is sustainable
EVlink Pro AC follows the RHOS and REACH guidelines, which deal with the restricted use of hazardous materials in the production process
Improved safety due to built-in safeguards
Differential protection, including protection from electrocution and protection through the charging station's minimum voltage coil, which detects any anomalous contact
Increased adaptability — they may be put on the ground or a wall
Customizable design with a variety of metal casing color options
If linked to a 22kW EVlink Pro AC station, a 26.8kWh car battery may be completely charged in one hour and fifteen minutes. It would take three hours and forty-two minutes if attached to a 7kW EVlink Pro AC station.
"The price of electric vehicles is decreasing, which will encourage the acceleration of purchases and, implicitly, generate an increase in demand for charging stations. The EVlinkPro AC range is specially designed to meet the needs of users, being a reliable, flexible and sustainable charging system for buildings, which optimizes energy consumption, ensuring a maximum level of efficiency".

Lucian Enaru, General Manager, Schneider ElectricRomania.
According to SR EN IEC 61851 ed3, IK10, which comprises all the performance and safety requirements that an electric car charging station in Romania must satisfy, the items are examined and approved. This certification guarantees a product is risk-free, high-performing, and electromagnetically compatible with electric cars.