Romania climbs four positions in the top world happiest nations ranking in 2023. According to Gallup's latest report, Romania is 24 in this year's top, which is progress compared to last year's.
Finland seems to be the happiest nation year after year, but many Southern Europeans don't understand the happiness of the Nordic countries. Finland occupies the top spot, for the sixth year in a row, with a score significantly ahead of all other countries. Denmark remains in the 2nd spot, with a confidence region bounded by 2nd and 4th. Among the rest of the countries in the top twenty, the confidence regions for their ranks cover five to ten countries. Iceland is 3rd, and with its smaller sample size, it has a confidence region from 2nd to 7th. Israel is in 4th position, up five from last year, with a confidence range between 2nd and 8th. The 5th through 8th positiThe Netherlands, Sweden, Norway, and Switzerland fill the 5th through 8th positions top and New Zealand.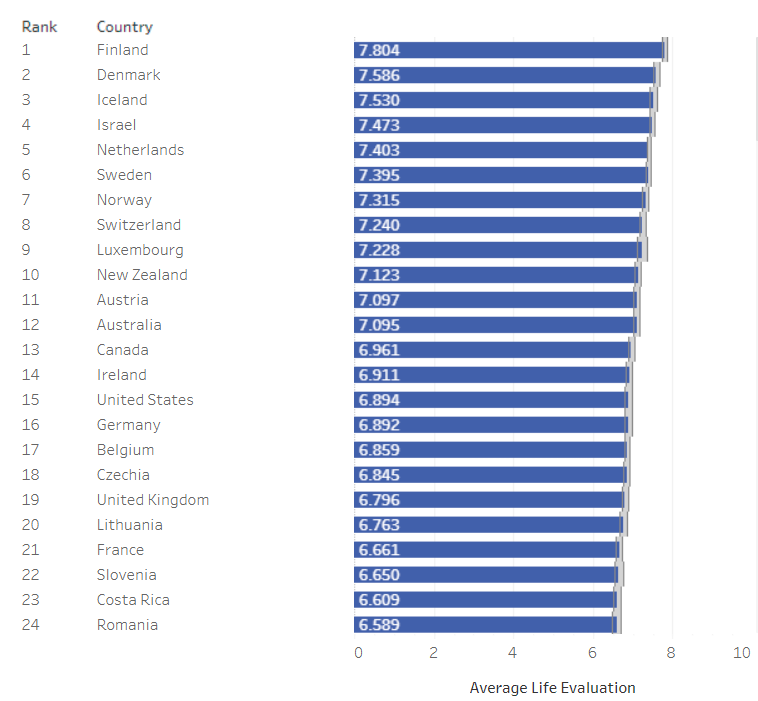 Last year's top had Romania at 28, but now the country ranks at 24, before countries like Singapore, Spain, Italy or Poland.
Notably, the results are based on the surveys conducted between 2020-2021, both years of a plain pandemic. Even so, Romania's progress over the years is remarkable, and Romanians seem to enjoy their life more and more, despite the difficulties.