More than 50,000 Ukrainian refugees have crossed the border into Romania after the Russian-Ukrainian armed conflict. Both Romanian authorities and Romanians across the country have jumped to aid people fleeing the conflict areas.
Hundreds of projects have been launched by ordinary individuals who want to assist Ukrainians when they step into Romania. Some offer to lodge, while others give Ukrainians transportation, translation services, or even pet care.
When the war in Ukraine broke out, tens of thousands of people packed their belongings into suitcases, left their homes and lives behind, and fled to the border in search of safety. Many have taken their children, wives, mothers, sisters, or friends away in an attempt to save them.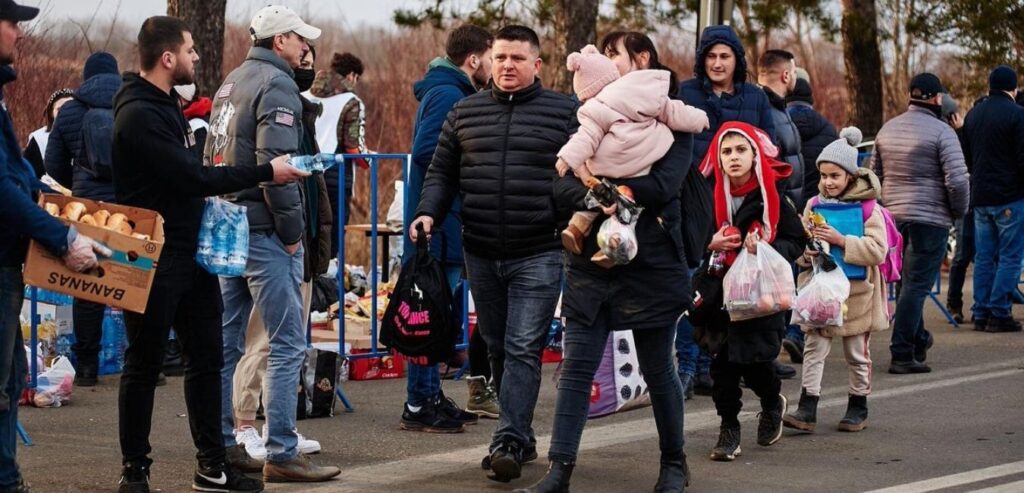 Romanians donate and offer help through social media platforms
The queues waiting to enter the Romanian territory border are several kilometers long, and over 50,000 Ukrainians have already entered Romania. Out of them, 25,000 continued their journey to other countries, while half said they wanted to stay in Romania until the conflict was over. Many Romanians did not hesitate: they opened their homes and sought to develop various ways to assist the Ukrainians in need.
There are dozens of initiatives started by citizens. The social media platforms are growing with members eager to help Ukrainians in every way they possibly can, whether it is financial or moral support for Romanians' solidarity with Ukrainian refugees.
The "United for Ukraine" Facebook group has reached more than 50,000 people, many of whom are eager to help in any way possible.
With the common border, it was clear that the wave of people heading to Romania would be a major one. With the Russian invasion, the group has grown, we are over 53,000 members now, over 4,000 compelling offers of help: volunteering, accommodation, food donations, clothes, transportation. Solidarity is exceptional and gives you hope for such a mobilization. Romanians in the country and in the diaspora write that they provide the keys to their homes to Ukrainian families. There are foreigners living in Romania who want to help, pensions, restaurants, companies that provide what and how much they can. It is proof of humanity that motivates us, especially when we see what happens only hundreds of kilometers away from Romania.

Vlad Gheorghe, founder of "United for Ukraine" Facebook group
Romanian authorities also offer support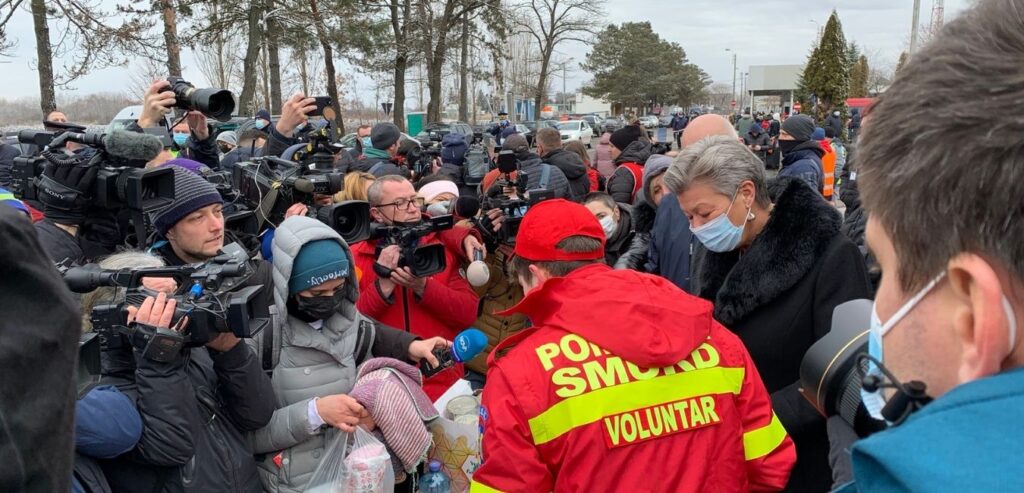 Authorities in Romania moved fast to set up mobile camps with tents, mattresses, and electricity. Local monasteries provide specific care for mothers with young children. Ordinary Romanians, though, have supplied the vast majority of assistance, shocked by the situation that has erupted so swiftly across the border. According to the official statements, Romania can host up to 500,000 Ukrainian refugees.
Romanian Minister of Family Gabriela Firea, the UNICEF ​​representatives, and the directors of the social assistance and child protection departments from five counties on the Romanian border took measures to identify spaces where refugee children could be accommodated.
The departments of social assistance and child protection (in Romania) will work together with UNICEF Romania representatives and specialists from the ministry to ensure that there is everything needed for these children at the border.

Gabriela Firea, Romanian Ministry of Family
Also, the Romanian Minister of Labor and Social Solidarity, Marius Budai, affirmed that Ukrainian citizens who want to work in Romania do not need a work permit for nine months and, in the case of Ukrainian citizens who are employed on a full-time contract, their right to temporary residence in Romania is extended. At the same time, the head of Labor explained that during the nine months, Ukrainian working in Romania could apply for refugee status.
Companies, non-profit organizations, and ordinary people come to the rescue
Many non-profit organizations (NGOs), companies, and individuals in Romania have started initiatives aimed at helping the Ukrainian citizens fleeing the war in their country. Some provide accommodation and food, while others offer transport, essential goods, or support and assistance for pets.
Fight for Freedom provides accommodation and food at its centers in Veresti and Burdujeni in Suceava county of Romania.
Local businessman Stefan Mandachi, famous for his social campaigns, offers accommodation at his hotel in Suceava and free meals at the Spartan restaurant in the city center.
Several organizations have also offered support and assistance to Ukrainian citizens coming to Romania with their pets. Clubul de Excelenta Canina Patrocle Brasov, Casa lui Patrocle, Save our Paws Association in Iasi, MegaDreams Pet Taxi in Iasi, and Fight for Animals in Baia Mare.
With the support of the Embassy of Romania to the United States, the Romanian United Fund also launched a fundraising campaign for Ukrainian refugees coming to Romania.
International transport company Romfour offers free bus rides to Ukrainian citizens arriving at the Siret customs point who want to get to bus or train stations. They can also transport refugees to Italy free of charge (every Friday) and offer discounts on other international routes (such as France or Germany).
Grecu & Asociatii also provides legal assistance, advice, and accessible representation for Ukrainian refugees.
Local Code for Romania Association also announced that it is working on launching an ecosystem of digital solutions in the context of the crisis in Ukraine. They aim to provide qualitative information on the current situation and effects of the war, ways to manage the critical needs of the refugees, or the resources and capacity of local authorities and offer support for the civil society in Ukraine and the Republic of Moldova. They will provide information on accommodation spaces available across the country, resource & volunteer management, or the roles of institutional actors in this emergency.
In addition to NGOs looking to provide shelter for pets in Ukraine, young, female entrepreneurial platform Mamprenoare, who volunteers to translate messages and human-to-human dialogue, has mobilized in Cluj and Iasi with mothers from all over the country offer to help women and children who have just crossed the border.
Several Romanians from counties of Romania like Cluj, Neamț, Timișoara, Constanța, Argeș, Vas, Neamț, Bucharest and many other areas of the country have announced that they are creating free housing for families with children, including those who come with animals. Many who wanted to help were impressed that women with children had to leave their country. Several companies, firms, associations, and public figures have offered to open a spirit agreement for war networks in Ukraine.
We presented just a few initiatives to be considered by the fellow Ukrainians arriving at the border. But there are hundreds or even thousands of small initiatives, from individuals to companies, from governmental to associations and NGOs that want to help those who fled the conflict. Either way, all the Ukrainians need to know is that, once in Romania, they are more than welcome.
Photo source: Vlad Ilas