Google has announced the launch of Google News Showcase, a product and licensing program for news publishers, as its newest move to assist journalism in Romania.
Google has announced relationships with 16 national Romanian media, including broadcasters and newswires, according to a press statement from the company. These publications provide significant news coverage to people all throughout the country.
In the future, Google will continue to collaborate with other Romanian news partners to offer more content.
Today we're announcing our latest initiative to support journalism in Romania by rolling out Google News Showcase, our product and licensing programme for news publishers.. Through Google News, Top Stories on Search and more, we help people find links to stories and help publishers find readers. Beyond this, we invest in products, funding and programs to support the news industry with the Google News Initiative. That includes supporting 16 Romanian publishers through the Digital News Innovation Fund with 1.8M euros in funding and providing emergency financial support to more than 50 publishers through the Journalism Emergency Relief Fund during the COVID-19 pandemic. Since 2015, we've also provided training to close to 900 journalists in Romania to help them research, verify and visualise their stories.

Google press release
With this new experience, the firm provides publishers with a number of News Showcase panel layouts to employ in order to provide further context to stories and to add linked articles, timelines, and other features. The panels provide news organizations with more direct control over their presentation and branding, allowing them to be more visible to both long-time readers and newcomers.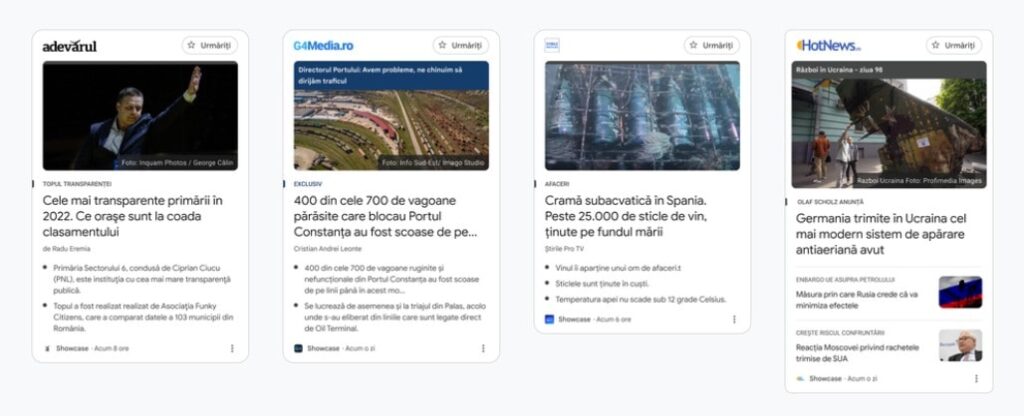 News Showcase panels can be found on Google News and Discover, and they drive users to full articles on publishers' websites, allowing them to build stronger ties with their customers. Participating publishers will get monthly licensing fees from Google in addition to the revenue generated directly from these highly engaged readers.
Since its worldwide launch in October 2020, News Showcase has signed agreements with over 1,500 news organizations around the world and has expanded to 16 countries: India, Japan, Germany, Portugal, Brazil, Austria, the United Kingdom, Australia, the Czech Republic, Italy, Colombia, Argentina, Canada, Ireland, Slovakia, Poland, and now Romania.