On February 28, the first French soldiers from the NATO Response Force arrived in Romania at the 57 Air Base, Mihail Kogălniceanu.
Several NATO allies announced the deployment of additional troops to Romania in response to Russia's invasion of Ukraine. Over 500 French soldiers are expected in the next few days in Romania to strengthen the NATO force in the Eastern flank.
According to the Ministry of National Defense footage, French military equipment was delivered to Romania through an Antonov transport plane painted in Ukrainian colors (yellow-blue).
Allied solidarity: the first soldiers from the detachment representing France's contribution to the NATO Response Force arrived, this evening, in Romania, at Mihail Kogălniceanu 57th Air Base. They will be followed, in the coming days, by the other forces and means.

Romanian Ministry of National Defense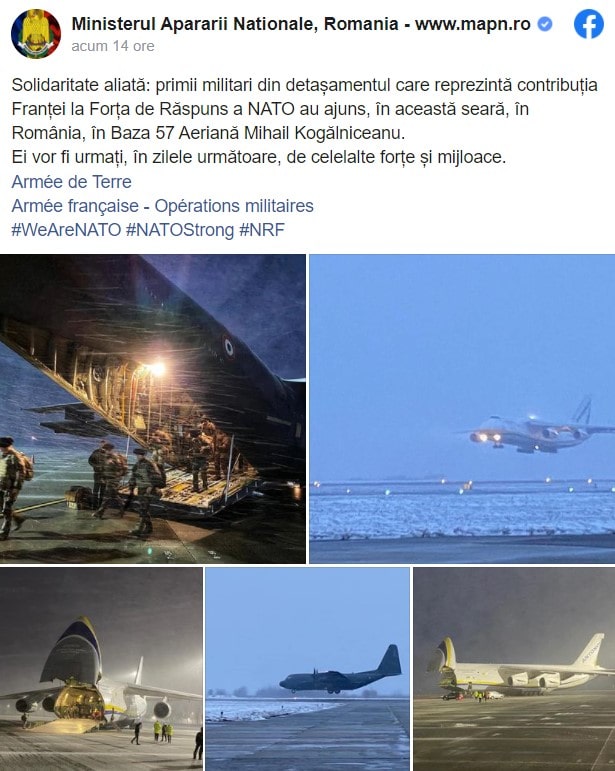 Following the latest events on the Russia-Ukraine conflict, France's Chief of the Defence Staff, general Thierry Burkhard, announced that France would relocate 500 soldiers in Romania as part of NATO's decision to consolidate presence on its Eastern flank.
NATO's military force in Romanian territory is getting stronger as NATO member countries send more and more troops and military equipment to Romania to strengthen the Eastern flank. Only a few days past since the German Air Force Eurofighter Typhoon fighter jets arrived in Romania, and now more several soldiers under NATO command are expected.