According to Eurostat, Romania has the lowest consumer prices in Europe. Precisely, the price level for goods and services was 55,5% of the EU average in 2021.
The Eurostat survey covered more than 2000 consumer goods and services conducted across 36 EU countries.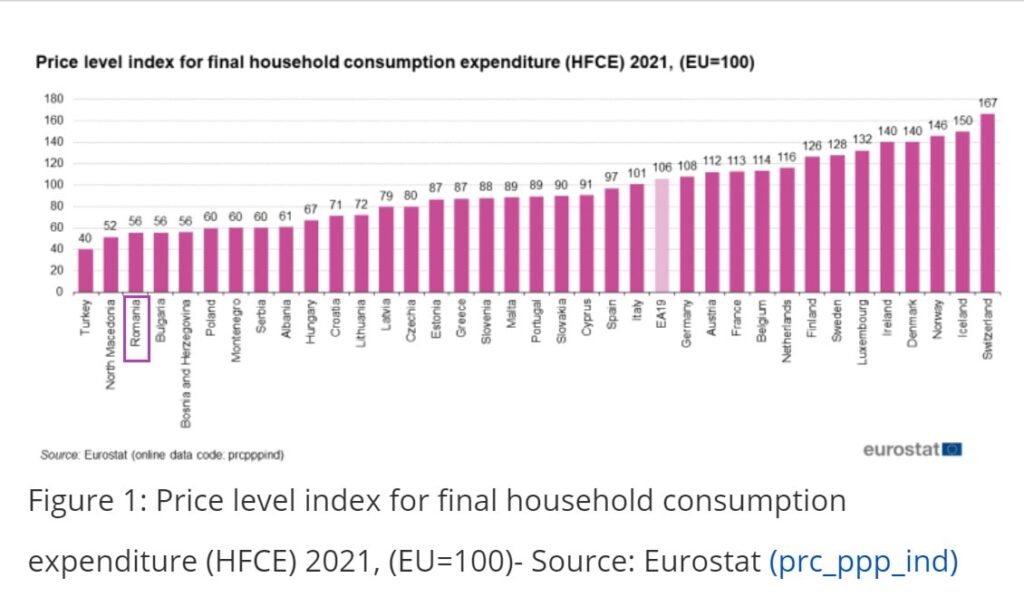 According to Eurostat, European consumer products and services prices varied considerably in 2021. Energy costs were significantly lower in Romania than in other EU countries, as were communications costs (38.6% of EU average), housing costs (53.5%), and energy prices (59.1% of EU average). Still, prices for tradeable goods were relatively close at 98.2% of the EU average for consumer electronics, 94.4 percent for consumer appliances, and 93.5 percent for footwear.
Moreover, the top price level index is weighted according to each nation's consumption basket, which in the case of Romania is skewed towards a large share of food and energy costs.
According to Eurostat, food costs in Romania are 69% of the average for the EU. Still, the range of goods available on the local market is very different from those offered in more industrialized nations.
On the other hand, Denmark has the highest price level among the EU member states, at 40% over the EU average. The only EU countries that were 44% below average were Romania and Bulgaria.
Fast forward to 2022, compared to other EU countries, Romania might still be one of the lowest consumer prices country. However, inflation is rising, and the Romanian citizens are complaining about the high energy and gas prices. The reason for these results in Romania is the significant imbalance between the Romanian's income and the consumer prices. This scenario seems unreal for the average person in Romania. If only the low prices would attract foreign tourists to Romania, Romania is not doing well in this regard either.