Emma Raducanu is the new sensation at the US Open, where she got to the final. The Romanian name comes from her father, an immigrant, and this is what raised a huge controversy in the UK.
Emma was born in Canada, to a Romanian father and a Chinese mother. They later on established in the UK, where Emma was raised since she was 2 years old. Thus, she became British and represents the United Kingdom in international competitions.
Boris Johnson, the British Prime Minister, is known for his opinion against immigration. Actually, this is how his party succeeded in getting the necessary votes for getting the UK out of the EU. The immigrants, in Boris' opinion, steal the jobs of the British people.
At the same time, Boris is also known for his habit of identifying the bandwagons, meaning the people who are largely followed by the masses. By doing that, as a politician, Boris can hop on the good image created around a certain character. In this case, Emma.
But the British are so fed up with Boris doing that. In fact, when Boris tweeted this…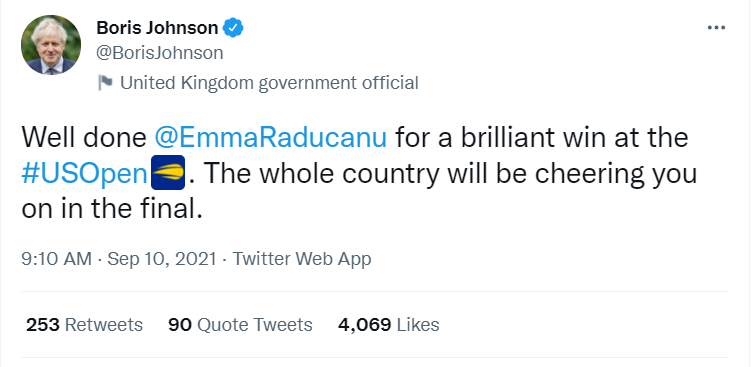 …the British immediately started replying to Boris of his opinions on immigrants, reminding him about the foreign origins of Emma.





The fact is Boris is a politician who needs this sort of bandwagon to his benefit. Apart from that, immigration is seen as a good phenomenon when the immigrants prove to be exceptional, exactly like Emma, performing in sports, arts, or at work.
Boris' policy on immigration backfires at him every time when such examples of immigrants succeed in bringing the UK this kind of result. Especially when he is the one who points out these results. And Emma, if she wins the final, will definitely backfire at Boris big time.