DACIA has started the serial production of the Jogger HYBRID 140 model, as announced by the producer.
Perfectly illustrating Dacia's brand positioning, the Jogger HYDRID 140 is the most affordable hybrid-powered family vehicle, with generous interior space and essential equipment. The model benefits from the expertise of the Renault Group, offering modern technology that ensures a systematic start in 100% electric mode and an immediately available engine torque that allows energetic acceleration.
According to DACIA, the autonomy of the Jogger HYBRID 140 version is over 900 km (in a WLTP-approved mixed cycle). The traction battery has a warranty of 8 years or 160,000 km.
Manufactured exclusively at the Mioveni factory in Romania, the Jogger model with the thermic engine has already been produced in almost 80,000 units, of which over 90% were exported, mainly to Western European markets.
Dacia has decided to open orders for the new Jogger Hybrid in January 2023, with the first customers to receive their vehicles in March.
According to Dacia, the most affordable version of the Jogger Hybrid is the Expression, with five seats, which has a base price of 23,750 euros. At this price can be added as optional extras four colors costing 460 euros, the card for "hands-free" access (200 euros), Media Nav with an eight-inch screen, navigation, six speakers and the map package (300 euros ), heated front seats (150 euros) and air conditioning with automatic regulation (200 euros). In the case of the Expression variant with seven seats, the catalog price is 24,650 euros.
We played along with the car configurator on their website, and our version came up at EUR 25,724.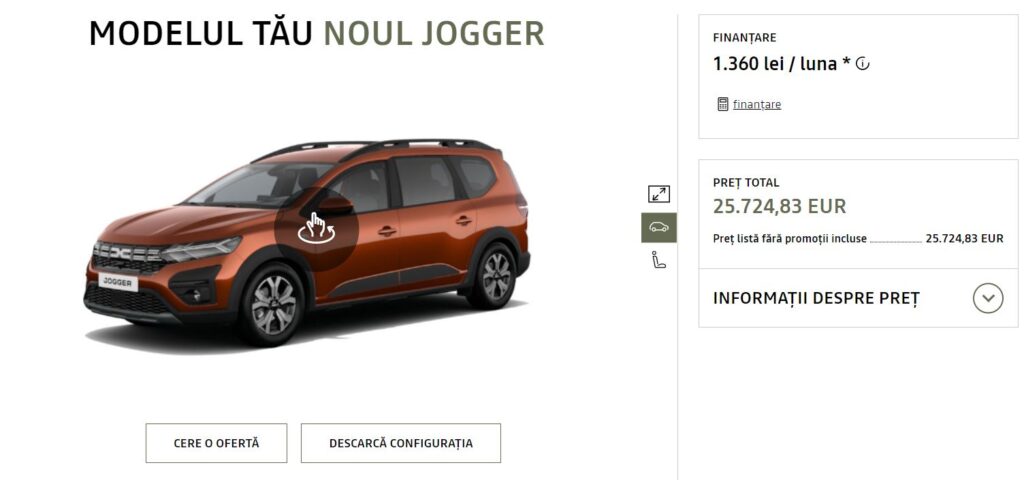 To be honest, this is the sum to buy a decent 5-year-old SUV, more reliable and reputable than any of DACIA brands. But some clients want to buy only new cars, and DACIA is the proper choice for all those drivers.