Buying or renting a house? When you have decided to move out from your parents' house and have your own life, which one to choose? Should you buy one, or you'd better rent a house?
This post is inspired by recent European statistics, which place Romania first by the percentage of house owners.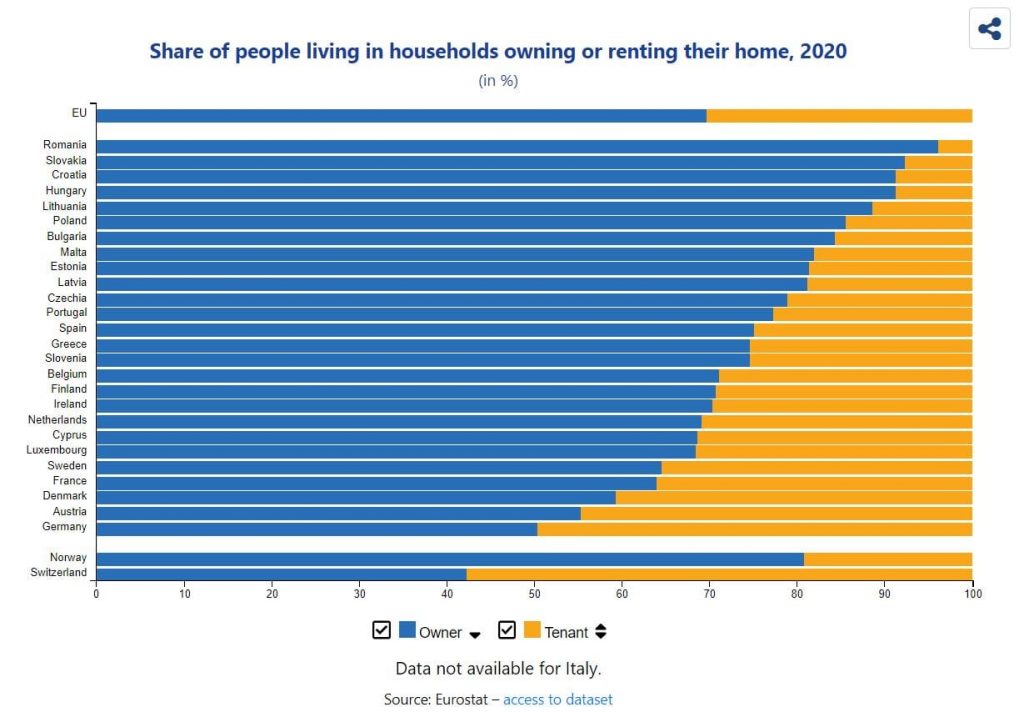 At first glance, Romania could be happy with the position occupied in the ranking. 96.1% of Romanians own a house, while only 3.9% rent one. Romania is followed by quite a few Eastern European countries: Slovakia, Croatia, Hungary, Lithuania, Poland, and Bulgaria.
In other words, some of the poorest countries in the EU have the highest percentage of house owners. In comparison, some of the wealthiest European Union countries have a meager rate of owners: Germany, Austria, Denmark, or France. Switzerland, which is not in the EU, has the lowest percentage of owners here: 42.3%. Despite the high prices for real estate in Switzerland, you cannot say that Swiss people can't afford to pay for a house, right?
So, it must be something more than it meets the eye here. The Eastern Europeans prefer buying, not renting, while the Western countries have a lower number of owners. Why?
Which are the advantages and disadvantages of buying or renting a house?
Have you read that famous book 'Rich Dad, Poor Dad'? If not, maybe you can start improving your financial education by reading it. Its author, Robert Kiyosaki, wanted you to learn to distinguish between assets and liabilities.
Assets, in short, are the ones that bring you money. Liabilities are the ones that cost you money.
A car you use to drive to the office or take the kids from school is a liability, might it be the latest Maybach or Bugatti. Cars cost a lot of cash to buy, and you will spend a lot on fuel and maintenance after buying them. On the other hand, a vehicle can also be an asset if you buy it to offer Uber rides to clients. In this case, it produces money, and the costs for maintenance are deducted from operating the car. The car you bought starts making money for you, so it becomes an asset.
The difference in this example is what you do with the car you buy: use it for your purpose and daily activities or use it to produce money for you.
It's the same with the house you live in: from the financial perspective, a house is a liability, even though it offers you shelter. After buying it, you have a lot of additional costs, apart from the prices with the loan you took from the bank, in case you didn't pay for upfront – maintenance costs, devaluation, repairs, etc.
Advantages and disadvantages of buying a house
The most significant advantage here is the perception that you own something. You own a house. Of course, you don't own anything until the last installment is paid. But at least you have the feeling you pay for your home, not for the prosperity of a landlord.
This is the biggest and the only advantage we can find, to be fair.
The disadvantages of buying a house are many. First of all, you paid a certain amount of money upfront. Not tiny, it was pretty big, of tens of thousands of dollars. Imagine what you could've done with all that money. Imagine the investments you could've made with all that money. And NO, a house IS NOT AN INVESTMENT.
Advantages and disadvantages of renting a house
The disadvantage here is that you pay the rent to the landlord and that you won't ever own the house you live in unless you decide to buy it from the landlord. But this is only small compared to all the other advantages.
When renting, the cost of the rent could be much less than the installments paid to the bank. Of course, it depends on the upfront payment, the interest, the fees of the bank, and so on. But rents are lower, on average, than bank installments.
Second of all, you didn't have to pay the substantial upfront payment the owners did. If you have the money for upfront payment, but you choose to rent a house; instead, that money is yours to do whatever you want with them. Preferably, invest it into something profitable.
Instead of conclusion: a house is not an asset, but some might be okay with this idea
A house is not an asset unless it produces money. Usually, this can be done by renting it. But some might have come to terms with the idea of spending their money on a liability like this.
Owner. It sounds better than a tenant, right? Though, please don't fall for it. Your ego will cost you lots of money. But, if you're OK with it, go for it and spend your money on any liability you desire.