Bitcoin, the most successful cryptocurrency, has its price increasing again after mid-March crash. Thus, after being valued at $4,944 on March 12, the biggest drop this year, Bitcoin price soars above $9,000 again.
At the moment, Bitcoin is valued at $9,192 (as May 23), but the price is fluctuating. Yet, it is clearly visible it has a good, positive trend since March.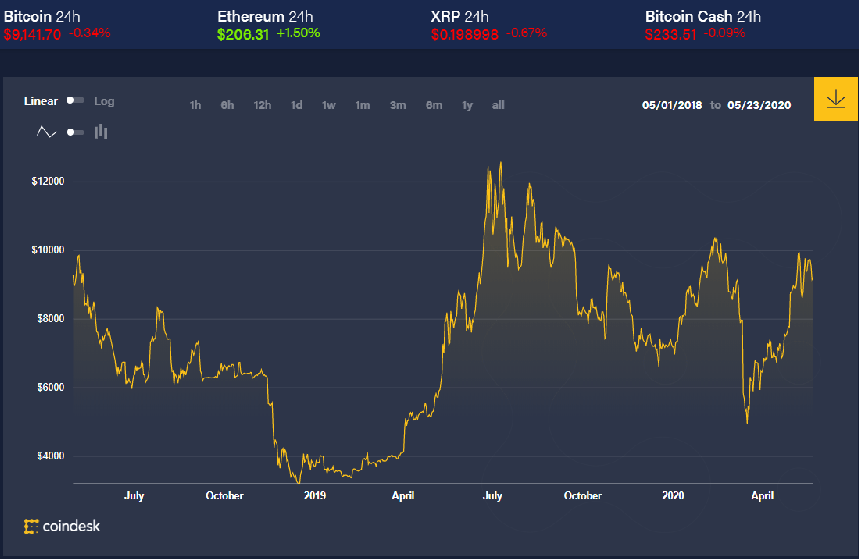 Why is the Bitcoin price soaring again?
After in the middle of COVID-19 pandemic, in March, Bitcoin price plunged below $5,000, now it almost doubled its value. Why?
It seems that Bitcoin remain a volatile currency which fluctuates along with the social-economic conditions, but also along the emotional habits of its buyers and investors. When the lockdown measures were imposed worldwide, Bitcoin price plunged. Investors and even miners were more interested in saving real money and energy. Also, lots of Bitcoin investors tried to sell their stocks, which pushed the Bitcoin price down.
Once the social and economic conditions are starting to recover, we can see Bitcoin is increasing its value once again.
As compared to the currencies backed by national banks, let alone as compared to gold, Bitcoin failed to prove itself a reliable currency. Still, these fluctuations are what makes money for the investors in Bitcoin; all you have to do is to invest in Bitcoin at the right moment, meaning buying low and selling high.
Thus, those who speculated it in due time and purchased Bitcoin in March doubled their investment in just 2 months.
Better off, if you mine for Bitcoin, then all you have to do is to choose the perfect time for selling.
The prices seem to have stabilized at the moment, but still, Bitcoin remain a volatile currency and we can witness more fluctuations in the future.
Note: Valahia News does not recommend or encourage risky investments and speculative ones. It's better you save in your national currency or in global currencies.