After on Wednesday, Bitcoin exceeded the psychological barrier of $20,000, on Thursday, December 17, Bitcoin reaches a new all-time high: $23,000.
In fact, at the moment we post this, the cryptocurrency reaches $23,591.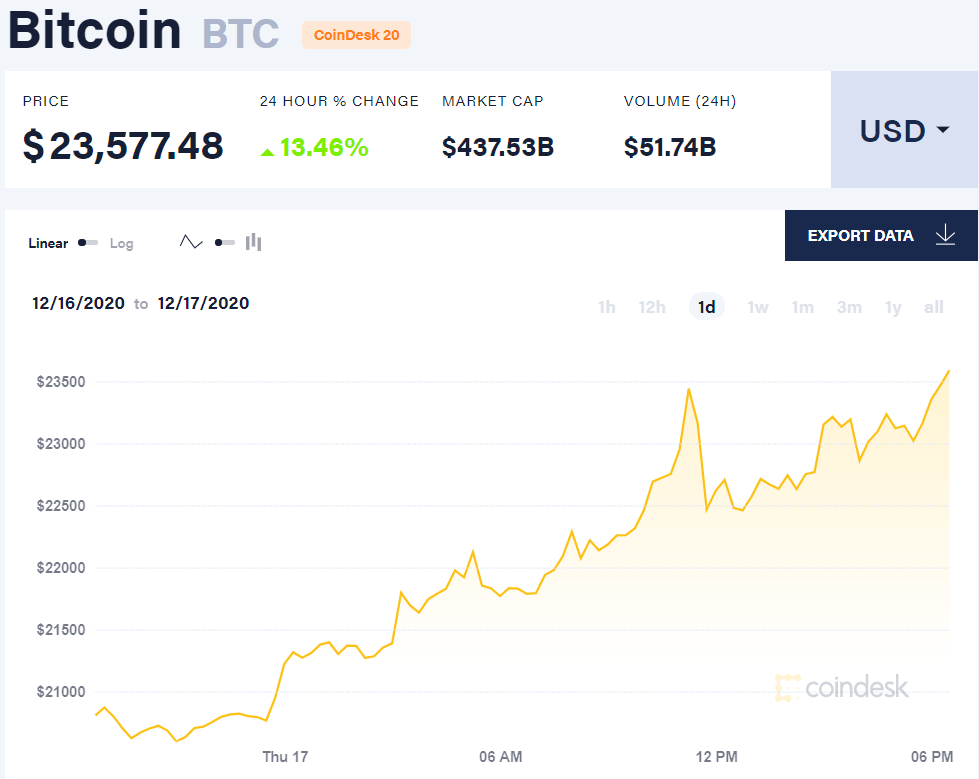 Is it too much real value for a crypto coin? Some say it is: according to the JP Morgan analysts estimated the real value of Bitcoin is somewhere close to $12,000. Still, as Bitcoin fanatics would stress out, they are the analysts for a conventional bank – of course they're interested in minimizing the value of any cryptocurrency.
In fact, any crypto coin has a value which is given only by the free market: if buyers want to pay more for a virtual coin, then its value increases. If not, its value drops. Of course, there were some allegations of the value being manipulated by some traders, but nobody can control the value 100%.
Would you trust investing in cryptocurrency as an alternative to the conventional banknotes? Or as an alternative to gold? Or as an alternative to shares? According to specialists. an investment in Bitcoin at the beginning of the year would've brought you a profitability rate of175%, which is not so bad at all. Compare it to your regular bank's interest for your deposits, right?
It seems we live completely different times than they were 10 years ago and this pandemic did nothing else but increasing people's attention for online shopping, virtual social life and online investments. And, when it comes to virtual life, nothing is more virtual then cryptocurrency. On the other hand, specialists warn that Bitcoin value could drop again, so the investment in this crypto, as much as in any other, is pretty risky.