Yes, it's a conflict in Ukraine. Yet, that doesn't mean humour died but on the contrary. Some would say this is the most inappropriate moment to laugh at what's happening. On the contrary, some platforms choose to fight for peace by publishing the most exciting war memes possible. Some feature Putin, others Zelenskyi, but all try to portray war laughably. By doing this, it's easier to get your message across to the right audience.
Now, let's face it: what are people more interested in reading or sharing? A long piece of content, such as a deep analysis of the situation, or a funny meme, has the same message? Of course, the meme is the easiest way of telling the world what is going on.
Sometimes it's better to influence with humour, and the internet users know best how to give a fun note to online posts even in wartime.
Since the conflict between Russia and Ukraine started on February 24, the Internet exploded with war memes and funny posts about the two political leaders involved in the battle, Zelensky and Putin.
What's a War Meme?
A meme, according to the dictionary, is a cultural item that is transmitted via the Internet in the form of a picture, video, phrase, or other media and is frequently transformed creatively or humorously, or, in other words, a potent tool for creating viral posts on social media or other online platforms.
You know it. We all laugh at funny memes, from cat and dogs to, why not, funny war memes. And each one tells a story or portrays a particular situation that is meant to be hilarious or witty. By doing that, the chances of sharing that piece of content increase. Thus the message has more impact and influence.
A war meme is a meme that portrays the war, the leaders of the conflicting countries or specific situations funnily. They can be used as propaganda by any of the countries involved, and most of the time, it's hard to tell if a meme is or isn't produced in the "military labs" by one or the other. Some bring ridiculousness upon the enemies; others portray the qualities of the leaders optimistically. Either way, war memes fight their war.
There are many meme platforms, but which one is the best platform with war memes?
While an unprovoked invasion of a sovereign nation isn't humorous, it hasn't prevented the Internet from making jokes about Russia's invasion forces.
We made our selection of websites that have the funniest memes about Russia's invasion of Ukraine that have flooded the Internet and social media.
Here's what we come up with:
Top 10 Best Websites for War Memes
Bemorepanda takes the top spot in our list of the best websites for war memes.
In the world of memes, this platform is the salt and pepper of war memes. Bemorepanda is the place to locate the most popular or most recent memes on the Internet, including war memes.
As the name implies, this platform is more than a meme platform, exceeding your expectations for a meme site.
You can check Bemorepanda's Top 50 funniest Hitler-Putin memes as Russia invades Ukraine, an article specially dedicated to Putin memes. You'll understand why we placed this one the highest on top.
Let's see what kind of memes about war are trending right now:
The variety of categories available on Bemorepanda is impressive. The site caters to all tastes and requests for memes on various topics, and it is incredibly user-friendly.
Cute, Animals, Funny, News, Food, Facts, Babies, Sport, Fashion&Beauty, Politics, Celebrity, Coronavirus, Health and Fitness, Gaming, Business & Finances, Movie&TV, Cars, Music, Nature, Ho-ho-ho (Christmas memes), Travel, and Astrology are some of the topics covered in the 'Fun Zone.'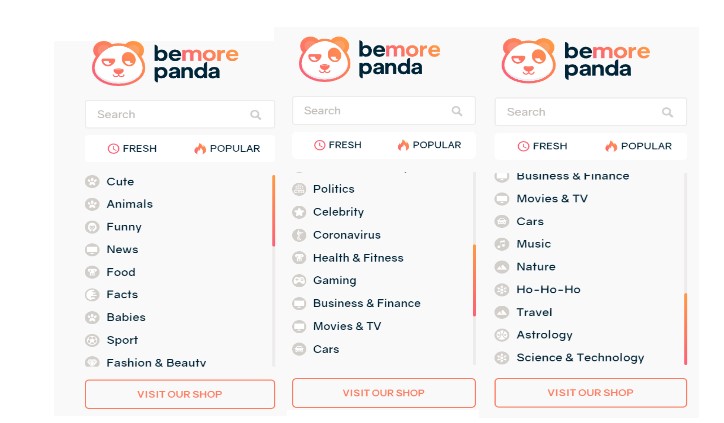 Interesting enough? Visit Bemorepanda to see their best memes related to the Ukrainian-Russian conflict.
2.Tumblr
Tumbler is the number two place for posting funny GIFs or memes about the Ukrainian-Russian conflict.
The platform has a neat feature where you can subscribe to the personal blogs that incorporate war memes to keep you updated on their latest Gifs.
3. Know Your Meme
Are you seeking a humorous meme that makes your friends laugh out loud? Then pay a visit to Know Your Meme. Especially in times like these, you can find on Knowyourmeme funny posts about the conflict between Ukraine and Russia.
Also, you can learn who created a meme, how many times it was shared or upvoted, and other interesting facts that no one else is aware of. You can inspire other people to create memes about what is, unfortunately, happening in Ukraine as a way to show solidarity with the country defending itself from the oppression of Russia.
4. Reddit
You've probably come across this website if you enjoy memes. Reddit is one of the most well-known platforms on the Internet and one of the most visited by meme aficionados. By simply typing the wards, war meme, on Reddit, you can easily find the latest post about the Ukrainian-Russian conflict.
The site is noted for its diverse network of connections and personal interaction among its users, allowing you to connect with others interested in what is happening in the world.
5. 9GAG
9GAG is our number five, one of the most famous war meme websites with a large following on Facebook's social media.
9GAG, a Hong Kong-based social media platform, allows registered users to upload and exchange user-generated content (UGC) from other social media platforms. On the website, you'll find categories like hot, fresh, trending, top memes, and most popular and a more extensive selection of memes based on any topic you can think of, including war memes.
6. IMgur
The service has hosted images and memes about the war that have become popular. The site is also interesting because it includes a one-of-a-kind tool to help you narrow down your search.
So, if you're seeking memes related to Putin, Ukraine or NATO, IMgur might be an excellent website to start on finding war memes.
7. Tenor
If you like to share GIFs on social media, you're familiar with Tenor. Tenor is also a great alternative if you're looking for a war GIF on your blog. Tenor has search tools that you can use to narrow down your search. Tenor is a service that allows you to send an animated GIF that expresses your exact feelings. You can also express your thoughts about the Ukrainian-Russia conflict through a meme or GIF on social media.
Tenor is a good meme website if you seek a graphic meme to share on social media.
8. Pinterest
Pinterest is a well-known image-sharing and social networking platform. It is not specialized in memes, but it's a source of inspiration for all meme lovers.
Pinterest provides a large selection of war memes to choose from, or you search a specific topic typing like 'Ukraine' or 'Putin', and it will return several memes. If this seems intriguing, you should check out Pinterest.
9. Giphy
If you are new in the meme world, welcome to GIPHY. The website is an excellent place to find the latest memes on war.
Also, GIPHY will keep you up to date on the latest trends in terms of war memes.
10. Memedroid
This platform is often used to find the latest memes on the market, and it's taking our latest spot on the top 10 Best websites for War Memes.
Memedroit has many categories from which you can choose the topics that interest you. The site keeps you up to date with today's news through funny and ironic memes. Also, you can upload your meme creation on the website. If you have creative ideas about the conflict between Ukraine and Russia, don't be afraid to show them on this platform.
That being said, this is the top of the ten best websites for war memes. Whether you choose Bemorepanda or any other site from our category, you will find excellent meme content and stay updated with the most popular memes even during these very difficult times.
Instead of conclusion
Sometimes it's better to use a meme instead of a long speech when trying to persuade people that war is a horrible thing. And, despite the seriousness of the situation, humour should never die. Even Zelensky proves humour can be used to make fun of the enemies.
Funny, right? This sort of fun can hurt Russia's leader harder than any other hit. of the Ukrainian troops upon the Red Army.