Andrew Tate and his brother Tristan Tate were arrested on Friday, December 30, under suspicion of human trafficking. Initially, they were under police custody for 24 hours. Now a judge issued a 30-day arrest sentence, from which the first day in detention is to be deducted.
The accusations brought to the Tate brothers are quite the same as in spring this year. The two are accused by the anti-organized crime unit of the Romanian Prosecutor's Office of sexually exploiting young girls:
In the case, it was noted that, at the beginning of 2021, 4 suspects (two British citizens and two Romanian citizens) constituted an organized criminal group with a view to committing crimes on the territory of Romania, but also of other countries, such as the United States of America and Great Britain, of the crime of human trafficking. British citizens recruited the victims by misleading them about the intention to establish a marriage/cohabitation relationship and the existence of real feelings of love (the so-called loverboy method). They were later transported and housed in buildings in Ilfov County where, by exercising acts of physical violence and mental coercion (through intimidation, constant surveillance, control and invoking alleged debts), they were sexually exploited by group members by forcing them to perform demonstrations pornographic with a view to producing and disseminating material of such a nature through social media platforms and by submitting to the execution of a work, in a forced manner, in order to obtain important financial benefits consisting of the sums of money obtained as a result of accessing the materials by the users.

Romanian Anti-Mafia Department Press Release
Andrew Tate, a former kickboxer, is famous for his reach on social media following his controversial opinions. He boasted a luxurious lifestyle, and his views attracted the fury of feminists worldwide. Also, they were followed by millions of those who shared their anti-system views and wanted to 'escape the Matrix' as one of his favourite lines said.
Andrew 'Cobra' Tate and his brother Tristan have the right to appeal the initial decision, which might offer them a chance to be freed from custody.
Rumour has it Andrew unintentionally revealed his location in Romania after posting on Twitter a video where he displayed boxes of a local pizza brand, Jerry's Pizza. Apparently, Romanian police couldn't locate him or know whether he was in Romania, which gave him away.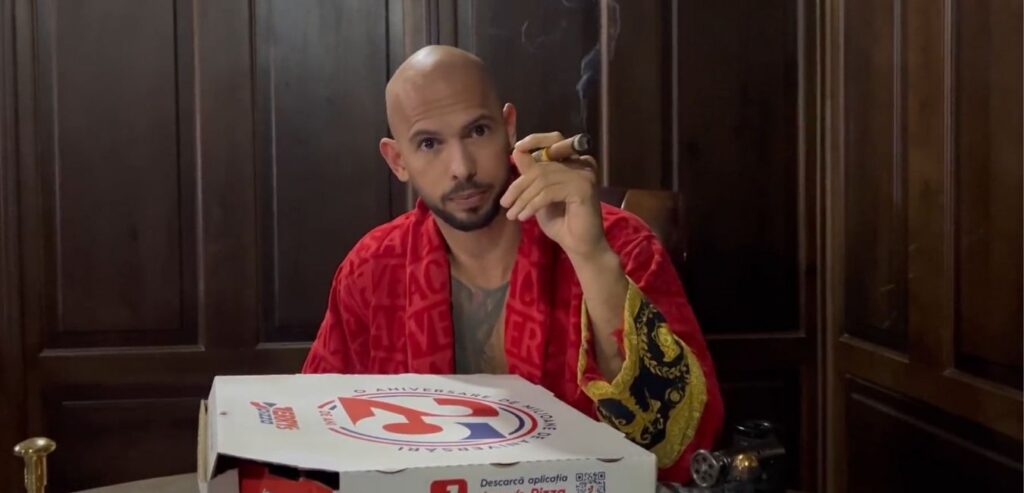 The video was posted in reply to Greta Thunberg, the controversial environment activist after she used unsuitable language to address Andrew's opinions on the environment.
Thank you for confirming via your email address that you have a small penis @GretaThunberg

The world was curious.

And I do agree you should get a life ❤️ https://t.co/mHmiKHjDGH pic.twitter.com/SMisajQRcf

— Andrew Tate (@Cobratate) December 28, 2022